Rip-stop Light Shorts
GM71172
Cut just above the knee for ease of movement, these water-resistant shorts are a good choice for days with unpredictable weather.
Features
This is a water-repellent shorts you can rely on during sudden changes in weather. *Length is above the knee for better leg movement.
The pants are made with 20 deniers thin and lightweight yet durable ripstop material. The inner side of which is coated for water-repellency to tolerate moderate rain.
Slotted pockets on both sides of the hip and back pocket with flap.
Elastic waist can be tightened with a drawcord.
"GREEN MATERIAL Eproduct made with chemical-recycle polyester from a complete recycling system.
Material
Eco High Density Rip-stop (Polyester100%)
Shipping Policy
We deliver to the following countries:
Austria, Belgium, Czech Republic, Denmark, Finland, France, Germany, Italy, Ireland, Luxembourg, Netherlands, Poland, Portugal, Romania, Spain, Sweden, Switzerland, UK.
Shipment to the islands and overseas territories of France, Spain, Portugal, Netherlands, UK, and Denmark are excluded.
We ship free to all orders above €300.00-.
Shipping costs for orders less than €300.00- will be shown at your checkout. 
See below for details.
Shipping Condition:
| | | |
| --- | --- | --- |
| Country | Delivery charge | Shipping Method |
| Germany | 7 EURO | DIE Post |
| United Kingdom | 30 EURO | DHL Express |
| Other countries | 10 EURO | DHL Packet |
Goldwin orders are shipped Monday-Friday (excluding holidays)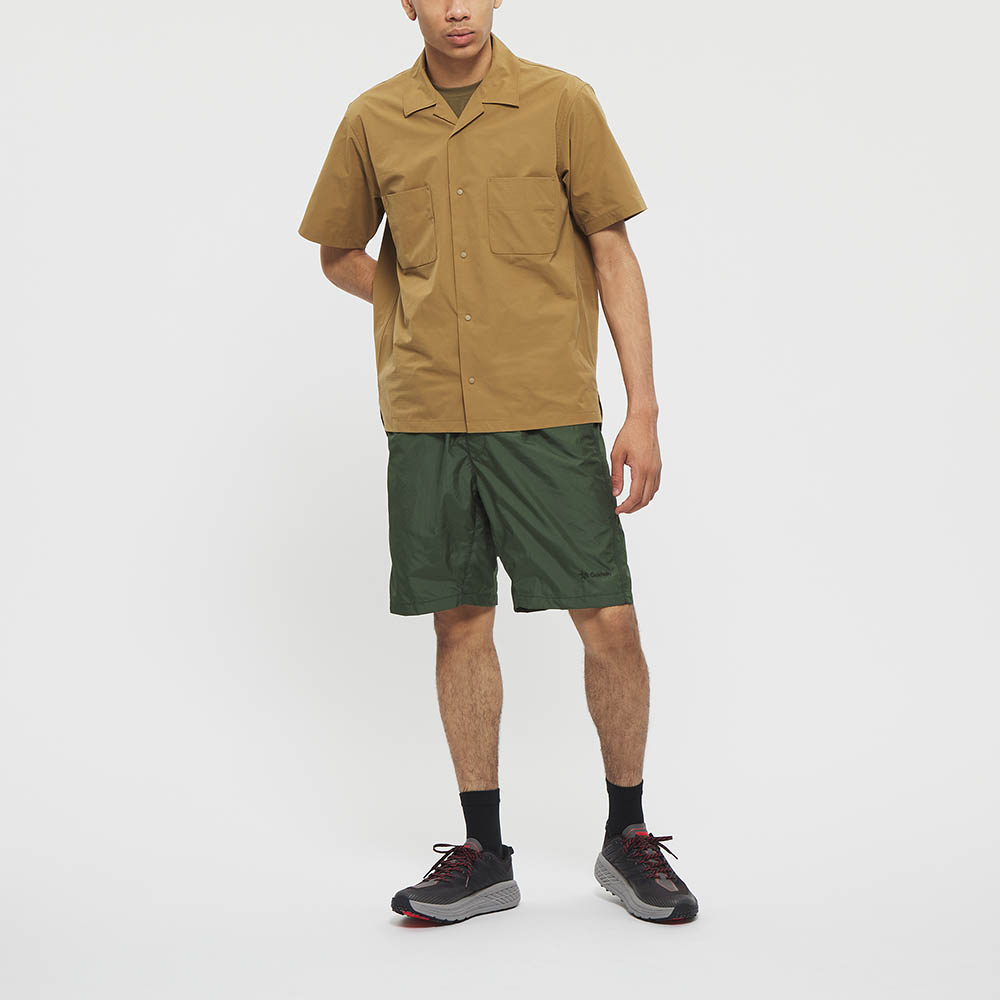 Model: Height 5'8" | Wearing: KHAKI GREEN / M
Model: Height 5'8" | Wearing: KHAKI GREEN / M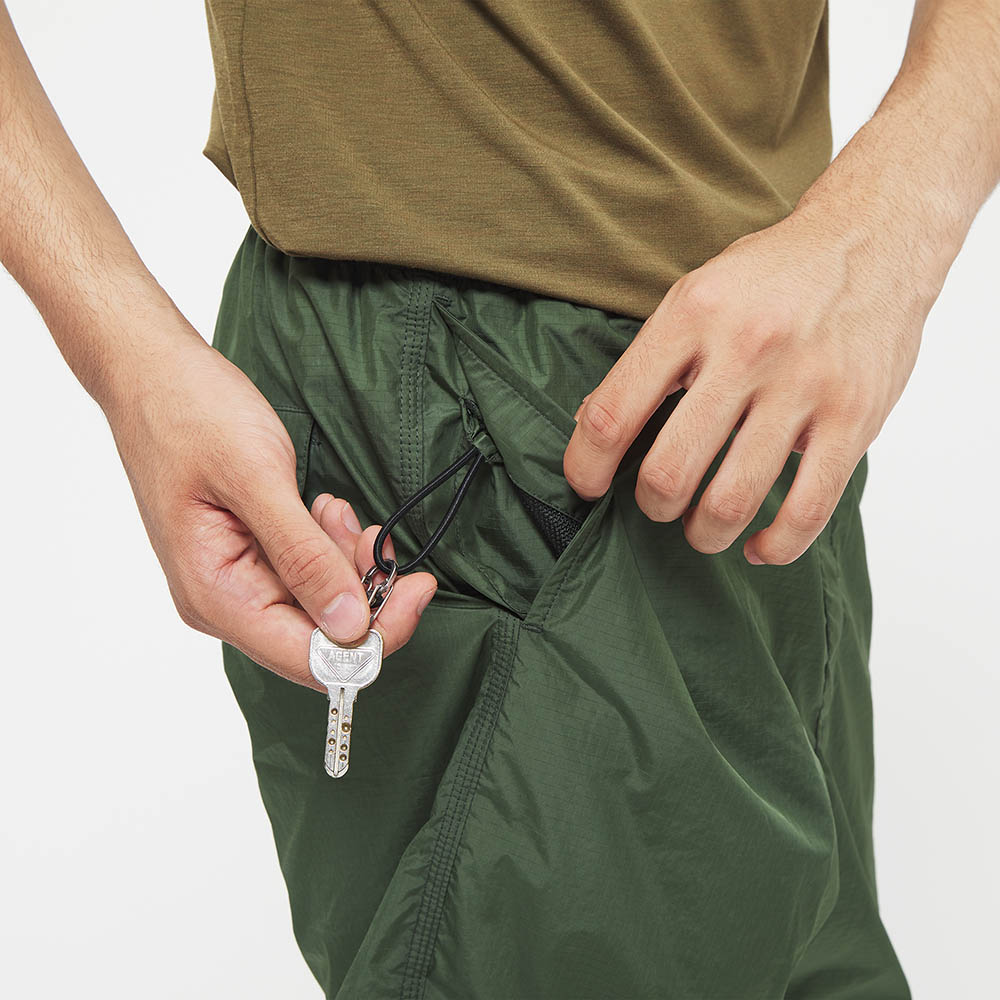 Model: Height 5'8" | Wearing: KHAKI GREEN / M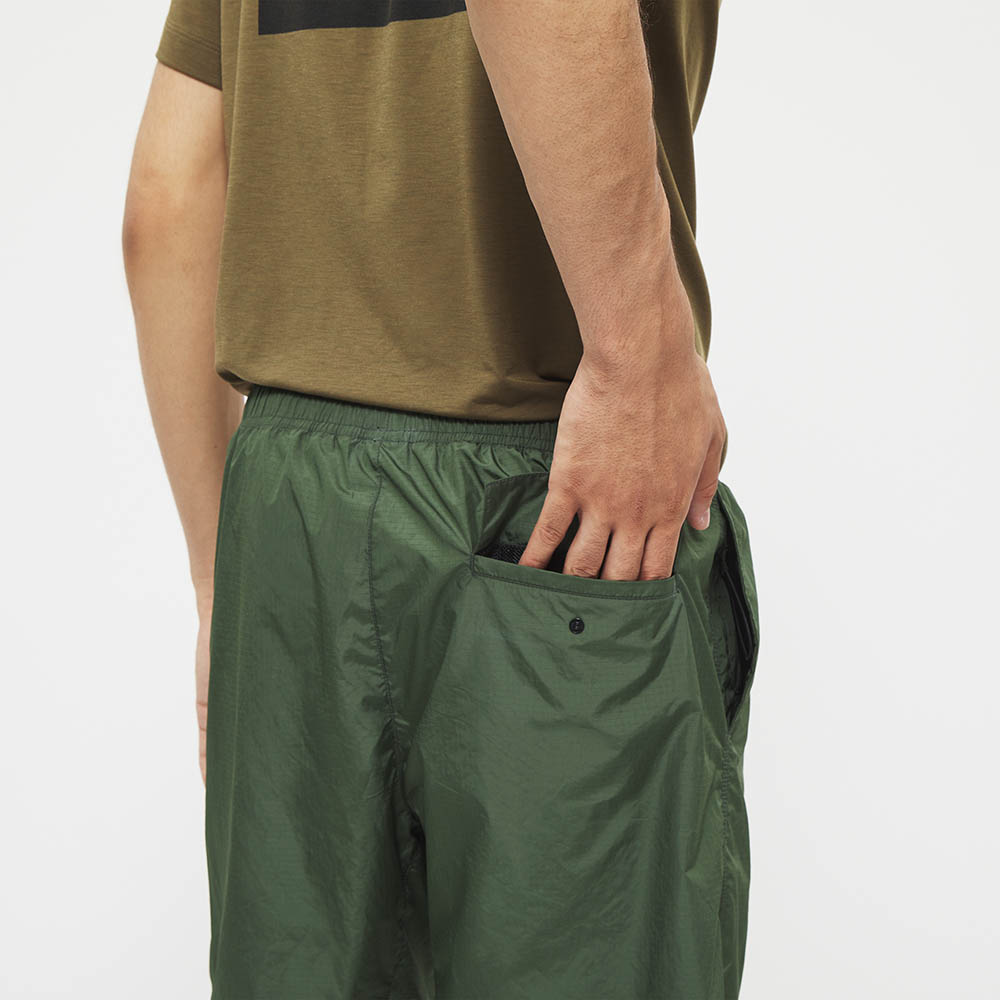 Model: Height 5'8" | Wearing: KHAKI GREEN / M
{"id":6130237571258,"title":"Rip-stop Light Shorts","handle":"gm71172","description":"\u003cp data-mce-fragment=\"1\"\u003eCut just above the knee for ease of movement, these water-resistant shorts are a good choice for days with unpredictable weather.\u003c\/p\u003e\n\u003cp data-mce-fragment=\"1\"\u003e \u003c\/p\u003e\n\u003ch4 class=\"subtitileDt\" data-mce-fragment=\"1\"\u003eFeatures\u003c\/h4\u003e\n\u003cul data-mce-fragment=\"1\"\u003e\n\u003cli data-mce-fragment=\"1\"\u003eThis is a water-repellent shorts you can rely on during sudden changes in weather. *Length is above the knee for better leg movement.\u003c\/li\u003e\n\u003cli data-mce-fragment=\"1\"\u003eThe pants are made with 20 deniers thin and lightweight yet durable ripstop material. The inner side of which is coated for water-repellency to tolerate moderate rain.\u003c\/li\u003e\n\u003cli data-mce-fragment=\"1\"\u003eSlotted pockets on both sides of the hip and back pocket with flap.\u003c\/li\u003e\n\u003cli data-mce-fragment=\"1\"\u003eElastic waist can be tightened with a drawcord.\u003c\/li\u003e\n\u003cli data-mce-fragment=\"1\"\u003e\"GREEN MATERIAL Eproduct made with chemical-recycle polyester from a complete recycling system.\u003c\/li\u003e\n\u003c\/ul\u003e\n\u003cp data-mce-fragment=\"1\"\u003e \u003c\/p\u003e\n\u003cp data-mce-fragment=\"1\"\u003e\u003ca href=\"https:\/\/www.goldwin-sports.com\/eu\/feature\/summer-shorts\/\" title=\"summershorts\" target=\"_blank\"\u003eSummer Shorts Collection\u0026gt;\u0026gt;\u003c\/a\u003e\u003c\/p\u003e\n\u003cp data-mce-fragment=\"1\"\u003e\u003ca href=\"https:\/\/www.goldwin-sports.com\/eu\/feature\/summer-shorts\/\" title=\"summershorts\" target=\"_blank\"\u003e\u003cimg alt=\"summershorts\" src=\"https:\/\/cdn.shopify.com\/s\/files\/1\/2294\/5259\/files\/ss_ripstop_multifield_480x480.jpg?v=1623989060\"\u003e\u003c\/a\u003e\u003c\/p\u003e\n\u003cp data-mce-fragment=\"1\"\u003e \u003c\/p\u003e\n\u003c!--material--\u003e\n\u003ch4 class=\"subtitileDt\" data-mce-fragment=\"1\"\u003eMaterial\u003c\/h4\u003e\n\u003cp\u003eEco High Density Rip-stop (Polyester100%)\u003c\/p\u003e\n\u003c!--\/material--\u003e\n\u003cp\u003e\u003ca title=\"green-material\" href=\"https:\/\/www.goldwin-sports.com\/eu\/brand\/material\/#green-material\" target=\"_blank\" data-mce-href=\"https:\/\/www.goldwin-sports.com\/eu\/brand\/material\/#green-material\"\u003e\u003cimg alt=\"\" src=\"https:\/\/cdn.shopify.com\/s\/files\/1\/1645\/3613\/files\/others-green-material_2x_5a55630c-4e74-4faa-aaa2-2bad4728ae36_480x480.jpg?v=1621403929\" width=\"168\" height=\"65\" data-mce-src=\"https:\/\/cdn.shopify.com\/s\/files\/1\/1645\/3613\/files\/others-green-material_2x_5a55630c-4e74-4faa-aaa2-2bad4728ae36_480x480.jpg?v=1621403929\"\u003e\u003c\/a\u003e\u003c\/p\u003e\n\u003cp\u003e \u003c\/p\u003e\n\u003cdiv class=\"product-tabs js-product-tabs\"\u003e\n\u003cdiv class=\"product-tab\"\u003e\n\u003cdiv class=\"product-tab-title\"\u003eCountry of Origin \u003cspan class=\"icon-toggle\"\u003e\u003c\/span\u003e\n\u003c\/div\u003e\n\u003cdiv class=\"product-tab-content\"\u003e\n\u003cp\u003eChina\u003c\/p\u003e\n\u003c\/div\u003e\n\u003c\/div\u003e\n\u003cdiv class=\"product-tab\"\u003e\n\u003cdiv class=\"product-tab-title\"\u003eShipping Policy \u003cspan class=\"icon-toggle\"\u003e\u003c\/span\u003e\n\u003c\/div\u003e\n\u003cdiv class=\"product-tab-content\"\u003e\n\u003cp\u003e\u003cstrong\u003eWe deliver to the following countries:\u003c\/strong\u003e\u003c\/p\u003e\r\n\u003cp\u003eAustria, Belgium, Czech Republic, Denmark, Finland, France, Germany, Italy, Ireland, Luxembourg, Netherlands, Poland, Portugal, Romania, Spain, Sweden, Switzerland, UK.\u003c\/p\u003e\r\n\u003cp\u003eShipment to the islands and overseas territories of France, Spain, Portugal, Netherlands, UK, and Denmark are excluded.\u003c\/p\u003e\r\n\u003cp\u003e \u003cbr\u003e\u003c\/p\u003e\r\n\u003cp\u003eWe ship free to all orders above €300.00-.\u003c\/p\u003e\r\n\u003cp\u003eShipping costs for orders less than\u003cspan\u003e \u003c\/span\u003e\u003cspan data-mce-fragment=\"1\"\u003e€3\u003c\/span\u003e00.00- will be shown at your checkout. \u003c\/p\u003e\r\n\u003cp\u003eSee below for details.\u003c\/p\u003e\r\n\u003cp\u003e \u003c\/p\u003e\r\n\u003cp\u003e\u003cstrong\u003eShipping Condition:\u003c\/strong\u003e\u003c\/p\u003e\r\n\u003ctable style=\"width: 356.777px;\" data-mce-fragment=\"1\" data-mce-style=\"width: 321.184px;\"\u003e\r\n\u003ctbody data-mce-fragment=\"1\"\u003e\r\n\u003ctr data-mce-fragment=\"1\"\u003e\r\n\u003ctd style=\"width: 190px;\" data-mce-fragment=\"1\" data-mce-style=\"width: 136px;\"\u003eCountry\u003c\/td\u003e\r\n\u003ctd style=\"width: 160px;\" data-mce-fragment=\"1\" data-mce-style=\"width: 170.184px;\"\u003eDelivery charge\u003cbr\u003e\r\n\u003c\/td\u003e\r\n\u003ctd style=\"width: 160.777px;\" data-mce-fragment=\"1\" data-mce-style=\"width: 170.184px;\"\u003eShipping Method\u003c\/td\u003e\r\n\u003c\/tr\u003e\r\n\u003ctr data-mce-fragment=\"1\"\u003e\r\n\u003ctd style=\"width: 190px;\" data-mce-fragment=\"1\" data-mce-style=\"width: 136px;\"\u003eGermany\u003cbr\u003e\r\n\u003c\/td\u003e\r\n\u003ctd style=\"width: 160px;\" data-mce-fragment=\"1\" data-mce-style=\"width: 170.184px;\"\u003e7 EURO\u003cbr\u003e\r\n\u003c\/td\u003e\r\n\u003ctd style=\"width: 160.777px;\" data-mce-fragment=\"1\" data-mce-style=\"width: 170.184px;\"\u003eDIE Post\u003c\/td\u003e\r\n\u003c\/tr\u003e\r\n\u003ctr data-mce-fragment=\"1\"\u003e\r\n\u003ctd style=\"width: 190px;\" data-mce-fragment=\"1\" data-mce-style=\"width: 136px;\"\u003eUnited Kingdom\u003cbr\u003e\r\n\u003c\/td\u003e\r\n\u003ctd style=\"width: 160px;\" data-mce-fragment=\"1\" data-mce-style=\"width: 170.184px;\"\u003e30 EURO\u003cbr\u003e\r\n\u003c\/td\u003e\r\n\u003ctd style=\"width: 160.777px;\" data-mce-fragment=\"1\" data-mce-style=\"width: 170.184px;\"\u003eDHL Express\u003c\/td\u003e\r\n\u003c\/tr\u003e\r\n\u003ctr data-mce-fragment=\"1\"\u003e\r\n\u003ctd style=\"width: 190px;\" data-mce-fragment=\"1\" data-mce-style=\"width: 136px;\"\u003eOther countries\u003cbr\u003e\r\n\u003c\/td\u003e\r\n\u003ctd style=\"width: 160px;\" data-mce-fragment=\"1\" data-mce-style=\"width: 170.184px;\"\u003e10 EURO\u003cbr\u003e\r\n\u003c\/td\u003e\r\n\u003ctd style=\"width: 160.777px;\" data-mce-fragment=\"1\" data-mce-style=\"width: 170.184px;\"\u003eDHL Packet\u003c\/td\u003e\r\n\u003c\/tr\u003e\r\n\u003c\/tbody\u003e\r\n\u003c\/table\u003e\r\n\u003cp\u003e\u003cbr\u003e\u003c\/p\u003e\r\n\u003cp\u003eGoldwin orders are shipped Monday-Friday (excluding holidays)\u003c\/p\u003e\r\n\u003c\/div\u003e\r\n\u003c\/div\u003e\r\n\u003c\/div\u003e","published_at":"2021-04-19T09:06:54+02:00","created_at":"2020-12-17T08:27:32+01:00","vendor":"Goldwin outlet","type":"bottoms","tags":["2701-S21","bottoms","men","outdoor","pants","S21","s21new","shorts"],"price":7000,"price_min":7000,"price_max":7000,"available":true,"price_varies":false,"compare_at_price":10000,"compare_at_price_min":10000,"compare_at_price_max":10000,"compare_at_price_varies":false,"variants":[{"id":37768761180346,"title":"GM71172 \/ BLACK \/ S","option1":"GM71172","option2":"BLACK","option3":"S","sku":"2701-GM71172-BK-S","requires_shipping":true,"taxable":true,"featured_image":{"id":23429022908602,"product_id":6130237571258,"position":11,"created_at":"2021-02-15T07:30:04+01:00","updated_at":"2022-03-17T03:29:59+01:00","alt":null,"width":2000,"height":2000,"src":"https:\/\/cdn.shopify.com\/s\/files\/1\/2294\/5259\/products\/GM71172_BK.jpg?v=1647484199","variant_ids":[37768761180346,37768761213114,37768761245882,37768761278650]},"available":false,"name":"Rip-stop Light Shorts - GM71172 \/ BLACK \/ S","public_title":"GM71172 \/ BLACK \/ S","options":["GM71172","BLACK","S"],"price":7000,"weight":0,"compare_at_price":10000,"inventory_quantity":0,"inventory_management":"shopify","inventory_policy":"deny","barcode":"61180346","featured_media":{"alt":null,"id":15603193381050,"position":11,"preview_image":{"aspect_ratio":1.0,"height":2000,"width":2000,"src":"https:\/\/cdn.shopify.com\/s\/files\/1\/2294\/5259\/products\/GM71172_BK.jpg?v=1647484199"}},"requires_selling_plan":false,"selling_plan_allocations":[]},{"id":37768761213114,"title":"GM71172 \/ BLACK \/ M","option1":"GM71172","option2":"BLACK","option3":"M","sku":"2701-GM71172-BK-M","requires_shipping":true,"taxable":true,"featured_image":{"id":23429022908602,"product_id":6130237571258,"position":11,"created_at":"2021-02-15T07:30:04+01:00","updated_at":"2022-03-17T03:29:59+01:00","alt":null,"width":2000,"height":2000,"src":"https:\/\/cdn.shopify.com\/s\/files\/1\/2294\/5259\/products\/GM71172_BK.jpg?v=1647484199","variant_ids":[37768761180346,37768761213114,37768761245882,37768761278650]},"available":false,"name":"Rip-stop Light Shorts - GM71172 \/ BLACK \/ M","public_title":"GM71172 \/ BLACK \/ M","options":["GM71172","BLACK","M"],"price":7000,"weight":0,"compare_at_price":10000,"inventory_quantity":0,"inventory_management":"shopify","inventory_policy":"deny","barcode":"61213114","featured_media":{"alt":null,"id":15603193381050,"position":11,"preview_image":{"aspect_ratio":1.0,"height":2000,"width":2000,"src":"https:\/\/cdn.shopify.com\/s\/files\/1\/2294\/5259\/products\/GM71172_BK.jpg?v=1647484199"}},"requires_selling_plan":false,"selling_plan_allocations":[]},{"id":37768761245882,"title":"GM71172 \/ BLACK \/ L","option1":"GM71172","option2":"BLACK","option3":"L","sku":"2701-GM71172-BK-L","requires_shipping":true,"taxable":true,"featured_image":{"id":23429022908602,"product_id":6130237571258,"position":11,"created_at":"2021-02-15T07:30:04+01:00","updated_at":"2022-03-17T03:29:59+01:00","alt":null,"width":2000,"height":2000,"src":"https:\/\/cdn.shopify.com\/s\/files\/1\/2294\/5259\/products\/GM71172_BK.jpg?v=1647484199","variant_ids":[37768761180346,37768761213114,37768761245882,37768761278650]},"available":false,"name":"Rip-stop Light Shorts - GM71172 \/ BLACK \/ L","public_title":"GM71172 \/ BLACK \/ L","options":["GM71172","BLACK","L"],"price":7000,"weight":0,"compare_at_price":10000,"inventory_quantity":0,"inventory_management":"shopify","inventory_policy":"deny","barcode":"61245882","featured_media":{"alt":null,"id":15603193381050,"position":11,"preview_image":{"aspect_ratio":1.0,"height":2000,"width":2000,"src":"https:\/\/cdn.shopify.com\/s\/files\/1\/2294\/5259\/products\/GM71172_BK.jpg?v=1647484199"}},"requires_selling_plan":false,"selling_plan_allocations":[]},{"id":37768761278650,"title":"GM71172 \/ BLACK \/ XL","option1":"GM71172","option2":"BLACK","option3":"XL","sku":"2701-GM71172-BK-XL","requires_shipping":true,"taxable":true,"featured_image":{"id":23429022908602,"product_id":6130237571258,"position":11,"created_at":"2021-02-15T07:30:04+01:00","updated_at":"2022-03-17T03:29:59+01:00","alt":null,"width":2000,"height":2000,"src":"https:\/\/cdn.shopify.com\/s\/files\/1\/2294\/5259\/products\/GM71172_BK.jpg?v=1647484199","variant_ids":[37768761180346,37768761213114,37768761245882,37768761278650]},"available":false,"name":"Rip-stop Light Shorts - GM71172 \/ BLACK \/ XL","public_title":"GM71172 \/ BLACK \/ XL","options":["GM71172","BLACK","XL"],"price":7000,"weight":0,"compare_at_price":10000,"inventory_quantity":0,"inventory_management":"shopify","inventory_policy":"deny","barcode":"61278650","featured_media":{"alt":null,"id":15603193381050,"position":11,"preview_image":{"aspect_ratio":1.0,"height":2000,"width":2000,"src":"https:\/\/cdn.shopify.com\/s\/files\/1\/2294\/5259\/products\/GM71172_BK.jpg?v=1647484199"}},"requires_selling_plan":false,"selling_plan_allocations":[]},{"id":37768761737402,"title":"GM71172 \/ KHAKI GREEN \/ S","option1":"GM71172","option2":"KHAKI GREEN","option3":"S","sku":"2701-GM71172-KG-S","requires_shipping":true,"taxable":true,"featured_image":{"id":23429022843066,"product_id":6130237571258,"position":8,"created_at":"2021-02-15T07:30:04+01:00","updated_at":"2022-04-20T09:51:09+02:00","alt":null,"width":2000,"height":2000,"src":"https:\/\/cdn.shopify.com\/s\/files\/1\/2294\/5259\/products\/GM71172_KG.jpg?v=1650441069","variant_ids":[37768761737402,37768761770170,37768761802938,37768761835706]},"available":false,"name":"Rip-stop Light Shorts - GM71172 \/ KHAKI GREEN \/ S","public_title":"GM71172 \/ KHAKI GREEN \/ S","options":["GM71172","KHAKI GREEN","S"],"price":7000,"weight":0,"compare_at_price":10000,"inventory_quantity":0,"inventory_management":"shopify","inventory_policy":"deny","barcode":"61737402","featured_media":{"alt":null,"id":15603193315514,"position":8,"preview_image":{"aspect_ratio":1.0,"height":2000,"width":2000,"src":"https:\/\/cdn.shopify.com\/s\/files\/1\/2294\/5259\/products\/GM71172_KG.jpg?v=1650441069"}},"requires_selling_plan":false,"selling_plan_allocations":[]},{"id":37768761770170,"title":"GM71172 \/ KHAKI GREEN \/ M","option1":"GM71172","option2":"KHAKI GREEN","option3":"M","sku":"2701-GM71172-KG-M","requires_shipping":true,"taxable":true,"featured_image":{"id":23429022843066,"product_id":6130237571258,"position":8,"created_at":"2021-02-15T07:30:04+01:00","updated_at":"2022-04-20T09:51:09+02:00","alt":null,"width":2000,"height":2000,"src":"https:\/\/cdn.shopify.com\/s\/files\/1\/2294\/5259\/products\/GM71172_KG.jpg?v=1650441069","variant_ids":[37768761737402,37768761770170,37768761802938,37768761835706]},"available":false,"name":"Rip-stop Light Shorts - GM71172 \/ KHAKI GREEN \/ M","public_title":"GM71172 \/ KHAKI GREEN \/ M","options":["GM71172","KHAKI GREEN","M"],"price":7000,"weight":0,"compare_at_price":10000,"inventory_quantity":0,"inventory_management":"shopify","inventory_policy":"deny","barcode":"61770170","featured_media":{"alt":null,"id":15603193315514,"position":8,"preview_image":{"aspect_ratio":1.0,"height":2000,"width":2000,"src":"https:\/\/cdn.shopify.com\/s\/files\/1\/2294\/5259\/products\/GM71172_KG.jpg?v=1650441069"}},"requires_selling_plan":false,"selling_plan_allocations":[]},{"id":37768761802938,"title":"GM71172 \/ KHAKI GREEN \/ L","option1":"GM71172","option2":"KHAKI GREEN","option3":"L","sku":"2701-GM71172-KG-L","requires_shipping":true,"taxable":true,"featured_image":{"id":23429022843066,"product_id":6130237571258,"position":8,"created_at":"2021-02-15T07:30:04+01:00","updated_at":"2022-04-20T09:51:09+02:00","alt":null,"width":2000,"height":2000,"src":"https:\/\/cdn.shopify.com\/s\/files\/1\/2294\/5259\/products\/GM71172_KG.jpg?v=1650441069","variant_ids":[37768761737402,37768761770170,37768761802938,37768761835706]},"available":false,"name":"Rip-stop Light Shorts - GM71172 \/ KHAKI GREEN \/ L","public_title":"GM71172 \/ KHAKI GREEN \/ L","options":["GM71172","KHAKI GREEN","L"],"price":7000,"weight":0,"compare_at_price":10000,"inventory_quantity":0,"inventory_management":"shopify","inventory_policy":"deny","barcode":"61802938","featured_media":{"alt":null,"id":15603193315514,"position":8,"preview_image":{"aspect_ratio":1.0,"height":2000,"width":2000,"src":"https:\/\/cdn.shopify.com\/s\/files\/1\/2294\/5259\/products\/GM71172_KG.jpg?v=1650441069"}},"requires_selling_plan":false,"selling_plan_allocations":[]},{"id":37768761835706,"title":"GM71172 \/ KHAKI GREEN \/ XL","option1":"GM71172","option2":"KHAKI GREEN","option3":"XL","sku":"2701-GM71172-KG-XL","requires_shipping":true,"taxable":true,"featured_image":{"id":23429022843066,"product_id":6130237571258,"position":8,"created_at":"2021-02-15T07:30:04+01:00","updated_at":"2022-04-20T09:51:09+02:00","alt":null,"width":2000,"height":2000,"src":"https:\/\/cdn.shopify.com\/s\/files\/1\/2294\/5259\/products\/GM71172_KG.jpg?v=1650441069","variant_ids":[37768761737402,37768761770170,37768761802938,37768761835706]},"available":false,"name":"Rip-stop Light Shorts - GM71172 \/ KHAKI GREEN \/ XL","public_title":"GM71172 \/ KHAKI GREEN \/ XL","options":["GM71172","KHAKI GREEN","XL"],"price":7000,"weight":0,"compare_at_price":10000,"inventory_quantity":0,"inventory_management":"shopify","inventory_policy":"deny","barcode":"61835706","featured_media":{"alt":null,"id":15603193315514,"position":8,"preview_image":{"aspect_ratio":1.0,"height":2000,"width":2000,"src":"https:\/\/cdn.shopify.com\/s\/files\/1\/2294\/5259\/products\/GM71172_KG.jpg?v=1650441069"}},"requires_selling_plan":false,"selling_plan_allocations":[]},{"id":37768761868474,"title":"GM71172 \/ NAVY \/ S","option1":"GM71172","option2":"NAVY","option3":"S","sku":"2701-GM71172-N-S","requires_shipping":true,"taxable":true,"featured_image":{"id":23429022875834,"product_id":6130237571258,"position":10,"created_at":"2021-02-15T07:30:04+01:00","updated_at":"2022-03-17T03:29:59+01:00","alt":null,"width":2000,"height":2000,"src":"https:\/\/cdn.shopify.com\/s\/files\/1\/2294\/5259\/products\/GM71172_N.jpg?v=1647484199","variant_ids":[37768761868474,37768761901242,37768761934010,37768761966778]},"available":false,"name":"Rip-stop Light Shorts - GM71172 \/ NAVY \/ S","public_title":"GM71172 \/ NAVY \/ S","options":["GM71172","NAVY","S"],"price":7000,"weight":0,"compare_at_price":10000,"inventory_quantity":0,"inventory_management":"shopify","inventory_policy":"deny","barcode":"61868474","featured_media":{"alt":null,"id":15603193348282,"position":10,"preview_image":{"aspect_ratio":1.0,"height":2000,"width":2000,"src":"https:\/\/cdn.shopify.com\/s\/files\/1\/2294\/5259\/products\/GM71172_N.jpg?v=1647484199"}},"requires_selling_plan":false,"selling_plan_allocations":[]},{"id":37768761901242,"title":"GM71172 \/ NAVY \/ M","option1":"GM71172","option2":"NAVY","option3":"M","sku":"2701-GM71172-N-M","requires_shipping":true,"taxable":true,"featured_image":{"id":23429022875834,"product_id":6130237571258,"position":10,"created_at":"2021-02-15T07:30:04+01:00","updated_at":"2022-03-17T03:29:59+01:00","alt":null,"width":2000,"height":2000,"src":"https:\/\/cdn.shopify.com\/s\/files\/1\/2294\/5259\/products\/GM71172_N.jpg?v=1647484199","variant_ids":[37768761868474,37768761901242,37768761934010,37768761966778]},"available":false,"name":"Rip-stop Light Shorts - GM71172 \/ NAVY \/ M","public_title":"GM71172 \/ NAVY \/ M","options":["GM71172","NAVY","M"],"price":7000,"weight":0,"compare_at_price":10000,"inventory_quantity":0,"inventory_management":"shopify","inventory_policy":"deny","barcode":"61901242","featured_media":{"alt":null,"id":15603193348282,"position":10,"preview_image":{"aspect_ratio":1.0,"height":2000,"width":2000,"src":"https:\/\/cdn.shopify.com\/s\/files\/1\/2294\/5259\/products\/GM71172_N.jpg?v=1647484199"}},"requires_selling_plan":false,"selling_plan_allocations":[]},{"id":37768761934010,"title":"GM71172 \/ NAVY \/ L","option1":"GM71172","option2":"NAVY","option3":"L","sku":"2701-GM71172-N-L","requires_shipping":true,"taxable":true,"featured_image":{"id":23429022875834,"product_id":6130237571258,"position":10,"created_at":"2021-02-15T07:30:04+01:00","updated_at":"2022-03-17T03:29:59+01:00","alt":null,"width":2000,"height":2000,"src":"https:\/\/cdn.shopify.com\/s\/files\/1\/2294\/5259\/products\/GM71172_N.jpg?v=1647484199","variant_ids":[37768761868474,37768761901242,37768761934010,37768761966778]},"available":false,"name":"Rip-stop Light Shorts - GM71172 \/ NAVY \/ L","public_title":"GM71172 \/ NAVY \/ L","options":["GM71172","NAVY","L"],"price":7000,"weight":0,"compare_at_price":10000,"inventory_quantity":0,"inventory_management":"shopify","inventory_policy":"deny","barcode":"61934010","featured_media":{"alt":null,"id":15603193348282,"position":10,"preview_image":{"aspect_ratio":1.0,"height":2000,"width":2000,"src":"https:\/\/cdn.shopify.com\/s\/files\/1\/2294\/5259\/products\/GM71172_N.jpg?v=1647484199"}},"requires_selling_plan":false,"selling_plan_allocations":[]},{"id":37768761966778,"title":"GM71172 \/ NAVY \/ XL","option1":"GM71172","option2":"NAVY","option3":"XL","sku":"2701-GM71172-N-XL","requires_shipping":true,"taxable":true,"featured_image":{"id":23429022875834,"product_id":6130237571258,"position":10,"created_at":"2021-02-15T07:30:04+01:00","updated_at":"2022-03-17T03:29:59+01:00","alt":null,"width":2000,"height":2000,"src":"https:\/\/cdn.shopify.com\/s\/files\/1\/2294\/5259\/products\/GM71172_N.jpg?v=1647484199","variant_ids":[37768761868474,37768761901242,37768761934010,37768761966778]},"available":false,"name":"Rip-stop Light Shorts - GM71172 \/ NAVY \/ XL","public_title":"GM71172 \/ NAVY \/ XL","options":["GM71172","NAVY","XL"],"price":7000,"weight":0,"compare_at_price":10000,"inventory_quantity":0,"inventory_management":"shopify","inventory_policy":"deny","barcode":"61966778","featured_media":{"alt":null,"id":15603193348282,"position":10,"preview_image":{"aspect_ratio":1.0,"height":2000,"width":2000,"src":"https:\/\/cdn.shopify.com\/s\/files\/1\/2294\/5259\/products\/GM71172_N.jpg?v=1647484199"}},"requires_selling_plan":false,"selling_plan_allocations":[]},{"id":39290219397306,"title":"GM71172 \/ CLAY BEIGE \/ S","option1":"GM71172","option2":"CLAY BEIGE","option3":"S","sku":"2701-GM71172-CB-S","requires_shipping":true,"taxable":true,"featured_image":{"id":28360343257274,"product_id":6130237571258,"position":9,"created_at":"2021-04-23T07:44:20+02:00","updated_at":"2022-04-20T09:50:48+02:00","alt":null,"width":1000,"height":1000,"src":"https:\/\/cdn.shopify.com\/s\/files\/1\/2294\/5259\/products\/GM71172_CB.jpg?v=1650441048","variant_ids":[39290219397306,39290219495610,39290219593914,39290219692218]},"available":false,"name":"Rip-stop Light Shorts - GM71172 \/ CLAY BEIGE \/ S","public_title":"GM71172 \/ CLAY BEIGE \/ S","options":["GM71172","CLAY BEIGE","S"],"price":7000,"weight":0,"compare_at_price":10000,"inventory_quantity":0,"inventory_management":"shopify","inventory_policy":"deny","barcode":"19397306","featured_media":{"alt":null,"id":20684487557306,"position":9,"preview_image":{"aspect_ratio":1.0,"height":1000,"width":1000,"src":"https:\/\/cdn.shopify.com\/s\/files\/1\/2294\/5259\/products\/GM71172_CB.jpg?v=1650441048"}},"requires_selling_plan":false,"selling_plan_allocations":[]},{"id":39290219495610,"title":"GM71172 \/ CLAY BEIGE \/ M","option1":"GM71172","option2":"CLAY BEIGE","option3":"M","sku":"2701-GM71172-CB-M","requires_shipping":true,"taxable":true,"featured_image":{"id":28360343257274,"product_id":6130237571258,"position":9,"created_at":"2021-04-23T07:44:20+02:00","updated_at":"2022-04-20T09:50:48+02:00","alt":null,"width":1000,"height":1000,"src":"https:\/\/cdn.shopify.com\/s\/files\/1\/2294\/5259\/products\/GM71172_CB.jpg?v=1650441048","variant_ids":[39290219397306,39290219495610,39290219593914,39290219692218]},"available":false,"name":"Rip-stop Light Shorts - GM71172 \/ CLAY BEIGE \/ M","public_title":"GM71172 \/ CLAY BEIGE \/ M","options":["GM71172","CLAY BEIGE","M"],"price":7000,"weight":0,"compare_at_price":10000,"inventory_quantity":0,"inventory_management":"shopify","inventory_policy":"deny","barcode":"19495610","featured_media":{"alt":null,"id":20684487557306,"position":9,"preview_image":{"aspect_ratio":1.0,"height":1000,"width":1000,"src":"https:\/\/cdn.shopify.com\/s\/files\/1\/2294\/5259\/products\/GM71172_CB.jpg?v=1650441048"}},"requires_selling_plan":false,"selling_plan_allocations":[]},{"id":39290219593914,"title":"GM71172 \/ CLAY BEIGE \/ L","option1":"GM71172","option2":"CLAY BEIGE","option3":"L","sku":"2701-GM71172-CB-L","requires_shipping":true,"taxable":true,"featured_image":{"id":28360343257274,"product_id":6130237571258,"position":9,"created_at":"2021-04-23T07:44:20+02:00","updated_at":"2022-04-20T09:50:48+02:00","alt":null,"width":1000,"height":1000,"src":"https:\/\/cdn.shopify.com\/s\/files\/1\/2294\/5259\/products\/GM71172_CB.jpg?v=1650441048","variant_ids":[39290219397306,39290219495610,39290219593914,39290219692218]},"available":true,"name":"Rip-stop Light Shorts - GM71172 \/ CLAY BEIGE \/ L","public_title":"GM71172 \/ CLAY BEIGE \/ L","options":["GM71172","CLAY BEIGE","L"],"price":7000,"weight":0,"compare_at_price":10000,"inventory_quantity":1,"inventory_management":"shopify","inventory_policy":"deny","barcode":"4550413130840","featured_media":{"alt":null,"id":20684487557306,"position":9,"preview_image":{"aspect_ratio":1.0,"height":1000,"width":1000,"src":"https:\/\/cdn.shopify.com\/s\/files\/1\/2294\/5259\/products\/GM71172_CB.jpg?v=1650441048"}},"requires_selling_plan":false,"selling_plan_allocations":[]},{"id":39290219692218,"title":"GM71172 \/ CLAY BEIGE \/ XL","option1":"GM71172","option2":"CLAY BEIGE","option3":"XL","sku":"2701-GM71172-CB-XL","requires_shipping":true,"taxable":true,"featured_image":{"id":28360343257274,"product_id":6130237571258,"position":9,"created_at":"2021-04-23T07:44:20+02:00","updated_at":"2022-04-20T09:50:48+02:00","alt":null,"width":1000,"height":1000,"src":"https:\/\/cdn.shopify.com\/s\/files\/1\/2294\/5259\/products\/GM71172_CB.jpg?v=1650441048","variant_ids":[39290219397306,39290219495610,39290219593914,39290219692218]},"available":false,"name":"Rip-stop Light Shorts - GM71172 \/ CLAY BEIGE \/ XL","public_title":"GM71172 \/ CLAY BEIGE \/ XL","options":["GM71172","CLAY BEIGE","XL"],"price":7000,"weight":0,"compare_at_price":10000,"inventory_quantity":0,"inventory_management":"shopify","inventory_policy":"deny","barcode":"19692218","featured_media":{"alt":null,"id":20684487557306,"position":9,"preview_image":{"aspect_ratio":1.0,"height":1000,"width":1000,"src":"https:\/\/cdn.shopify.com\/s\/files\/1\/2294\/5259\/products\/GM71172_CB.jpg?v=1650441048"}},"requires_selling_plan":false,"selling_plan_allocations":[]},{"id":39290219430074,"title":"GM71172 \/ CITRUS YELLOW \/ S","option1":"GM71172","option2":"CITRUS YELLOW","option3":"S","sku":"2701-GM71172-CY-S","requires_shipping":true,"taxable":true,"featured_image":{"id":28360343290042,"product_id":6130237571258,"position":7,"created_at":"2021-04-23T07:44:20+02:00","updated_at":"2022-04-20T09:51:09+02:00","alt":null,"width":1000,"height":1000,"src":"https:\/\/cdn.shopify.com\/s\/files\/1\/2294\/5259\/products\/GM71172_CY.jpg?v=1650441069","variant_ids":[39290219430074,39290219528378,39290219626682,39290219724986]},"available":false,"name":"Rip-stop Light Shorts - GM71172 \/ CITRUS YELLOW \/ S","public_title":"GM71172 \/ CITRUS YELLOW \/ S","options":["GM71172","CITRUS YELLOW","S"],"price":7000,"weight":0,"compare_at_price":10000,"inventory_quantity":0,"inventory_management":"shopify","inventory_policy":"deny","barcode":"19430074","featured_media":{"alt":null,"id":20684487590074,"position":7,"preview_image":{"aspect_ratio":1.0,"height":1000,"width":1000,"src":"https:\/\/cdn.shopify.com\/s\/files\/1\/2294\/5259\/products\/GM71172_CY.jpg?v=1650441069"}},"requires_selling_plan":false,"selling_plan_allocations":[]},{"id":39290219528378,"title":"GM71172 \/ CITRUS YELLOW \/ M","option1":"GM71172","option2":"CITRUS YELLOW","option3":"M","sku":"2701-GM71172-CY-M","requires_shipping":true,"taxable":true,"featured_image":{"id":28360343290042,"product_id":6130237571258,"position":7,"created_at":"2021-04-23T07:44:20+02:00","updated_at":"2022-04-20T09:51:09+02:00","alt":null,"width":1000,"height":1000,"src":"https:\/\/cdn.shopify.com\/s\/files\/1\/2294\/5259\/products\/GM71172_CY.jpg?v=1650441069","variant_ids":[39290219430074,39290219528378,39290219626682,39290219724986]},"available":false,"name":"Rip-stop Light Shorts - GM71172 \/ CITRUS YELLOW \/ M","public_title":"GM71172 \/ CITRUS YELLOW \/ M","options":["GM71172","CITRUS YELLOW","M"],"price":7000,"weight":0,"compare_at_price":10000,"inventory_quantity":0,"inventory_management":"shopify","inventory_policy":"deny","barcode":"19528378","featured_media":{"alt":null,"id":20684487590074,"position":7,"preview_image":{"aspect_ratio":1.0,"height":1000,"width":1000,"src":"https:\/\/cdn.shopify.com\/s\/files\/1\/2294\/5259\/products\/GM71172_CY.jpg?v=1650441069"}},"requires_selling_plan":false,"selling_plan_allocations":[]},{"id":39290219626682,"title":"GM71172 \/ CITRUS YELLOW \/ L","option1":"GM71172","option2":"CITRUS YELLOW","option3":"L","sku":"2701-GM71172-CY-L","requires_shipping":true,"taxable":true,"featured_image":{"id":28360343290042,"product_id":6130237571258,"position":7,"created_at":"2021-04-23T07:44:20+02:00","updated_at":"2022-04-20T09:51:09+02:00","alt":null,"width":1000,"height":1000,"src":"https:\/\/cdn.shopify.com\/s\/files\/1\/2294\/5259\/products\/GM71172_CY.jpg?v=1650441069","variant_ids":[39290219430074,39290219528378,39290219626682,39290219724986]},"available":true,"name":"Rip-stop Light Shorts - GM71172 \/ CITRUS YELLOW \/ L","public_title":"GM71172 \/ CITRUS YELLOW \/ L","options":["GM71172","CITRUS YELLOW","L"],"price":7000,"weight":0,"compare_at_price":10000,"inventory_quantity":1,"inventory_management":"shopify","inventory_policy":"deny","barcode":"4550413130802","featured_media":{"alt":null,"id":20684487590074,"position":7,"preview_image":{"aspect_ratio":1.0,"height":1000,"width":1000,"src":"https:\/\/cdn.shopify.com\/s\/files\/1\/2294\/5259\/products\/GM71172_CY.jpg?v=1650441069"}},"requires_selling_plan":false,"selling_plan_allocations":[]},{"id":39290219724986,"title":"GM71172 \/ CITRUS YELLOW \/ XL","option1":"GM71172","option2":"CITRUS YELLOW","option3":"XL","sku":"2701-GM71172-CY-XL","requires_shipping":true,"taxable":true,"featured_image":{"id":28360343290042,"product_id":6130237571258,"position":7,"created_at":"2021-04-23T07:44:20+02:00","updated_at":"2022-04-20T09:51:09+02:00","alt":null,"width":1000,"height":1000,"src":"https:\/\/cdn.shopify.com\/s\/files\/1\/2294\/5259\/products\/GM71172_CY.jpg?v=1650441069","variant_ids":[39290219430074,39290219528378,39290219626682,39290219724986]},"available":true,"name":"Rip-stop Light Shorts - GM71172 \/ CITRUS YELLOW \/ XL","public_title":"GM71172 \/ CITRUS YELLOW \/ XL","options":["GM71172","CITRUS YELLOW","XL"],"price":7000,"weight":0,"compare_at_price":10000,"inventory_quantity":1,"inventory_management":"shopify","inventory_policy":"deny","barcode":"4550413130819","featured_media":{"alt":null,"id":20684487590074,"position":7,"preview_image":{"aspect_ratio":1.0,"height":1000,"width":1000,"src":"https:\/\/cdn.shopify.com\/s\/files\/1\/2294\/5259\/products\/GM71172_CY.jpg?v=1650441069"}},"requires_selling_plan":false,"selling_plan_allocations":[]},{"id":39290219462842,"title":"GM71172 \/ DARK BLUE \/ S","option1":"GM71172","option2":"DARK BLUE","option3":"S","sku":"2701-GM71172-DB-S","requires_shipping":true,"taxable":true,"featured_image":{"id":28360343224506,"product_id":6130237571258,"position":1,"created_at":"2021-04-23T07:44:20+02:00","updated_at":"2022-04-20T09:51:09+02:00","alt":null,"width":1000,"height":1000,"src":"https:\/\/cdn.shopify.com\/s\/files\/1\/2294\/5259\/products\/GM71172_DB.jpg?v=1650441069","variant_ids":[39290219462842,39290219561146,39290219659450,39290219757754]},"available":false,"name":"Rip-stop Light Shorts - GM71172 \/ DARK BLUE \/ S","public_title":"GM71172 \/ DARK BLUE \/ S","options":["GM71172","DARK BLUE","S"],"price":7000,"weight":0,"compare_at_price":10000,"inventory_quantity":0,"inventory_management":"shopify","inventory_policy":"deny","barcode":"19462842","featured_media":{"alt":null,"id":20684487622842,"position":1,"preview_image":{"aspect_ratio":1.0,"height":1000,"width":1000,"src":"https:\/\/cdn.shopify.com\/s\/files\/1\/2294\/5259\/products\/GM71172_DB.jpg?v=1650441069"}},"requires_selling_plan":false,"selling_plan_allocations":[]},{"id":39290219561146,"title":"GM71172 \/ DARK BLUE \/ M","option1":"GM71172","option2":"DARK BLUE","option3":"M","sku":"2701-GM71172-DB-M","requires_shipping":true,"taxable":true,"featured_image":{"id":28360343224506,"product_id":6130237571258,"position":1,"created_at":"2021-04-23T07:44:20+02:00","updated_at":"2022-04-20T09:51:09+02:00","alt":null,"width":1000,"height":1000,"src":"https:\/\/cdn.shopify.com\/s\/files\/1\/2294\/5259\/products\/GM71172_DB.jpg?v=1650441069","variant_ids":[39290219462842,39290219561146,39290219659450,39290219757754]},"available":false,"name":"Rip-stop Light Shorts - GM71172 \/ DARK BLUE \/ M","public_title":"GM71172 \/ DARK BLUE \/ M","options":["GM71172","DARK BLUE","M"],"price":7000,"weight":0,"compare_at_price":10000,"inventory_quantity":0,"inventory_management":"shopify","inventory_policy":"deny","barcode":"19561146","featured_media":{"alt":null,"id":20684487622842,"position":1,"preview_image":{"aspect_ratio":1.0,"height":1000,"width":1000,"src":"https:\/\/cdn.shopify.com\/s\/files\/1\/2294\/5259\/products\/GM71172_DB.jpg?v=1650441069"}},"requires_selling_plan":false,"selling_plan_allocations":[]},{"id":39290219659450,"title":"GM71172 \/ DARK BLUE \/ L","option1":"GM71172","option2":"DARK BLUE","option3":"L","sku":"2701-GM71172-DB-L","requires_shipping":true,"taxable":true,"featured_image":{"id":28360343224506,"product_id":6130237571258,"position":1,"created_at":"2021-04-23T07:44:20+02:00","updated_at":"2022-04-20T09:51:09+02:00","alt":null,"width":1000,"height":1000,"src":"https:\/\/cdn.shopify.com\/s\/files\/1\/2294\/5259\/products\/GM71172_DB.jpg?v=1650441069","variant_ids":[39290219462842,39290219561146,39290219659450,39290219757754]},"available":true,"name":"Rip-stop Light Shorts - GM71172 \/ DARK BLUE \/ L","public_title":"GM71172 \/ DARK BLUE \/ L","options":["GM71172","DARK BLUE","L"],"price":7000,"weight":0,"compare_at_price":10000,"inventory_quantity":1,"inventory_management":"shopify","inventory_policy":"deny","barcode":"4550413130765","featured_media":{"alt":null,"id":20684487622842,"position":1,"preview_image":{"aspect_ratio":1.0,"height":1000,"width":1000,"src":"https:\/\/cdn.shopify.com\/s\/files\/1\/2294\/5259\/products\/GM71172_DB.jpg?v=1650441069"}},"requires_selling_plan":false,"selling_plan_allocations":[]},{"id":39290219757754,"title":"GM71172 \/ DARK BLUE \/ XL","option1":"GM71172","option2":"DARK BLUE","option3":"XL","sku":"2701-GM71172-DB-XL","requires_shipping":true,"taxable":true,"featured_image":{"id":28360343224506,"product_id":6130237571258,"position":1,"created_at":"2021-04-23T07:44:20+02:00","updated_at":"2022-04-20T09:51:09+02:00","alt":null,"width":1000,"height":1000,"src":"https:\/\/cdn.shopify.com\/s\/files\/1\/2294\/5259\/products\/GM71172_DB.jpg?v=1650441069","variant_ids":[39290219462842,39290219561146,39290219659450,39290219757754]},"available":false,"name":"Rip-stop Light Shorts - GM71172 \/ DARK BLUE \/ XL","public_title":"GM71172 \/ DARK BLUE \/ XL","options":["GM71172","DARK BLUE","XL"],"price":7000,"weight":0,"compare_at_price":10000,"inventory_quantity":0,"inventory_management":"shopify","inventory_policy":"deny","barcode":"4550413130772","featured_media":{"alt":null,"id":20684487622842,"position":1,"preview_image":{"aspect_ratio":1.0,"height":1000,"width":1000,"src":"https:\/\/cdn.shopify.com\/s\/files\/1\/2294\/5259\/products\/GM71172_DB.jpg?v=1650441069"}},"requires_selling_plan":false,"selling_plan_allocations":[]}],"images":["\/\/cdn.shopify.com\/s\/files\/1\/2294\/5259\/products\/GM71172_DB.jpg?v=1650441069","\/\/cdn.shopify.com\/s\/files\/1\/2294\/5259\/products\/GM71172_KG-b2.jpg?v=1650441069","\/\/cdn.shopify.com\/s\/files\/1\/2294\/5259\/products\/GM71172_KG-b8.jpg?v=1650441069","\/\/cdn.shopify.com\/s\/files\/1\/2294\/5259\/products\/GM71172_KG-b3.jpg?v=1650441069","\/\/cdn.shopify.com\/s\/files\/1\/2294\/5259\/products\/GM71172_KG-b4.jpg?v=1650441069","\/\/cdn.shopify.com\/s\/files\/1\/2294\/5259\/products\/GM71172_KG-b6.jpg?v=1650441069","\/\/cdn.shopify.com\/s\/files\/1\/2294\/5259\/products\/GM71172_CY.jpg?v=1650441069","\/\/cdn.shopify.com\/s\/files\/1\/2294\/5259\/products\/GM71172_KG.jpg?v=1650441069","\/\/cdn.shopify.com\/s\/files\/1\/2294\/5259\/products\/GM71172_CB.jpg?v=1650441048","\/\/cdn.shopify.com\/s\/files\/1\/2294\/5259\/products\/GM71172_N.jpg?v=1647484199","\/\/cdn.shopify.com\/s\/files\/1\/2294\/5259\/products\/GM71172_BK.jpg?v=1647484199"],"featured_image":"\/\/cdn.shopify.com\/s\/files\/1\/2294\/5259\/products\/GM71172_DB.jpg?v=1650441069","options":["Style#","Color","Size"],"media":[{"alt":null,"id":20684487622842,"position":1,"preview_image":{"aspect_ratio":1.0,"height":1000,"width":1000,"src":"https:\/\/cdn.shopify.com\/s\/files\/1\/2294\/5259\/products\/GM71172_DB.jpg?v=1650441069"},"aspect_ratio":1.0,"height":1000,"media_type":"image","src":"https:\/\/cdn.shopify.com\/s\/files\/1\/2294\/5259\/products\/GM71172_DB.jpg?v=1650441069","width":1000},{"alt":null,"id":15603196723386,"position":2,"preview_image":{"aspect_ratio":1.0,"height":2000,"width":2000,"src":"https:\/\/cdn.shopify.com\/s\/files\/1\/2294\/5259\/products\/GM71172_KG-b2.jpg?v=1650441069"},"aspect_ratio":1.0,"height":2000,"media_type":"image","src":"https:\/\/cdn.shopify.com\/s\/files\/1\/2294\/5259\/products\/GM71172_KG-b2.jpg?v=1650441069","width":2000},{"alt":null,"id":15603196854458,"position":3,"preview_image":{"aspect_ratio":1.0,"height":2000,"width":2000,"src":"https:\/\/cdn.shopify.com\/s\/files\/1\/2294\/5259\/products\/GM71172_KG-b8.jpg?v=1650441069"},"aspect_ratio":1.0,"height":2000,"media_type":"image","src":"https:\/\/cdn.shopify.com\/s\/files\/1\/2294\/5259\/products\/GM71172_KG-b8.jpg?v=1650441069","width":2000},{"alt":null,"id":15603196756154,"position":4,"preview_image":{"aspect_ratio":1.0,"height":2000,"width":2000,"src":"https:\/\/cdn.shopify.com\/s\/files\/1\/2294\/5259\/products\/GM71172_KG-b3.jpg?v=1650441069"},"aspect_ratio":1.0,"height":2000,"media_type":"image","src":"https:\/\/cdn.shopify.com\/s\/files\/1\/2294\/5259\/products\/GM71172_KG-b3.jpg?v=1650441069","width":2000},{"alt":null,"id":15603196788922,"position":5,"preview_image":{"aspect_ratio":1.0,"height":2000,"width":2000,"src":"https:\/\/cdn.shopify.com\/s\/files\/1\/2294\/5259\/products\/GM71172_KG-b4.jpg?v=1650441069"},"aspect_ratio":1.0,"height":2000,"media_type":"image","src":"https:\/\/cdn.shopify.com\/s\/files\/1\/2294\/5259\/products\/GM71172_KG-b4.jpg?v=1650441069","width":2000},{"alt":null,"id":15603196821690,"position":6,"preview_image":{"aspect_ratio":1.0,"height":2000,"width":2000,"src":"https:\/\/cdn.shopify.com\/s\/files\/1\/2294\/5259\/products\/GM71172_KG-b6.jpg?v=1650441069"},"aspect_ratio":1.0,"height":2000,"media_type":"image","src":"https:\/\/cdn.shopify.com\/s\/files\/1\/2294\/5259\/products\/GM71172_KG-b6.jpg?v=1650441069","width":2000},{"alt":null,"id":20684487590074,"position":7,"preview_image":{"aspect_ratio":1.0,"height":1000,"width":1000,"src":"https:\/\/cdn.shopify.com\/s\/files\/1\/2294\/5259\/products\/GM71172_CY.jpg?v=1650441069"},"aspect_ratio":1.0,"height":1000,"media_type":"image","src":"https:\/\/cdn.shopify.com\/s\/files\/1\/2294\/5259\/products\/GM71172_CY.jpg?v=1650441069","width":1000},{"alt":null,"id":15603193315514,"position":8,"preview_image":{"aspect_ratio":1.0,"height":2000,"width":2000,"src":"https:\/\/cdn.shopify.com\/s\/files\/1\/2294\/5259\/products\/GM71172_KG.jpg?v=1650441069"},"aspect_ratio":1.0,"height":2000,"media_type":"image","src":"https:\/\/cdn.shopify.com\/s\/files\/1\/2294\/5259\/products\/GM71172_KG.jpg?v=1650441069","width":2000},{"alt":null,"id":20684487557306,"position":9,"preview_image":{"aspect_ratio":1.0,"height":1000,"width":1000,"src":"https:\/\/cdn.shopify.com\/s\/files\/1\/2294\/5259\/products\/GM71172_CB.jpg?v=1650441048"},"aspect_ratio":1.0,"height":1000,"media_type":"image","src":"https:\/\/cdn.shopify.com\/s\/files\/1\/2294\/5259\/products\/GM71172_CB.jpg?v=1650441048","width":1000},{"alt":null,"id":15603193348282,"position":10,"preview_image":{"aspect_ratio":1.0,"height":2000,"width":2000,"src":"https:\/\/cdn.shopify.com\/s\/files\/1\/2294\/5259\/products\/GM71172_N.jpg?v=1647484199"},"aspect_ratio":1.0,"height":2000,"media_type":"image","src":"https:\/\/cdn.shopify.com\/s\/files\/1\/2294\/5259\/products\/GM71172_N.jpg?v=1647484199","width":2000},{"alt":null,"id":15603193381050,"position":11,"preview_image":{"aspect_ratio":1.0,"height":2000,"width":2000,"src":"https:\/\/cdn.shopify.com\/s\/files\/1\/2294\/5259\/products\/GM71172_BK.jpg?v=1647484199"},"aspect_ratio":1.0,"height":2000,"media_type":"image","src":"https:\/\/cdn.shopify.com\/s\/files\/1\/2294\/5259\/products\/GM71172_BK.jpg?v=1647484199","width":2000}],"requires_selling_plan":false,"selling_plan_groups":[],"content":"\u003cp data-mce-fragment=\"1\"\u003eCut just above the knee for ease of movement, these water-resistant shorts are a good choice for days with unpredictable weather.\u003c\/p\u003e\n\u003cp data-mce-fragment=\"1\"\u003e \u003c\/p\u003e\n\u003ch4 class=\"subtitileDt\" data-mce-fragment=\"1\"\u003eFeatures\u003c\/h4\u003e\n\u003cul data-mce-fragment=\"1\"\u003e\n\u003cli data-mce-fragment=\"1\"\u003eThis is a water-repellent shorts you can rely on during sudden changes in weather. *Length is above the knee for better leg movement.\u003c\/li\u003e\n\u003cli data-mce-fragment=\"1\"\u003eThe pants are made with 20 deniers thin and lightweight yet durable ripstop material. The inner side of which is coated for water-repellency to tolerate moderate rain.\u003c\/li\u003e\n\u003cli data-mce-fragment=\"1\"\u003eSlotted pockets on both sides of the hip and back pocket with flap.\u003c\/li\u003e\n\u003cli data-mce-fragment=\"1\"\u003eElastic waist can be tightened with a drawcord.\u003c\/li\u003e\n\u003cli data-mce-fragment=\"1\"\u003e\"GREEN MATERIAL Eproduct made with chemical-recycle polyester from a complete recycling system.\u003c\/li\u003e\n\u003c\/ul\u003e\n\u003cp data-mce-fragment=\"1\"\u003e \u003c\/p\u003e\n\u003cp data-mce-fragment=\"1\"\u003e\u003ca href=\"https:\/\/www.goldwin-sports.com\/eu\/feature\/summer-shorts\/\" title=\"summershorts\" target=\"_blank\"\u003eSummer Shorts Collection\u0026gt;\u0026gt;\u003c\/a\u003e\u003c\/p\u003e\n\u003cp data-mce-fragment=\"1\"\u003e\u003ca href=\"https:\/\/www.goldwin-sports.com\/eu\/feature\/summer-shorts\/\" title=\"summershorts\" target=\"_blank\"\u003e\u003cimg alt=\"summershorts\" src=\"https:\/\/cdn.shopify.com\/s\/files\/1\/2294\/5259\/files\/ss_ripstop_multifield_480x480.jpg?v=1623989060\"\u003e\u003c\/a\u003e\u003c\/p\u003e\n\u003cp data-mce-fragment=\"1\"\u003e \u003c\/p\u003e\n\u003c!--material--\u003e\n\u003ch4 class=\"subtitileDt\" data-mce-fragment=\"1\"\u003eMaterial\u003c\/h4\u003e\n\u003cp\u003eEco High Density Rip-stop (Polyester100%)\u003c\/p\u003e\n\u003c!--\/material--\u003e\n\u003cp\u003e\u003ca title=\"green-material\" href=\"https:\/\/www.goldwin-sports.com\/eu\/brand\/material\/#green-material\" target=\"_blank\" data-mce-href=\"https:\/\/www.goldwin-sports.com\/eu\/brand\/material\/#green-material\"\u003e\u003cimg alt=\"\" src=\"https:\/\/cdn.shopify.com\/s\/files\/1\/1645\/3613\/files\/others-green-material_2x_5a55630c-4e74-4faa-aaa2-2bad4728ae36_480x480.jpg?v=1621403929\" width=\"168\" height=\"65\" data-mce-src=\"https:\/\/cdn.shopify.com\/s\/files\/1\/1645\/3613\/files\/others-green-material_2x_5a55630c-4e74-4faa-aaa2-2bad4728ae36_480x480.jpg?v=1621403929\"\u003e\u003c\/a\u003e\u003c\/p\u003e\n\u003cp\u003e \u003c\/p\u003e\n\u003cdiv class=\"product-tabs js-product-tabs\"\u003e\n\u003cdiv class=\"product-tab\"\u003e\n\u003cdiv class=\"product-tab-title\"\u003eCountry of Origin \u003cspan class=\"icon-toggle\"\u003e\u003c\/span\u003e\n\u003c\/div\u003e\n\u003cdiv class=\"product-tab-content\"\u003e\n\u003cp\u003eChina\u003c\/p\u003e\n\u003c\/div\u003e\n\u003c\/div\u003e\n\u003cdiv class=\"product-tab\"\u003e\n\u003cdiv class=\"product-tab-title\"\u003eShipping Policy \u003cspan class=\"icon-toggle\"\u003e\u003c\/span\u003e\n\u003c\/div\u003e\n\u003cdiv class=\"product-tab-content\"\u003e\n\u003cp\u003e\u003cstrong\u003eWe deliver to the following countries:\u003c\/strong\u003e\u003c\/p\u003e\r\n\u003cp\u003eAustria, Belgium, Czech Republic, Denmark, Finland, France, Germany, Italy, Ireland, Luxembourg, Netherlands, Poland, Portugal, Romania, Spain, Sweden, Switzerland, UK.\u003c\/p\u003e\r\n\u003cp\u003eShipment to the islands and overseas territories of France, Spain, Portugal, Netherlands, UK, and Denmark are excluded.\u003c\/p\u003e\r\n\u003cp\u003e \u003cbr\u003e\u003c\/p\u003e\r\n\u003cp\u003eWe ship free to all orders above €300.00-.\u003c\/p\u003e\r\n\u003cp\u003eShipping costs for orders less than\u003cspan\u003e \u003c\/span\u003e\u003cspan data-mce-fragment=\"1\"\u003e€3\u003c\/span\u003e00.00- will be shown at your checkout. \u003c\/p\u003e\r\n\u003cp\u003eSee below for details.\u003c\/p\u003e\r\n\u003cp\u003e \u003c\/p\u003e\r\n\u003cp\u003e\u003cstrong\u003eShipping Condition:\u003c\/strong\u003e\u003c\/p\u003e\r\n\u003ctable style=\"width: 356.777px;\" data-mce-fragment=\"1\" data-mce-style=\"width: 321.184px;\"\u003e\r\n\u003ctbody data-mce-fragment=\"1\"\u003e\r\n\u003ctr data-mce-fragment=\"1\"\u003e\r\n\u003ctd style=\"width: 190px;\" data-mce-fragment=\"1\" data-mce-style=\"width: 136px;\"\u003eCountry\u003c\/td\u003e\r\n\u003ctd style=\"width: 160px;\" data-mce-fragment=\"1\" data-mce-style=\"width: 170.184px;\"\u003eDelivery charge\u003cbr\u003e\r\n\u003c\/td\u003e\r\n\u003ctd style=\"width: 160.777px;\" data-mce-fragment=\"1\" data-mce-style=\"width: 170.184px;\"\u003eShipping Method\u003c\/td\u003e\r\n\u003c\/tr\u003e\r\n\u003ctr data-mce-fragment=\"1\"\u003e\r\n\u003ctd style=\"width: 190px;\" data-mce-fragment=\"1\" data-mce-style=\"width: 136px;\"\u003eGermany\u003cbr\u003e\r\n\u003c\/td\u003e\r\n\u003ctd style=\"width: 160px;\" data-mce-fragment=\"1\" data-mce-style=\"width: 170.184px;\"\u003e7 EURO\u003cbr\u003e\r\n\u003c\/td\u003e\r\n\u003ctd style=\"width: 160.777px;\" data-mce-fragment=\"1\" data-mce-style=\"width: 170.184px;\"\u003eDIE Post\u003c\/td\u003e\r\n\u003c\/tr\u003e\r\n\u003ctr data-mce-fragment=\"1\"\u003e\r\n\u003ctd style=\"width: 190px;\" data-mce-fragment=\"1\" data-mce-style=\"width: 136px;\"\u003eUnited Kingdom\u003cbr\u003e\r\n\u003c\/td\u003e\r\n\u003ctd style=\"width: 160px;\" data-mce-fragment=\"1\" data-mce-style=\"width: 170.184px;\"\u003e30 EURO\u003cbr\u003e\r\n\u003c\/td\u003e\r\n\u003ctd style=\"width: 160.777px;\" data-mce-fragment=\"1\" data-mce-style=\"width: 170.184px;\"\u003eDHL Express\u003c\/td\u003e\r\n\u003c\/tr\u003e\r\n\u003ctr data-mce-fragment=\"1\"\u003e\r\n\u003ctd style=\"width: 190px;\" data-mce-fragment=\"1\" data-mce-style=\"width: 136px;\"\u003eOther countries\u003cbr\u003e\r\n\u003c\/td\u003e\r\n\u003ctd style=\"width: 160px;\" data-mce-fragment=\"1\" data-mce-style=\"width: 170.184px;\"\u003e10 EURO\u003cbr\u003e\r\n\u003c\/td\u003e\r\n\u003ctd style=\"width: 160.777px;\" data-mce-fragment=\"1\" data-mce-style=\"width: 170.184px;\"\u003eDHL Packet\u003c\/td\u003e\r\n\u003c\/tr\u003e\r\n\u003c\/tbody\u003e\r\n\u003c\/table\u003e\r\n\u003cp\u003e\u003cbr\u003e\u003c\/p\u003e\r\n\u003cp\u003eGoldwin orders are shipped Monday-Friday (excluding holidays)\u003c\/p\u003e\r\n\u003c\/div\u003e\r\n\u003c\/div\u003e\r\n\u003c\/div\u003e"}