Model: Height 183cm | Wearing: BEIGE / L
Model: Height 183cm | Wearing: BEIGE / L
Model: Height 183cm | Wearing: BEIGE / L
Model: Height 183cm | Wearing: BEIGE / L
Model: Height 183cm | Wearing: BEIGE / L
Model: Height 183cm | Wearing: BEIGE / L
Model: Height 183cm | Wearing: BEIGE / L
Staff: Height 188cm | Wearing: OLIVE GREEN / M
Staff: Height 188cm | Wearing: OLIVE GREEN / M
Hooded Over Jacket
GL01102
Durable Jacket suitable for year-round use. Features a roomy fit for easy layering and large pockets for storage.
Features
Made with lightweight and durable PERTEX . This cotton-like 2 layer material is waterproof and moisture-permeable, but has a natural texture that would work with casual city styling.
Water-resistant, wind-proof, and moisture-permeable; this jacket is perfect for various situations.
Hip pocket with large opening is perfect for storing bulkier items such as water bottle and magazine. This item is also equipped with various pockets on the chest and sleeves.
Material
Front: Nylon100% / back: Polyurethane coating
Lining: Nylon100%
Shipping Policy
We deliver to the following countries:
Austria, Belgium, Czech Republic, Denmark, Finland, France, Germany, Italy, Ireland, Luxembourg, Netherlands, Poland, Portugal, Romania, Spain, Sweden, Switzerland, UK.
Shipment to the islands and overseas territories of France, Spain, Portugal, Netherlands, UK, and Denmark are excluded.
We ship free to all orders above €300.00-.
Shipping costs for orders less than €300.00- will be shown at your checkout. 
See below for details.
Shipping Condition:
| | | |
| --- | --- | --- |
| Country | Delivery charge | Shipping Method |
| Germany | 7 EURO | DIE Post |
| United Kingdom | 30 EURO | DHL Express |
| Other countries | 10 EURO | DHL Packet |
Goldwin orders are shipped Monday-Friday (excluding holidays)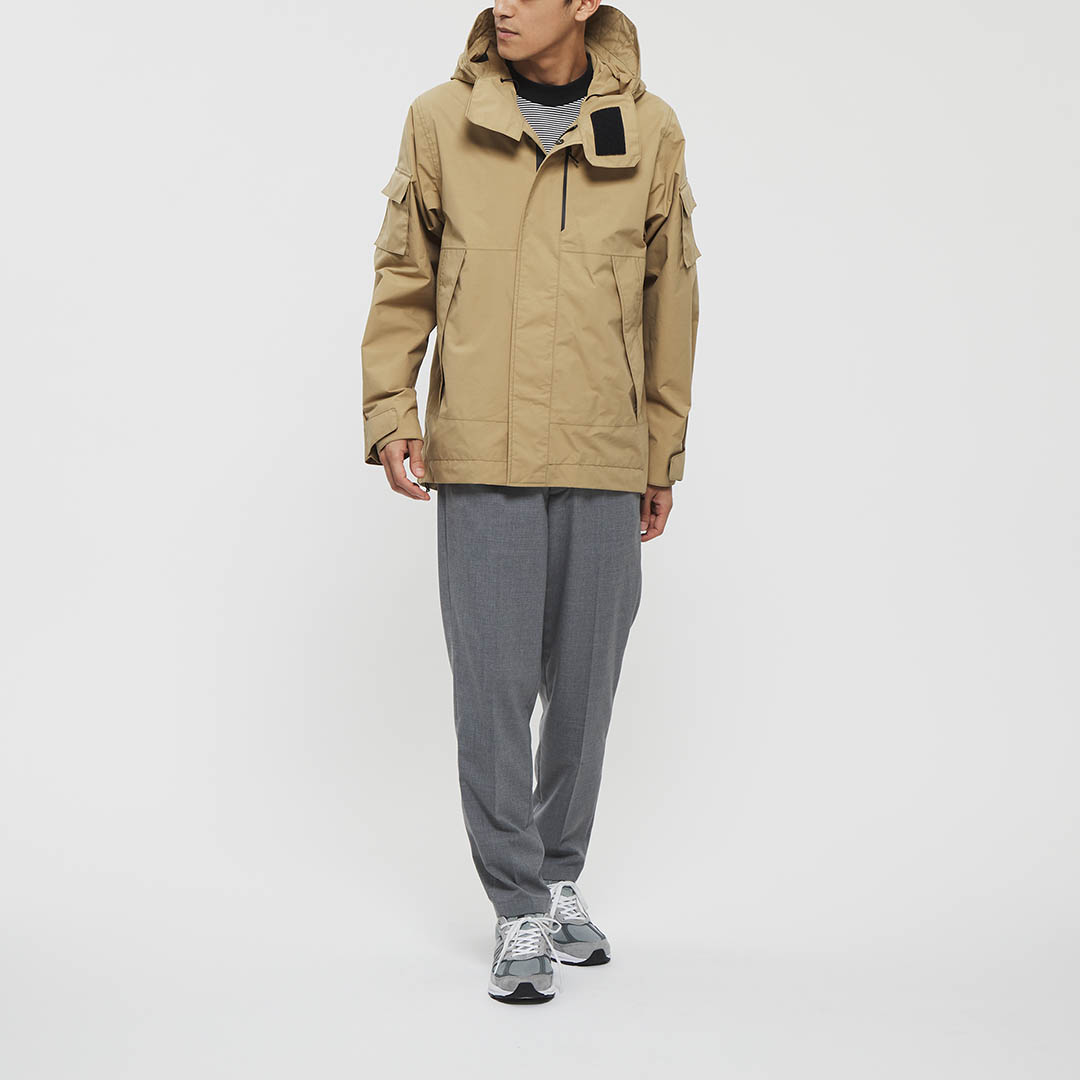 Model: Height 6'0" | Wearing: BEIGE / L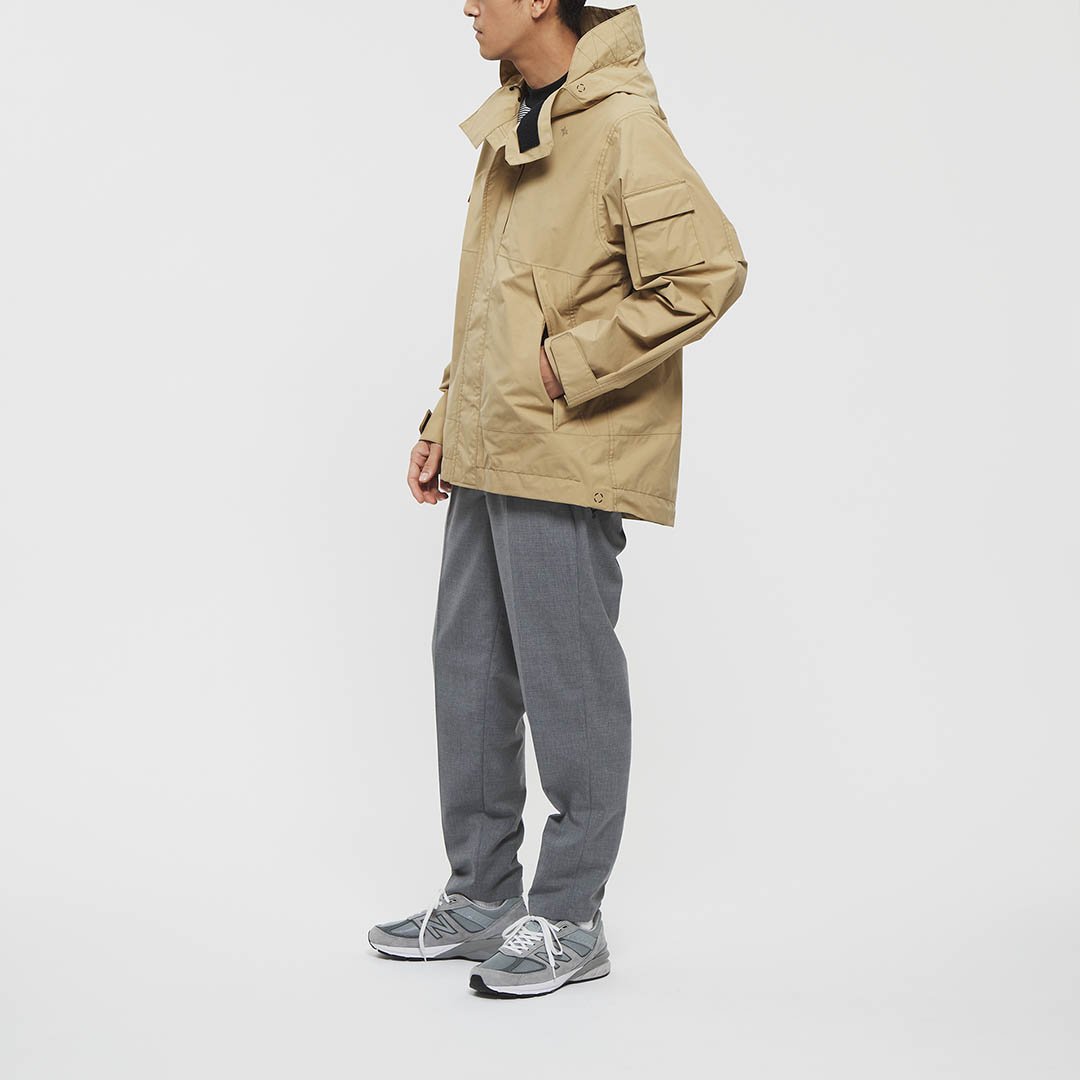 Model: Height 6'0" | Wearing: BEIGE / L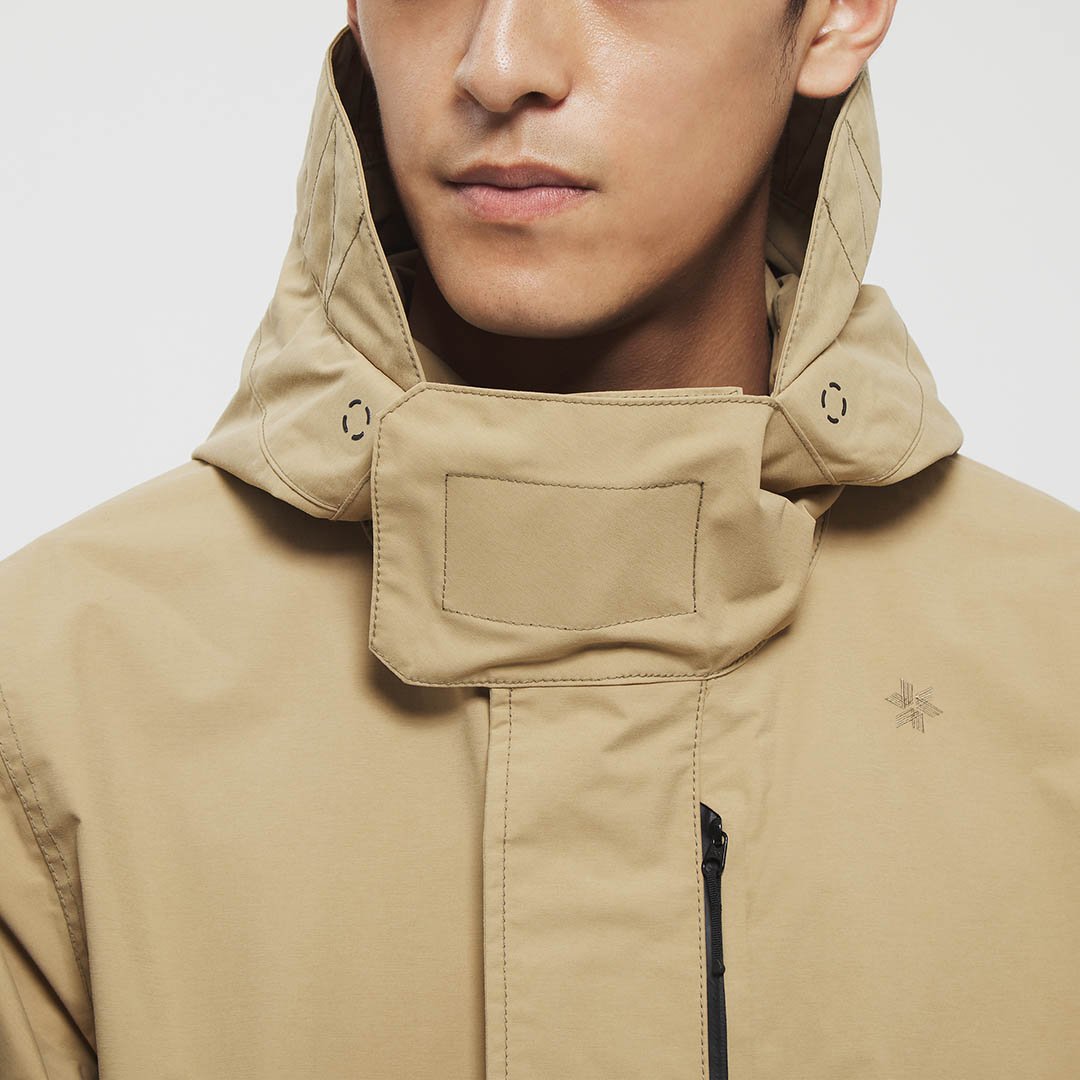 Model: Height 6'0" | Wearing: BEIGE / L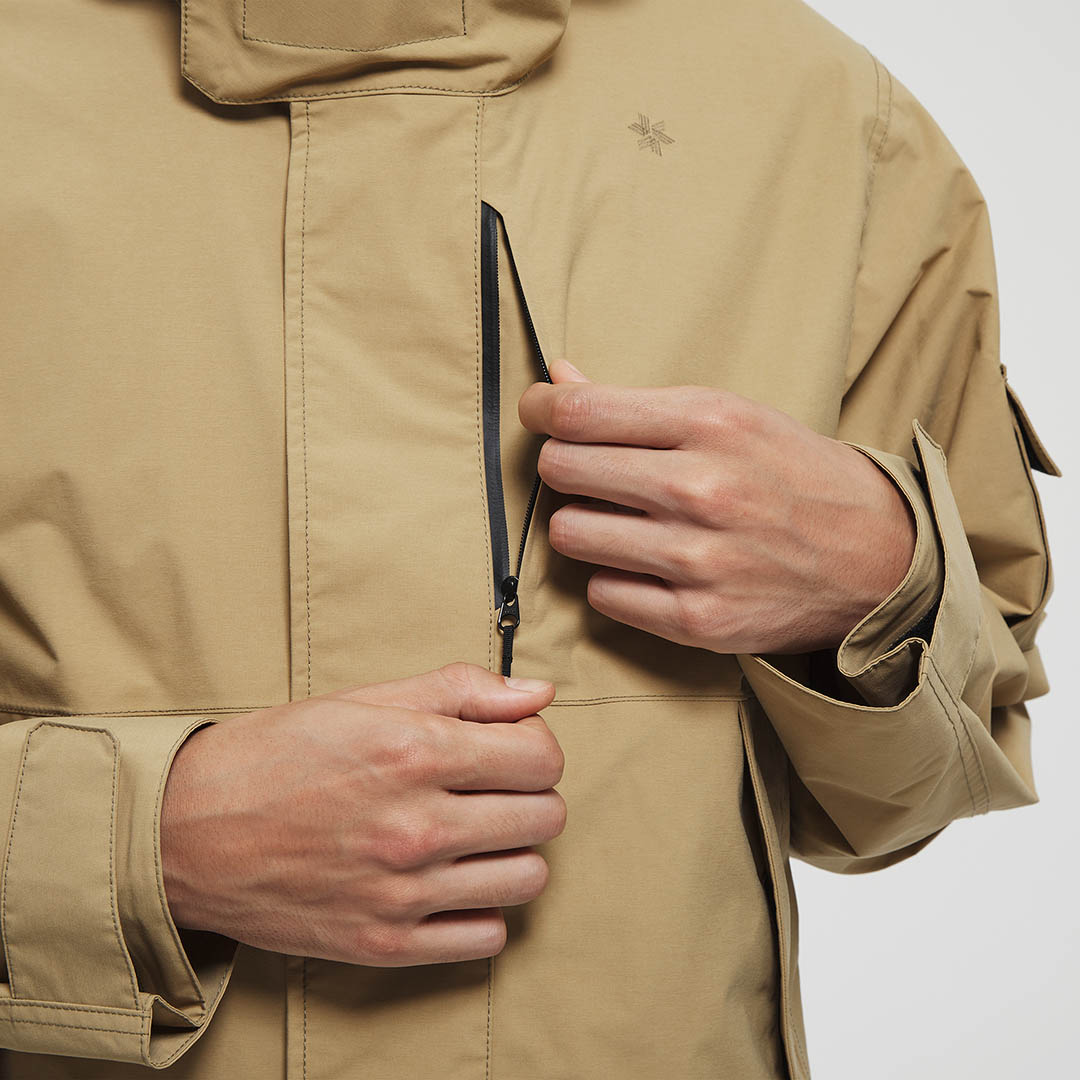 Model: Height 6'0" | Wearing: BEIGE / L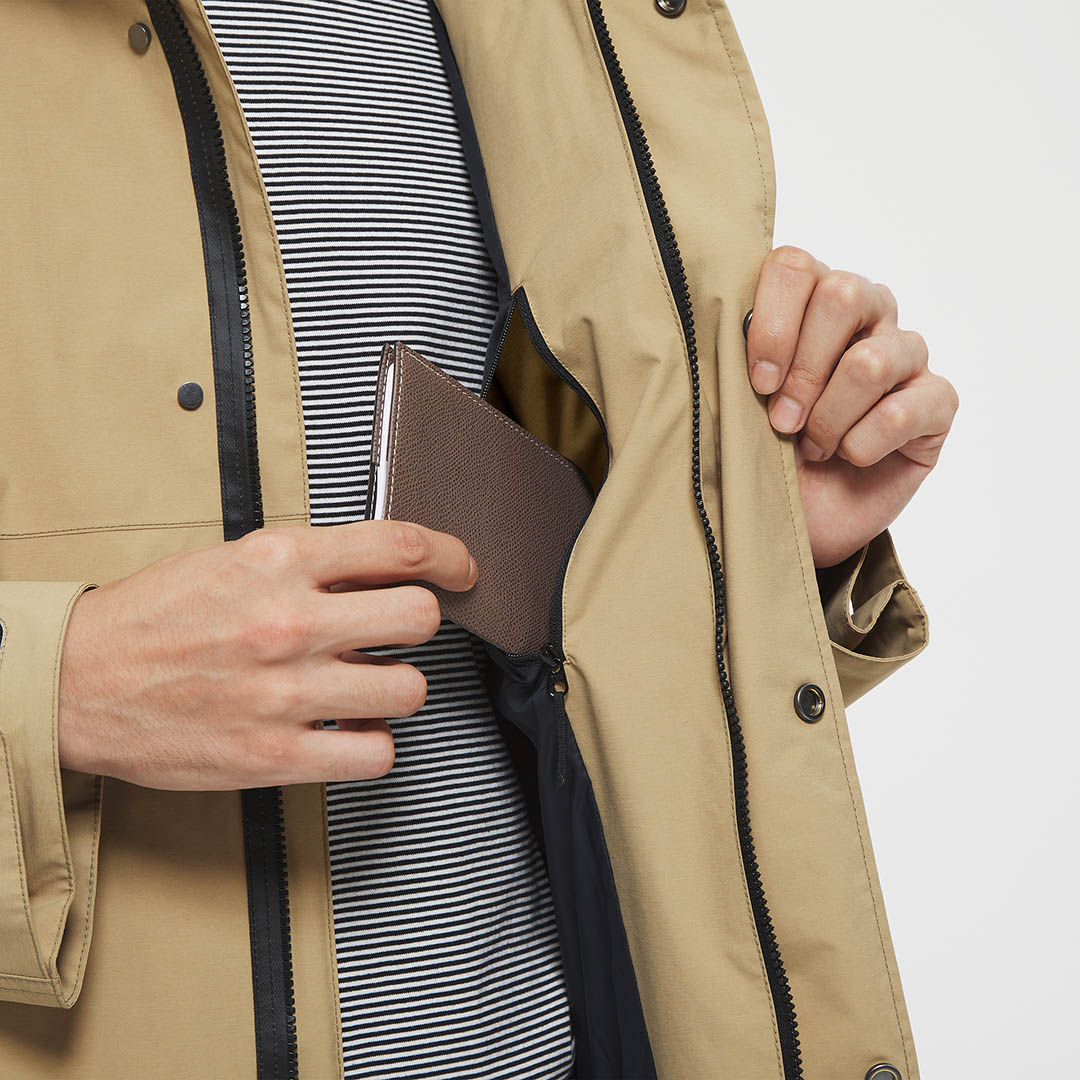 Model: Height 6'0" | Wearing: BEIGE / L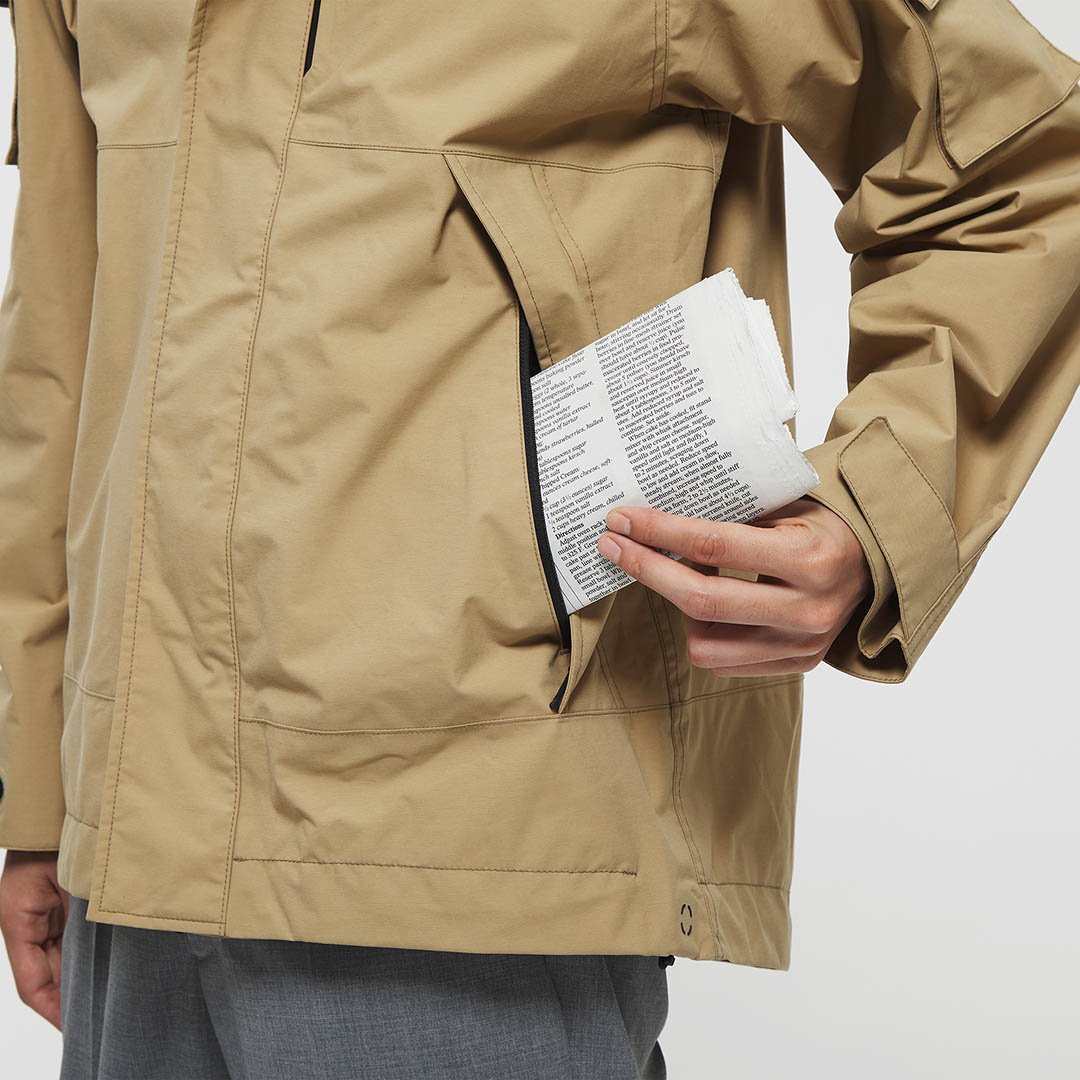 Model: Height 6'0" | Wearing: BEIGE / L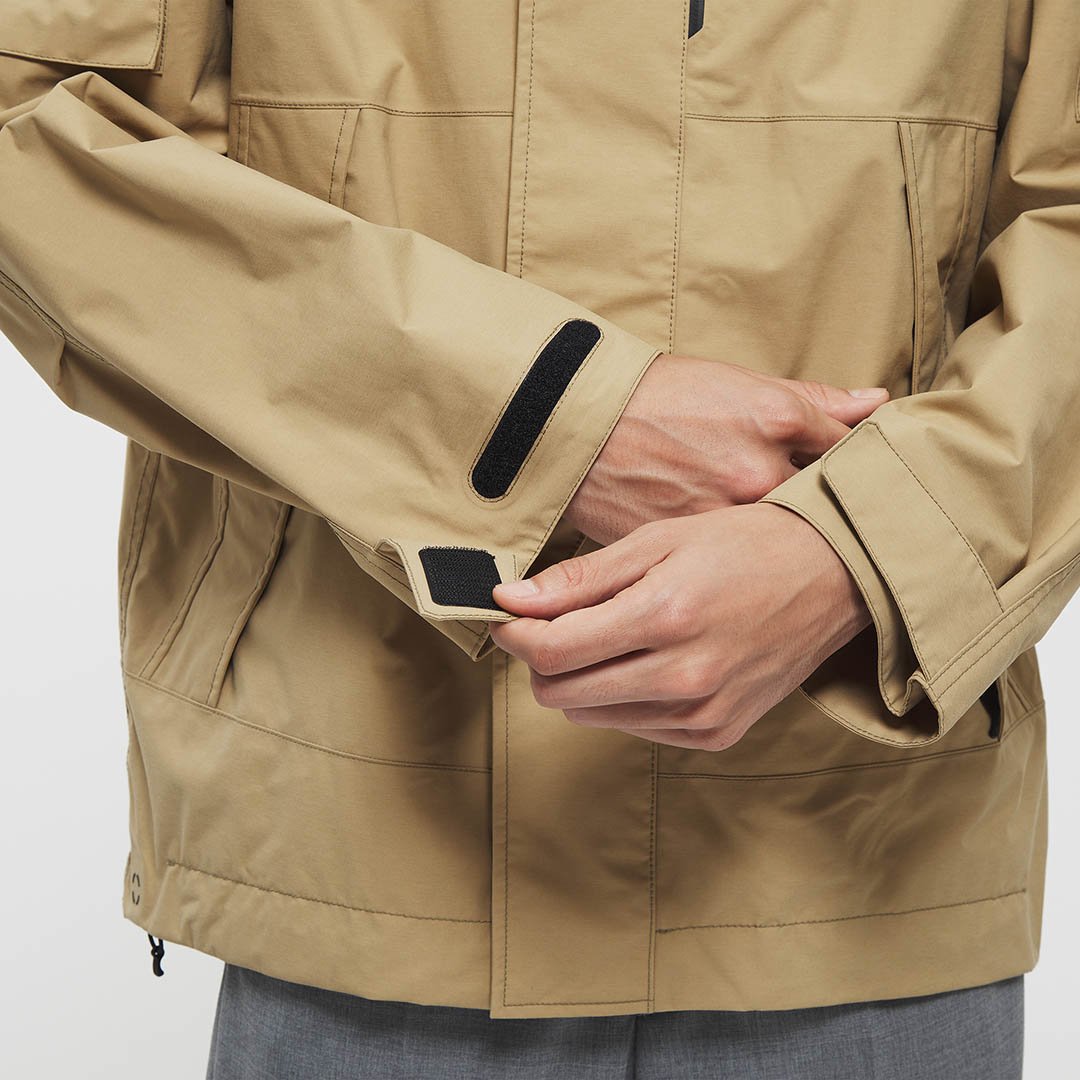 Model: Height 6'0" | Wearing: BEIGE / L


{"id":6130229969082,"title":"Hooded Over Jacket","handle":"gl01102","description":"\u003cp data-mce-fragment=\"1\"\u003eDurable Jacket suitable for year-round use. Features a roomy fit for easy layering and large pockets for storage.\u003c\/p\u003e\n\u003cp data-mce-fragment=\"1\"\u003e \u003c\/p\u003e\n\u003ch4 class=\"subtitileDt\" data-mce-fragment=\"1\"\u003eFeatures\u003c\/h4\u003e\n\u003cul data-mce-fragment=\"1\"\u003e\n\u003cli data-mce-fragment=\"1\"\u003eMade with lightweight and durable PERTEX . This cotton-like 2 layer material is waterproof and moisture-permeable, but has a natural texture that would work with casual city styling.\u003c\/li\u003e\n\u003cli data-mce-fragment=\"1\"\u003eWater-resistant, wind-proof, and moisture-permeable; this jacket is perfect for various situations.\u003c\/li\u003e\n\u003cli data-mce-fragment=\"1\"\u003eHip pocket with large opening is perfect for storing bulkier items such as water bottle and magazine. This item is also equipped with various pockets on the chest and sleeves.\u003c\/li\u003e\n\u003c\/ul\u003e\n\u003cp data-mce-fragment=\"1\"\u003e \u003c\/p\u003e\n\u003c!--material--\u003e\n\u003ch4 class=\"subtitileDt\" data-mce-fragment=\"1\"\u003eMaterial\u003c\/h4\u003e\n\u003cp data-mce-fragment=\"1\"\u003eFront: Nylon100% \/ back: Polyurethane coating\u003c\/p\u003e\n\u003cp data-mce-fragment=\"1\"\u003eLining: Nylon100%\u003c\/p\u003e\n\u003c!--\/material--\u003e\n\u003cp\u003e\u003ca href=\"https:\/\/www.goldwin-sports.com\/eu\/brand\/material\/#pertex-quantam\" title=\"pertex-quantam\" target=\"_blank\"\u003e\u003cimg height=\"26\" width=\"191\" src=\"https:\/\/cdn.shopify.com\/s\/files\/1\/1645\/3613\/files\/pertex-quantam_2x_ef7e0967-8bdd-498a-a14c-f509ebeff4ee_480x480.jpg?v=1621391897\" alt=\"\" data-mce-src=\"https:\/\/cdn.shopify.com\/s\/files\/1\/1645\/3613\/files\/pertex-quantam_2x_ef7e0967-8bdd-498a-a14c-f509ebeff4ee_480x480.jpg?v=1621391897\" data-mce-fragment=\"1\"\u003e\u003c\/a\u003e\u003c\/p\u003e\n\u003cp\u003e\u003ca href=\"https:\/\/www.goldwin-sports.com\/eu\/brand\/material\/#pertex-unlimited\" title=\"pertex-unlimited\" target=\"_blank\"\u003e\u003cimg height=\"28\" width=\"296\" src=\"https:\/\/cdn.shopify.com\/s\/files\/1\/1645\/3613\/files\/pertex-unlimited_2x_3572671a-7e03-437e-8e91-e8e9b7d00cc2_480x480.jpg?v=1621391882\" alt=\"\"\u003e\u003c\/a\u003e\u003c\/p\u003e\n\u003cp\u003e \u003c\/p\u003e\n\u003cdiv class=\"product-tabs js-product-tabs\"\u003e\n\u003cdiv class=\"product-tab\"\u003e\n\u003cdiv class=\"product-tab-title\"\u003eCountry of Origin \u003cspan class=\"icon-toggle\"\u003e\u003c\/span\u003e\n\u003c\/div\u003e\n\u003cdiv class=\"product-tab-content\"\u003e\n\u003cp\u003eChina\u003c\/p\u003e\n\u003c\/div\u003e\n\u003c\/div\u003e\n\u003cdiv class=\"product-tab\"\u003e\n\u003cdiv class=\"product-tab-title\"\u003eShipping Policy \u003cspan class=\"icon-toggle\"\u003e\u003c\/span\u003e\n\u003c\/div\u003e\n\u003cdiv class=\"product-tab-content\"\u003e\n\u003cp\u003e\u003cstrong\u003eWe deliver to the following countries:\u003c\/strong\u003e\u003c\/p\u003e\r\n\u003cp\u003eAustria, Belgium, Czech Republic, Denmark, Finland, France, Germany, Italy, Ireland, Luxembourg, Netherlands, Poland, Portugal, Romania, Spain, Sweden, Switzerland, UK.\u003c\/p\u003e\r\n\u003cp\u003eShipment to the islands and overseas territories of France, Spain, Portugal, Netherlands, UK, and Denmark are excluded.\u003c\/p\u003e\r\n\u003cp\u003e \u003cbr\u003e\u003c\/p\u003e\r\n\u003cp\u003eWe ship free to all orders above €300.00-.\u003c\/p\u003e\r\n\u003cp\u003eShipping costs for orders less than\u003cspan\u003e \u003c\/span\u003e\u003cspan data-mce-fragment=\"1\"\u003e€3\u003c\/span\u003e00.00- will be shown at your checkout. \u003c\/p\u003e\r\n\u003cp\u003eSee below for details.\u003c\/p\u003e\r\n\u003cp\u003e \u003c\/p\u003e\r\n\u003cp\u003e\u003cstrong\u003eShipping Condition:\u003c\/strong\u003e\u003c\/p\u003e\r\n\u003ctable style=\"width: 356.777px;\" data-mce-fragment=\"1\" data-mce-style=\"width: 321.184px;\"\u003e\r\n\u003ctbody data-mce-fragment=\"1\"\u003e\r\n\u003ctr data-mce-fragment=\"1\"\u003e\r\n\u003ctd style=\"width: 190px;\" data-mce-fragment=\"1\" data-mce-style=\"width: 136px;\"\u003eCountry\u003c\/td\u003e\r\n\u003ctd style=\"width: 160px;\" data-mce-fragment=\"1\" data-mce-style=\"width: 170.184px;\"\u003eDelivery charge\u003cbr\u003e\r\n\u003c\/td\u003e\r\n\u003ctd style=\"width: 160.777px;\" data-mce-fragment=\"1\" data-mce-style=\"width: 170.184px;\"\u003eShipping Method\u003c\/td\u003e\r\n\u003c\/tr\u003e\r\n\u003ctr data-mce-fragment=\"1\"\u003e\r\n\u003ctd style=\"width: 190px;\" data-mce-fragment=\"1\" data-mce-style=\"width: 136px;\"\u003eGermany\u003cbr\u003e\r\n\u003c\/td\u003e\r\n\u003ctd style=\"width: 160px;\" data-mce-fragment=\"1\" data-mce-style=\"width: 170.184px;\"\u003e7 EURO\u003cbr\u003e\r\n\u003c\/td\u003e\r\n\u003ctd style=\"width: 160.777px;\" data-mce-fragment=\"1\" data-mce-style=\"width: 170.184px;\"\u003eDIE Post\u003c\/td\u003e\r\n\u003c\/tr\u003e\r\n\u003ctr data-mce-fragment=\"1\"\u003e\r\n\u003ctd style=\"width: 190px;\" data-mce-fragment=\"1\" data-mce-style=\"width: 136px;\"\u003eUnited Kingdom\u003cbr\u003e\r\n\u003c\/td\u003e\r\n\u003ctd style=\"width: 160px;\" data-mce-fragment=\"1\" data-mce-style=\"width: 170.184px;\"\u003e30 EURO\u003cbr\u003e\r\n\u003c\/td\u003e\r\n\u003ctd style=\"width: 160.777px;\" data-mce-fragment=\"1\" data-mce-style=\"width: 170.184px;\"\u003eDHL Express\u003c\/td\u003e\r\n\u003c\/tr\u003e\r\n\u003ctr data-mce-fragment=\"1\"\u003e\r\n\u003ctd style=\"width: 190px;\" data-mce-fragment=\"1\" data-mce-style=\"width: 136px;\"\u003eOther countries\u003cbr\u003e\r\n\u003c\/td\u003e\r\n\u003ctd style=\"width: 160px;\" data-mce-fragment=\"1\" data-mce-style=\"width: 170.184px;\"\u003e10 EURO\u003cbr\u003e\r\n\u003c\/td\u003e\r\n\u003ctd style=\"width: 160.777px;\" data-mce-fragment=\"1\" data-mce-style=\"width: 170.184px;\"\u003eDHL Packet\u003c\/td\u003e\r\n\u003c\/tr\u003e\r\n\u003c\/tbody\u003e\r\n\u003c\/table\u003e\r\n\u003cp\u003e\u003cbr\u003e\u003c\/p\u003e\r\n\u003cp\u003eGoldwin orders are shipped Monday-Friday (excluding holidays)\u003c\/p\u003e\r\n\u003c\/div\u003e\r\n\u003c\/div\u003e\r\n\u003c\/div\u003e","published_at":"2022-04-29T03:44:52+02:00","created_at":"2020-12-17T08:15:20+01:00","vendor":"Goldwin outlet","type":"outer","tags":["2021pre","2703-S21","coat","lifestyle","men","opensale","outer","outlet","S21","s210215","s21new","s21pre0210"],"price":19500,"price_min":19500,"price_max":19500,"available":true,"price_varies":false,"compare_at_price":39000,"compare_at_price_min":39000,"compare_at_price_max":39000,"compare_at_price_varies":false,"variants":[{"id":37768710127802,"title":"GL01102 \/ BEIGE \/ S","option1":"GL01102","option2":"BEIGE","option3":"S","sku":"2703-GL01102-BE-S","requires_shipping":true,"taxable":true,"featured_image":{"id":23249460035770,"product_id":6130229969082,"position":10,"created_at":"2021-01-21T07:30:49+01:00","updated_at":"2021-10-01T06:05:03+02:00","alt":null,"width":1080,"height":1080,"src":"https:\/\/cdn.shopify.com\/s\/files\/1\/2294\/5259\/products\/GL01102_BE.jpg?v=1633061103","variant_ids":[37768710127802,37768710160570,37768710193338,37768710258874]},"available":false,"name":"Hooded Over Jacket - GL01102 \/ BEIGE \/ S","public_title":"GL01102 \/ BEIGE \/ S","options":["GL01102","BEIGE","S"],"price":19500,"weight":0,"compare_at_price":39000,"inventory_quantity":0,"inventory_management":"shopify","inventory_policy":"deny","barcode":"10127802","featured_media":{"alt":null,"id":15420334670010,"position":10,"preview_image":{"aspect_ratio":1.0,"height":1080,"width":1080,"src":"https:\/\/cdn.shopify.com\/s\/files\/1\/2294\/5259\/products\/GL01102_BE.jpg?v=1633061103"}},"requires_selling_plan":false,"selling_plan_allocations":[]},{"id":37768710160570,"title":"GL01102 \/ BEIGE \/ M","option1":"GL01102","option2":"BEIGE","option3":"M","sku":"2703-GL01102-BE-M","requires_shipping":true,"taxable":true,"featured_image":{"id":23249460035770,"product_id":6130229969082,"position":10,"created_at":"2021-01-21T07:30:49+01:00","updated_at":"2021-10-01T06:05:03+02:00","alt":null,"width":1080,"height":1080,"src":"https:\/\/cdn.shopify.com\/s\/files\/1\/2294\/5259\/products\/GL01102_BE.jpg?v=1633061103","variant_ids":[37768710127802,37768710160570,37768710193338,37768710258874]},"available":false,"name":"Hooded Over Jacket - GL01102 \/ BEIGE \/ M","public_title":"GL01102 \/ BEIGE \/ M","options":["GL01102","BEIGE","M"],"price":19500,"weight":0,"compare_at_price":39000,"inventory_quantity":0,"inventory_management":"shopify","inventory_policy":"deny","barcode":"10160570","featured_media":{"alt":null,"id":15420334670010,"position":10,"preview_image":{"aspect_ratio":1.0,"height":1080,"width":1080,"src":"https:\/\/cdn.shopify.com\/s\/files\/1\/2294\/5259\/products\/GL01102_BE.jpg?v=1633061103"}},"requires_selling_plan":false,"selling_plan_allocations":[]},{"id":37768710193338,"title":"GL01102 \/ BEIGE \/ L","option1":"GL01102","option2":"BEIGE","option3":"L","sku":"2703-GL01102-BE-L","requires_shipping":true,"taxable":true,"featured_image":{"id":23249460035770,"product_id":6130229969082,"position":10,"created_at":"2021-01-21T07:30:49+01:00","updated_at":"2021-10-01T06:05:03+02:00","alt":null,"width":1080,"height":1080,"src":"https:\/\/cdn.shopify.com\/s\/files\/1\/2294\/5259\/products\/GL01102_BE.jpg?v=1633061103","variant_ids":[37768710127802,37768710160570,37768710193338,37768710258874]},"available":false,"name":"Hooded Over Jacket - GL01102 \/ BEIGE \/ L","public_title":"GL01102 \/ BEIGE \/ L","options":["GL01102","BEIGE","L"],"price":19500,"weight":0,"compare_at_price":39000,"inventory_quantity":0,"inventory_management":"shopify","inventory_policy":"deny","barcode":"10193338","featured_media":{"alt":null,"id":15420334670010,"position":10,"preview_image":{"aspect_ratio":1.0,"height":1080,"width":1080,"src":"https:\/\/cdn.shopify.com\/s\/files\/1\/2294\/5259\/products\/GL01102_BE.jpg?v=1633061103"}},"requires_selling_plan":false,"selling_plan_allocations":[]},{"id":37768710258874,"title":"GL01102 \/ BEIGE \/ XL","option1":"GL01102","option2":"BEIGE","option3":"XL","sku":"2703-GL01102-BE-XL","requires_shipping":true,"taxable":true,"featured_image":{"id":23249460035770,"product_id":6130229969082,"position":10,"created_at":"2021-01-21T07:30:49+01:00","updated_at":"2021-10-01T06:05:03+02:00","alt":null,"width":1080,"height":1080,"src":"https:\/\/cdn.shopify.com\/s\/files\/1\/2294\/5259\/products\/GL01102_BE.jpg?v=1633061103","variant_ids":[37768710127802,37768710160570,37768710193338,37768710258874]},"available":false,"name":"Hooded Over Jacket - GL01102 \/ BEIGE \/ XL","public_title":"GL01102 \/ BEIGE \/ XL","options":["GL01102","BEIGE","XL"],"price":19500,"weight":0,"compare_at_price":39000,"inventory_quantity":0,"inventory_management":"shopify","inventory_policy":"deny","barcode":"10258874","featured_media":{"alt":null,"id":15420334670010,"position":10,"preview_image":{"aspect_ratio":1.0,"height":1080,"width":1080,"src":"https:\/\/cdn.shopify.com\/s\/files\/1\/2294\/5259\/products\/GL01102_BE.jpg?v=1633061103"}},"requires_selling_plan":false,"selling_plan_allocations":[]},{"id":37768710324410,"title":"GL01102 \/ BLACK \/ S","option1":"GL01102","option2":"BLACK","option3":"S","sku":"2703-GL01102-BK-S","requires_shipping":true,"taxable":true,"featured_image":{"id":23249460068538,"product_id":6130229969082,"position":9,"created_at":"2021-01-21T07:30:49+01:00","updated_at":"2021-10-01T06:05:03+02:00","alt":null,"width":1080,"height":1080,"src":"https:\/\/cdn.shopify.com\/s\/files\/1\/2294\/5259\/products\/GL01102_BK.jpg?v=1633061103","variant_ids":[37768710324410,37768710389946,37768710422714,37768710455482]},"available":true,"name":"Hooded Over Jacket - GL01102 \/ BLACK \/ S","public_title":"GL01102 \/ BLACK \/ S","options":["GL01102","BLACK","S"],"price":19500,"weight":0,"compare_at_price":39000,"inventory_quantity":1,"inventory_management":"shopify","inventory_policy":"deny","barcode":"4550413121152","featured_media":{"alt":null,"id":15420334801082,"position":9,"preview_image":{"aspect_ratio":1.0,"height":1080,"width":1080,"src":"https:\/\/cdn.shopify.com\/s\/files\/1\/2294\/5259\/products\/GL01102_BK.jpg?v=1633061103"}},"requires_selling_plan":false,"selling_plan_allocations":[]},{"id":37768710389946,"title":"GL01102 \/ BLACK \/ M","option1":"GL01102","option2":"BLACK","option3":"M","sku":"2703-GL01102-BK-M","requires_shipping":true,"taxable":true,"featured_image":{"id":23249460068538,"product_id":6130229969082,"position":9,"created_at":"2021-01-21T07:30:49+01:00","updated_at":"2021-10-01T06:05:03+02:00","alt":null,"width":1080,"height":1080,"src":"https:\/\/cdn.shopify.com\/s\/files\/1\/2294\/5259\/products\/GL01102_BK.jpg?v=1633061103","variant_ids":[37768710324410,37768710389946,37768710422714,37768710455482]},"available":false,"name":"Hooded Over Jacket - GL01102 \/ BLACK \/ M","public_title":"GL01102 \/ BLACK \/ M","options":["GL01102","BLACK","M"],"price":19500,"weight":0,"compare_at_price":39000,"inventory_quantity":0,"inventory_management":"shopify","inventory_policy":"deny","barcode":"10389946","featured_media":{"alt":null,"id":15420334801082,"position":9,"preview_image":{"aspect_ratio":1.0,"height":1080,"width":1080,"src":"https:\/\/cdn.shopify.com\/s\/files\/1\/2294\/5259\/products\/GL01102_BK.jpg?v=1633061103"}},"requires_selling_plan":false,"selling_plan_allocations":[]},{"id":37768710422714,"title":"GL01102 \/ BLACK \/ L","option1":"GL01102","option2":"BLACK","option3":"L","sku":"2703-GL01102-BK-L","requires_shipping":true,"taxable":true,"featured_image":{"id":23249460068538,"product_id":6130229969082,"position":9,"created_at":"2021-01-21T07:30:49+01:00","updated_at":"2021-10-01T06:05:03+02:00","alt":null,"width":1080,"height":1080,"src":"https:\/\/cdn.shopify.com\/s\/files\/1\/2294\/5259\/products\/GL01102_BK.jpg?v=1633061103","variant_ids":[37768710324410,37768710389946,37768710422714,37768710455482]},"available":false,"name":"Hooded Over Jacket - GL01102 \/ BLACK \/ L","public_title":"GL01102 \/ BLACK \/ L","options":["GL01102","BLACK","L"],"price":19500,"weight":0,"compare_at_price":39000,"inventory_quantity":0,"inventory_management":"shopify","inventory_policy":"deny","barcode":"10422714","featured_media":{"alt":null,"id":15420334801082,"position":9,"preview_image":{"aspect_ratio":1.0,"height":1080,"width":1080,"src":"https:\/\/cdn.shopify.com\/s\/files\/1\/2294\/5259\/products\/GL01102_BK.jpg?v=1633061103"}},"requires_selling_plan":false,"selling_plan_allocations":[]},{"id":37768710455482,"title":"GL01102 \/ BLACK \/ XL","option1":"GL01102","option2":"BLACK","option3":"XL","sku":"2703-GL01102-BK-XL","requires_shipping":true,"taxable":true,"featured_image":{"id":23249460068538,"product_id":6130229969082,"position":9,"created_at":"2021-01-21T07:30:49+01:00","updated_at":"2021-10-01T06:05:03+02:00","alt":null,"width":1080,"height":1080,"src":"https:\/\/cdn.shopify.com\/s\/files\/1\/2294\/5259\/products\/GL01102_BK.jpg?v=1633061103","variant_ids":[37768710324410,37768710389946,37768710422714,37768710455482]},"available":false,"name":"Hooded Over Jacket - GL01102 \/ BLACK \/ XL","public_title":"GL01102 \/ BLACK \/ XL","options":["GL01102","BLACK","XL"],"price":19500,"weight":0,"compare_at_price":39000,"inventory_quantity":0,"inventory_management":"shopify","inventory_policy":"deny","barcode":"10455482","featured_media":{"alt":null,"id":15420334801082,"position":9,"preview_image":{"aspect_ratio":1.0,"height":1080,"width":1080,"src":"https:\/\/cdn.shopify.com\/s\/files\/1\/2294\/5259\/products\/GL01102_BK.jpg?v=1633061103"}},"requires_selling_plan":false,"selling_plan_allocations":[]},{"id":37768710652090,"title":"GL01102 \/ OLIVE GREEN \/ S","option1":"GL01102","option2":"OLIVE GREEN","option3":"S","sku":"2703-GL01102-OG-S","requires_shipping":true,"taxable":true,"featured_image":{"id":23249460527290,"product_id":6130229969082,"position":1,"created_at":"2021-01-21T07:30:58+01:00","updated_at":"2021-10-01T06:04:32+02:00","alt":null,"width":1080,"height":1080,"src":"https:\/\/cdn.shopify.com\/s\/files\/1\/2294\/5259\/products\/GL01102_OG.jpg?v=1633061072","variant_ids":[37768710652090,37768710684858,37768710717626,37768710750394]},"available":false,"name":"Hooded Over Jacket - GL01102 \/ OLIVE GREEN \/ S","public_title":"GL01102 \/ OLIVE GREEN \/ S","options":["GL01102","OLIVE GREEN","S"],"price":19500,"weight":0,"compare_at_price":39000,"inventory_quantity":0,"inventory_management":"shopify","inventory_policy":"deny","barcode":"10652090","featured_media":{"alt":null,"id":15420335194298,"position":1,"preview_image":{"aspect_ratio":1.0,"height":1080,"width":1080,"src":"https:\/\/cdn.shopify.com\/s\/files\/1\/2294\/5259\/products\/GL01102_OG.jpg?v=1633061072"}},"requires_selling_plan":false,"selling_plan_allocations":[]},{"id":37768710684858,"title":"GL01102 \/ OLIVE GREEN \/ M","option1":"GL01102","option2":"OLIVE GREEN","option3":"M","sku":"2703-GL01102-OG-M","requires_shipping":true,"taxable":true,"featured_image":{"id":23249460527290,"product_id":6130229969082,"position":1,"created_at":"2021-01-21T07:30:58+01:00","updated_at":"2021-10-01T06:04:32+02:00","alt":null,"width":1080,"height":1080,"src":"https:\/\/cdn.shopify.com\/s\/files\/1\/2294\/5259\/products\/GL01102_OG.jpg?v=1633061072","variant_ids":[37768710652090,37768710684858,37768710717626,37768710750394]},"available":false,"name":"Hooded Over Jacket - GL01102 \/ OLIVE GREEN \/ M","public_title":"GL01102 \/ OLIVE GREEN \/ M","options":["GL01102","OLIVE GREEN","M"],"price":19500,"weight":0,"compare_at_price":39000,"inventory_quantity":0,"inventory_management":"shopify","inventory_policy":"deny","barcode":"4550413121268","featured_media":{"alt":null,"id":15420335194298,"position":1,"preview_image":{"aspect_ratio":1.0,"height":1080,"width":1080,"src":"https:\/\/cdn.shopify.com\/s\/files\/1\/2294\/5259\/products\/GL01102_OG.jpg?v=1633061072"}},"requires_selling_plan":false,"selling_plan_allocations":[]},{"id":37768710717626,"title":"GL01102 \/ OLIVE GREEN \/ L","option1":"GL01102","option2":"OLIVE GREEN","option3":"L","sku":"2703-GL01102-OG-L","requires_shipping":true,"taxable":true,"featured_image":{"id":23249460527290,"product_id":6130229969082,"position":1,"created_at":"2021-01-21T07:30:58+01:00","updated_at":"2021-10-01T06:04:32+02:00","alt":null,"width":1080,"height":1080,"src":"https:\/\/cdn.shopify.com\/s\/files\/1\/2294\/5259\/products\/GL01102_OG.jpg?v=1633061072","variant_ids":[37768710652090,37768710684858,37768710717626,37768710750394]},"available":false,"name":"Hooded Over Jacket - GL01102 \/ OLIVE GREEN \/ L","public_title":"GL01102 \/ OLIVE GREEN \/ L","options":["GL01102","OLIVE GREEN","L"],"price":19500,"weight":0,"compare_at_price":39000,"inventory_quantity":0,"inventory_management":"shopify","inventory_policy":"deny","barcode":"4550413121275","featured_media":{"alt":null,"id":15420335194298,"position":1,"preview_image":{"aspect_ratio":1.0,"height":1080,"width":1080,"src":"https:\/\/cdn.shopify.com\/s\/files\/1\/2294\/5259\/products\/GL01102_OG.jpg?v=1633061072"}},"requires_selling_plan":false,"selling_plan_allocations":[]},{"id":37768710750394,"title":"GL01102 \/ OLIVE GREEN \/ XL","option1":"GL01102","option2":"OLIVE GREEN","option3":"XL","sku":"2703-GL01102-OG-XL","requires_shipping":true,"taxable":true,"featured_image":{"id":23249460527290,"product_id":6130229969082,"position":1,"created_at":"2021-01-21T07:30:58+01:00","updated_at":"2021-10-01T06:04:32+02:00","alt":null,"width":1080,"height":1080,"src":"https:\/\/cdn.shopify.com\/s\/files\/1\/2294\/5259\/products\/GL01102_OG.jpg?v=1633061072","variant_ids":[37768710652090,37768710684858,37768710717626,37768710750394]},"available":false,"name":"Hooded Over Jacket - GL01102 \/ OLIVE GREEN \/ XL","public_title":"GL01102 \/ OLIVE GREEN \/ XL","options":["GL01102","OLIVE GREEN","XL"],"price":19500,"weight":0,"compare_at_price":39000,"inventory_quantity":0,"inventory_management":"shopify","inventory_policy":"deny","barcode":"10750394","featured_media":{"alt":null,"id":15420335194298,"position":1,"preview_image":{"aspect_ratio":1.0,"height":1080,"width":1080,"src":"https:\/\/cdn.shopify.com\/s\/files\/1\/2294\/5259\/products\/GL01102_OG.jpg?v=1633061072"}},"requires_selling_plan":false,"selling_plan_allocations":[]}],"images":["\/\/cdn.shopify.com\/s\/files\/1\/2294\/5259\/products\/GL01102_OG.jpg?v=1633061072","\/\/cdn.shopify.com\/s\/files\/1\/2294\/5259\/products\/GL01102_BE-b40.jpg?v=1633061103","\/\/cdn.shopify.com\/s\/files\/1\/2294\/5259\/products\/GL01102_BE-b41.jpg?v=1633061103","\/\/cdn.shopify.com\/s\/files\/1\/2294\/5259\/products\/GL01102_BE-b42.jpg?v=1633061103","\/\/cdn.shopify.com\/s\/files\/1\/2294\/5259\/products\/GL01102_BE-b43.jpg?v=1633061103","\/\/cdn.shopify.com\/s\/files\/1\/2294\/5259\/products\/GL01102_BE-b44.jpg?v=1633061103","\/\/cdn.shopify.com\/s\/files\/1\/2294\/5259\/products\/GL01102_BE-b45.jpg?v=1633061103","\/\/cdn.shopify.com\/s\/files\/1\/2294\/5259\/products\/GL01102_BE-b46.jpg?v=1633061103","\/\/cdn.shopify.com\/s\/files\/1\/2294\/5259\/products\/GL01102_BK.jpg?v=1633061103","\/\/cdn.shopify.com\/s\/files\/1\/2294\/5259\/products\/GL01102_BE.jpg?v=1633061103","\/\/cdn.shopify.com\/s\/files\/1\/2294\/5259\/products\/GL01102_1.jpg?v=1633061101","\/\/cdn.shopify.com\/s\/files\/1\/2294\/5259\/products\/GL01102_3.jpg?v=1633061101"],"featured_image":"\/\/cdn.shopify.com\/s\/files\/1\/2294\/5259\/products\/GL01102_OG.jpg?v=1633061072","options":["Style#","Color","Size"],"media":[{"alt":null,"id":15420335194298,"position":1,"preview_image":{"aspect_ratio":1.0,"height":1080,"width":1080,"src":"https:\/\/cdn.shopify.com\/s\/files\/1\/2294\/5259\/products\/GL01102_OG.jpg?v=1633061072"},"aspect_ratio":1.0,"height":1080,"media_type":"image","src":"https:\/\/cdn.shopify.com\/s\/files\/1\/2294\/5259\/products\/GL01102_OG.jpg?v=1633061072","width":1080},{"alt":"Model: Height 183cm | Wearing: BEIGE \/ L","id":21294018232506,"position":2,"preview_image":{"aspect_ratio":1.0,"height":1080,"width":1080,"src":"https:\/\/cdn.shopify.com\/s\/files\/1\/2294\/5259\/products\/GL01102_BE-b40.jpg?v=1633061103"},"aspect_ratio":1.0,"height":1080,"media_type":"image","src":"https:\/\/cdn.shopify.com\/s\/files\/1\/2294\/5259\/products\/GL01102_BE-b40.jpg?v=1633061103","width":1080},{"alt":"Model: Height 183cm | Wearing: BEIGE \/ L","id":21294018265274,"position":3,"preview_image":{"aspect_ratio":1.0,"height":1080,"width":1080,"src":"https:\/\/cdn.shopify.com\/s\/files\/1\/2294\/5259\/products\/GL01102_BE-b41.jpg?v=1633061103"},"aspect_ratio":1.0,"height":1080,"media_type":"image","src":"https:\/\/cdn.shopify.com\/s\/files\/1\/2294\/5259\/products\/GL01102_BE-b41.jpg?v=1633061103","width":1080},{"alt":"Model: Height 183cm | Wearing: BEIGE \/ L","id":21294018298042,"position":4,"preview_image":{"aspect_ratio":1.0,"height":1080,"width":1080,"src":"https:\/\/cdn.shopify.com\/s\/files\/1\/2294\/5259\/products\/GL01102_BE-b42.jpg?v=1633061103"},"aspect_ratio":1.0,"height":1080,"media_type":"image","src":"https:\/\/cdn.shopify.com\/s\/files\/1\/2294\/5259\/products\/GL01102_BE-b42.jpg?v=1633061103","width":1080},{"alt":"Model: Height 183cm | Wearing: BEIGE \/ L","id":21294018330810,"position":5,"preview_image":{"aspect_ratio":1.0,"height":1080,"width":1080,"src":"https:\/\/cdn.shopify.com\/s\/files\/1\/2294\/5259\/products\/GL01102_BE-b43.jpg?v=1633061103"},"aspect_ratio":1.0,"height":1080,"media_type":"image","src":"https:\/\/cdn.shopify.com\/s\/files\/1\/2294\/5259\/products\/GL01102_BE-b43.jpg?v=1633061103","width":1080},{"alt":"Model: Height 183cm | Wearing: BEIGE \/ L","id":21294018363578,"position":6,"preview_image":{"aspect_ratio":1.0,"height":1080,"width":1080,"src":"https:\/\/cdn.shopify.com\/s\/files\/1\/2294\/5259\/products\/GL01102_BE-b44.jpg?v=1633061103"},"aspect_ratio":1.0,"height":1080,"media_type":"image","src":"https:\/\/cdn.shopify.com\/s\/files\/1\/2294\/5259\/products\/GL01102_BE-b44.jpg?v=1633061103","width":1080},{"alt":"Model: Height 183cm | Wearing: BEIGE \/ L","id":21294018396346,"position":7,"preview_image":{"aspect_ratio":1.0,"height":1080,"width":1080,"src":"https:\/\/cdn.shopify.com\/s\/files\/1\/2294\/5259\/products\/GL01102_BE-b45.jpg?v=1633061103"},"aspect_ratio":1.0,"height":1080,"media_type":"image","src":"https:\/\/cdn.shopify.com\/s\/files\/1\/2294\/5259\/products\/GL01102_BE-b45.jpg?v=1633061103","width":1080},{"alt":"Model: Height 183cm | Wearing: BEIGE \/ L","id":21294018429114,"position":8,"preview_image":{"aspect_ratio":1.0,"height":1080,"width":1080,"src":"https:\/\/cdn.shopify.com\/s\/files\/1\/2294\/5259\/products\/GL01102_BE-b46.jpg?v=1633061103"},"aspect_ratio":1.0,"height":1080,"media_type":"image","src":"https:\/\/cdn.shopify.com\/s\/files\/1\/2294\/5259\/products\/GL01102_BE-b46.jpg?v=1633061103","width":1080},{"alt":null,"id":15420334801082,"position":9,"preview_image":{"aspect_ratio":1.0,"height":1080,"width":1080,"src":"https:\/\/cdn.shopify.com\/s\/files\/1\/2294\/5259\/products\/GL01102_BK.jpg?v=1633061103"},"aspect_ratio":1.0,"height":1080,"media_type":"image","src":"https:\/\/cdn.shopify.com\/s\/files\/1\/2294\/5259\/products\/GL01102_BK.jpg?v=1633061103","width":1080},{"alt":null,"id":15420334670010,"position":10,"preview_image":{"aspect_ratio":1.0,"height":1080,"width":1080,"src":"https:\/\/cdn.shopify.com\/s\/files\/1\/2294\/5259\/products\/GL01102_BE.jpg?v=1633061103"},"aspect_ratio":1.0,"height":1080,"media_type":"image","src":"https:\/\/cdn.shopify.com\/s\/files\/1\/2294\/5259\/products\/GL01102_BE.jpg?v=1633061103","width":1080},{"alt":"Staff: Height 188cm | Wearing: OLIVE GREEN \/ M","id":21294048706746,"position":11,"preview_image":{"aspect_ratio":1.0,"height":1200,"width":1200,"src":"https:\/\/cdn.shopify.com\/s\/files\/1\/2294\/5259\/products\/GL01102_1.jpg?v=1633061101"},"aspect_ratio":1.0,"height":1200,"media_type":"image","src":"https:\/\/cdn.shopify.com\/s\/files\/1\/2294\/5259\/products\/GL01102_1.jpg?v=1633061101","width":1200},{"alt":"Staff: Height 188cm | Wearing: OLIVE GREEN \/ M","id":21294048673978,"position":12,"preview_image":{"aspect_ratio":1.0,"height":1200,"width":1200,"src":"https:\/\/cdn.shopify.com\/s\/files\/1\/2294\/5259\/products\/GL01102_3.jpg?v=1633061101"},"aspect_ratio":1.0,"height":1200,"media_type":"image","src":"https:\/\/cdn.shopify.com\/s\/files\/1\/2294\/5259\/products\/GL01102_3.jpg?v=1633061101","width":1200}],"requires_selling_plan":false,"selling_plan_groups":[],"content":"\u003cp data-mce-fragment=\"1\"\u003eDurable Jacket suitable for year-round use. Features a roomy fit for easy layering and large pockets for storage.\u003c\/p\u003e\n\u003cp data-mce-fragment=\"1\"\u003e \u003c\/p\u003e\n\u003ch4 class=\"subtitileDt\" data-mce-fragment=\"1\"\u003eFeatures\u003c\/h4\u003e\n\u003cul data-mce-fragment=\"1\"\u003e\n\u003cli data-mce-fragment=\"1\"\u003eMade with lightweight and durable PERTEX . This cotton-like 2 layer material is waterproof and moisture-permeable, but has a natural texture that would work with casual city styling.\u003c\/li\u003e\n\u003cli data-mce-fragment=\"1\"\u003eWater-resistant, wind-proof, and moisture-permeable; this jacket is perfect for various situations.\u003c\/li\u003e\n\u003cli data-mce-fragment=\"1\"\u003eHip pocket with large opening is perfect for storing bulkier items such as water bottle and magazine. This item is also equipped with various pockets on the chest and sleeves.\u003c\/li\u003e\n\u003c\/ul\u003e\n\u003cp data-mce-fragment=\"1\"\u003e \u003c\/p\u003e\n\u003c!--material--\u003e\n\u003ch4 class=\"subtitileDt\" data-mce-fragment=\"1\"\u003eMaterial\u003c\/h4\u003e\n\u003cp data-mce-fragment=\"1\"\u003eFront: Nylon100% \/ back: Polyurethane coating\u003c\/p\u003e\n\u003cp data-mce-fragment=\"1\"\u003eLining: Nylon100%\u003c\/p\u003e\n\u003c!--\/material--\u003e\n\u003cp\u003e\u003ca href=\"https:\/\/www.goldwin-sports.com\/eu\/brand\/material\/#pertex-quantam\" title=\"pertex-quantam\" target=\"_blank\"\u003e\u003cimg height=\"26\" width=\"191\" src=\"https:\/\/cdn.shopify.com\/s\/files\/1\/1645\/3613\/files\/pertex-quantam_2x_ef7e0967-8bdd-498a-a14c-f509ebeff4ee_480x480.jpg?v=1621391897\" alt=\"\" data-mce-src=\"https:\/\/cdn.shopify.com\/s\/files\/1\/1645\/3613\/files\/pertex-quantam_2x_ef7e0967-8bdd-498a-a14c-f509ebeff4ee_480x480.jpg?v=1621391897\" data-mce-fragment=\"1\"\u003e\u003c\/a\u003e\u003c\/p\u003e\n\u003cp\u003e\u003ca href=\"https:\/\/www.goldwin-sports.com\/eu\/brand\/material\/#pertex-unlimited\" title=\"pertex-unlimited\" target=\"_blank\"\u003e\u003cimg height=\"28\" width=\"296\" src=\"https:\/\/cdn.shopify.com\/s\/files\/1\/1645\/3613\/files\/pertex-unlimited_2x_3572671a-7e03-437e-8e91-e8e9b7d00cc2_480x480.jpg?v=1621391882\" alt=\"\"\u003e\u003c\/a\u003e\u003c\/p\u003e\n\u003cp\u003e \u003c\/p\u003e\n\u003cdiv class=\"product-tabs js-product-tabs\"\u003e\n\u003cdiv class=\"product-tab\"\u003e\n\u003cdiv class=\"product-tab-title\"\u003eCountry of Origin \u003cspan class=\"icon-toggle\"\u003e\u003c\/span\u003e\n\u003c\/div\u003e\n\u003cdiv class=\"product-tab-content\"\u003e\n\u003cp\u003eChina\u003c\/p\u003e\n\u003c\/div\u003e\n\u003c\/div\u003e\n\u003cdiv class=\"product-tab\"\u003e\n\u003cdiv class=\"product-tab-title\"\u003eShipping Policy \u003cspan class=\"icon-toggle\"\u003e\u003c\/span\u003e\n\u003c\/div\u003e\n\u003cdiv class=\"product-tab-content\"\u003e\n\u003cp\u003e\u003cstrong\u003eWe deliver to the following countries:\u003c\/strong\u003e\u003c\/p\u003e\r\n\u003cp\u003eAustria, Belgium, Czech Republic, Denmark, Finland, France, Germany, Italy, Ireland, Luxembourg, Netherlands, Poland, Portugal, Romania, Spain, Sweden, Switzerland, UK.\u003c\/p\u003e\r\n\u003cp\u003eShipment to the islands and overseas territories of France, Spain, Portugal, Netherlands, UK, and Denmark are excluded.\u003c\/p\u003e\r\n\u003cp\u003e \u003cbr\u003e\u003c\/p\u003e\r\n\u003cp\u003eWe ship free to all orders above €300.00-.\u003c\/p\u003e\r\n\u003cp\u003eShipping costs for orders less than\u003cspan\u003e \u003c\/span\u003e\u003cspan data-mce-fragment=\"1\"\u003e€3\u003c\/span\u003e00.00- will be shown at your checkout. \u003c\/p\u003e\r\n\u003cp\u003eSee below for details.\u003c\/p\u003e\r\n\u003cp\u003e \u003c\/p\u003e\r\n\u003cp\u003e\u003cstrong\u003eShipping Condition:\u003c\/strong\u003e\u003c\/p\u003e\r\n\u003ctable style=\"width: 356.777px;\" data-mce-fragment=\"1\" data-mce-style=\"width: 321.184px;\"\u003e\r\n\u003ctbody data-mce-fragment=\"1\"\u003e\r\n\u003ctr data-mce-fragment=\"1\"\u003e\r\n\u003ctd style=\"width: 190px;\" data-mce-fragment=\"1\" data-mce-style=\"width: 136px;\"\u003eCountry\u003c\/td\u003e\r\n\u003ctd style=\"width: 160px;\" data-mce-fragment=\"1\" data-mce-style=\"width: 170.184px;\"\u003eDelivery charge\u003cbr\u003e\r\n\u003c\/td\u003e\r\n\u003ctd style=\"width: 160.777px;\" data-mce-fragment=\"1\" data-mce-style=\"width: 170.184px;\"\u003eShipping Method\u003c\/td\u003e\r\n\u003c\/tr\u003e\r\n\u003ctr data-mce-fragment=\"1\"\u003e\r\n\u003ctd style=\"width: 190px;\" data-mce-fragment=\"1\" data-mce-style=\"width: 136px;\"\u003eGermany\u003cbr\u003e\r\n\u003c\/td\u003e\r\n\u003ctd style=\"width: 160px;\" data-mce-fragment=\"1\" data-mce-style=\"width: 170.184px;\"\u003e7 EURO\u003cbr\u003e\r\n\u003c\/td\u003e\r\n\u003ctd style=\"width: 160.777px;\" data-mce-fragment=\"1\" data-mce-style=\"width: 170.184px;\"\u003eDIE Post\u003c\/td\u003e\r\n\u003c\/tr\u003e\r\n\u003ctr data-mce-fragment=\"1\"\u003e\r\n\u003ctd style=\"width: 190px;\" data-mce-fragment=\"1\" data-mce-style=\"width: 136px;\"\u003eUnited Kingdom\u003cbr\u003e\r\n\u003c\/td\u003e\r\n\u003ctd style=\"width: 160px;\" data-mce-fragment=\"1\" data-mce-style=\"width: 170.184px;\"\u003e30 EURO\u003cbr\u003e\r\n\u003c\/td\u003e\r\n\u003ctd style=\"width: 160.777px;\" data-mce-fragment=\"1\" data-mce-style=\"width: 170.184px;\"\u003eDHL Express\u003c\/td\u003e\r\n\u003c\/tr\u003e\r\n\u003ctr data-mce-fragment=\"1\"\u003e\r\n\u003ctd style=\"width: 190px;\" data-mce-fragment=\"1\" data-mce-style=\"width: 136px;\"\u003eOther countries\u003cbr\u003e\r\n\u003c\/td\u003e\r\n\u003ctd style=\"width: 160px;\" data-mce-fragment=\"1\" data-mce-style=\"width: 170.184px;\"\u003e10 EURO\u003cbr\u003e\r\n\u003c\/td\u003e\r\n\u003ctd style=\"width: 160.777px;\" data-mce-fragment=\"1\" data-mce-style=\"width: 170.184px;\"\u003eDHL Packet\u003c\/td\u003e\r\n\u003c\/tr\u003e\r\n\u003c\/tbody\u003e\r\n\u003c\/table\u003e\r\n\u003cp\u003e\u003cbr\u003e\u003c\/p\u003e\r\n\u003cp\u003eGoldwin orders are shipped Monday-Friday (excluding holidays)\u003c\/p\u003e\r\n\u003c\/div\u003e\r\n\u003c\/div\u003e\r\n\u003c\/div\u003e"}