Model: Height 185cm | Wearing: BLUESTEEL / L
Model: Height 185cm | Wearing: BLUESTEEL / L
Model: Height 185cm | Wearing: BLUESTEEL / L
Model: Height 185cm | Wearing: BLUESTEEL / L
Model: Height 185cm | Wearing: LAVA GRAY / L
Model: Height 185cm | Wearing: BLACK / L
Model: Height 180cm | Wearing: MOON WHITE / L
Staff: Height 188cm | Wearing: VAPOR GRAY / M
Staff: Height 188cm | Wearing: VAPOR GRAY / M
Staff: Height 181cm | Wearing: NAVY / L
Staff: Height 173cm | Wearing: MOON WHITE / S
Staff: Height 173cm | Wearing: MOON WHITE / S
With a minimal silhouette and durable Eco Yarn fabric, the Compact Jacket is lightweight enough to take with you anywhere.
Features
Made for running or gym training and designed to be layered with light items like t-shirts.
A packable windbreaker designed for maximum lightness and comfort.
Uses "GREEN MATERIAL", an eco-friendly recycled nylon
Ventilation is located under the arm for breathability.
Reflection logo at the front and back body improves visibility in the dark.
Compact and portable. Ideal for any run.
Material
PERTEX QUANTUM ECO (Nylon100%)
Shipping Policy
We deliver to the following countries:
Austria, Belgium, Czech Republic, Denmark, Finland, France, Germany, Italy, Ireland, Luxembourg, Netherlands, Poland, Portugal, Romania, Spain, Sweden, Switzerland, UK.
Shipment to the islands and overseas territories of France, Spain, Portugal, Netherlands, UK, and Denmark are excluded.
We ship free to all orders above €300.00-.
Shipping costs for orders less than €300.00- will be shown at your checkout. 
See below for details.
Shipping Condition:
| | | |
| --- | --- | --- |
| Country | Delivery charge | Shipping Method |
| Germany | 7 EURO | DIE Post |
| United Kingdom | 30 EURO | DHL Express |
| Other countries | 10 EURO | DHL Packet |
Goldwin orders are shipped Monday-Friday (excluding holidays)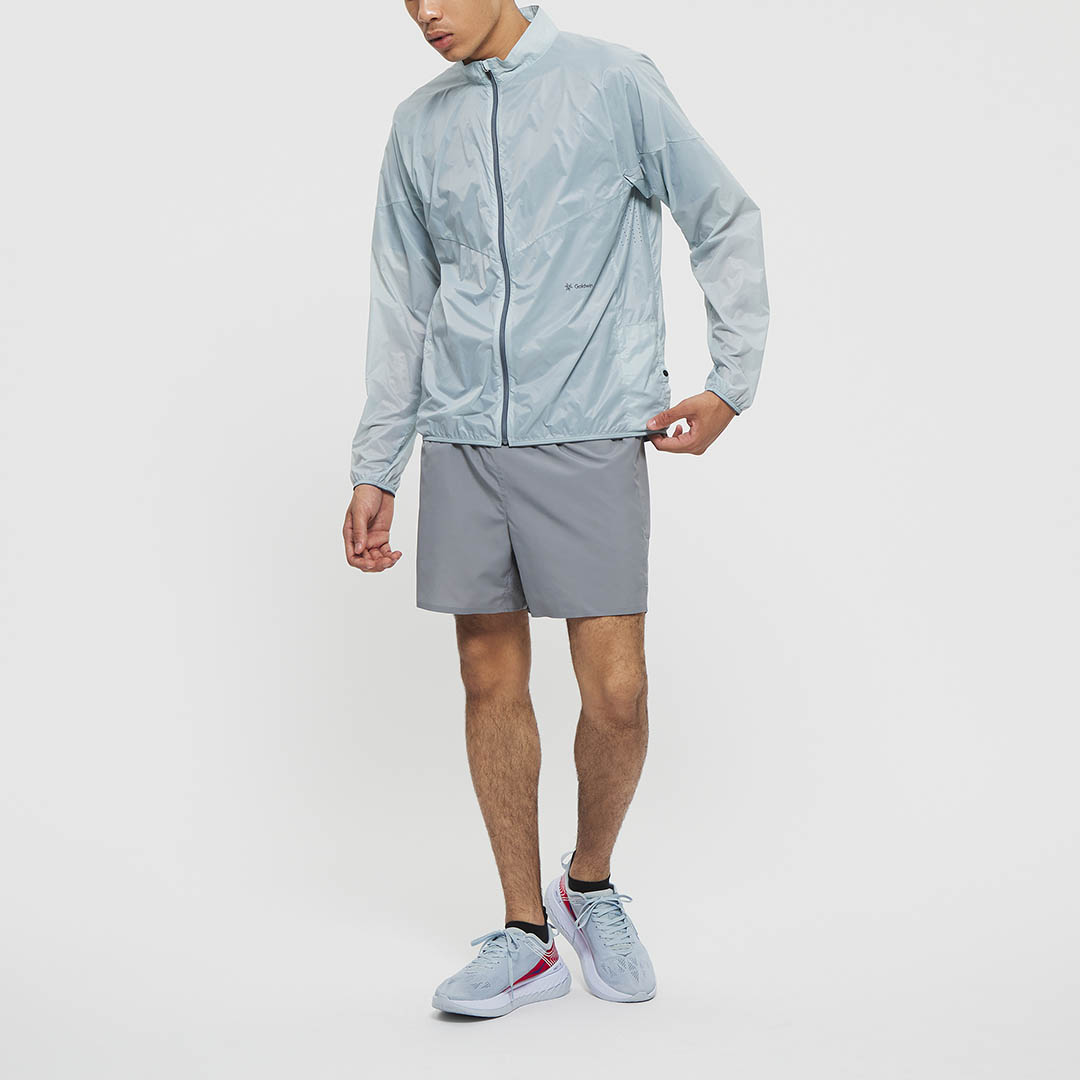 Model: Height 5'8" | Wearing: VAPOR GRAY / M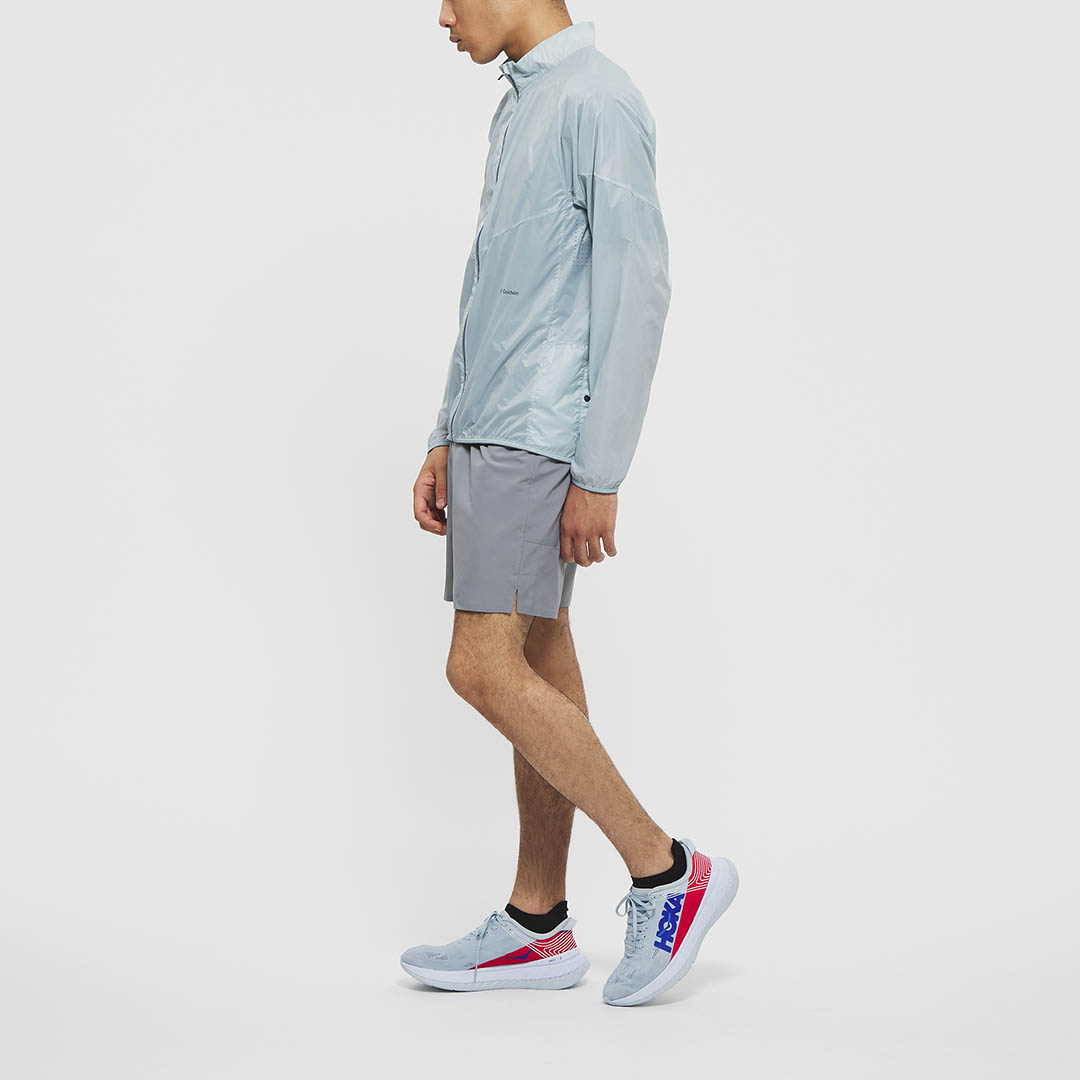 Model: Height 5'8" | Wearing: VAPOR GRAY / M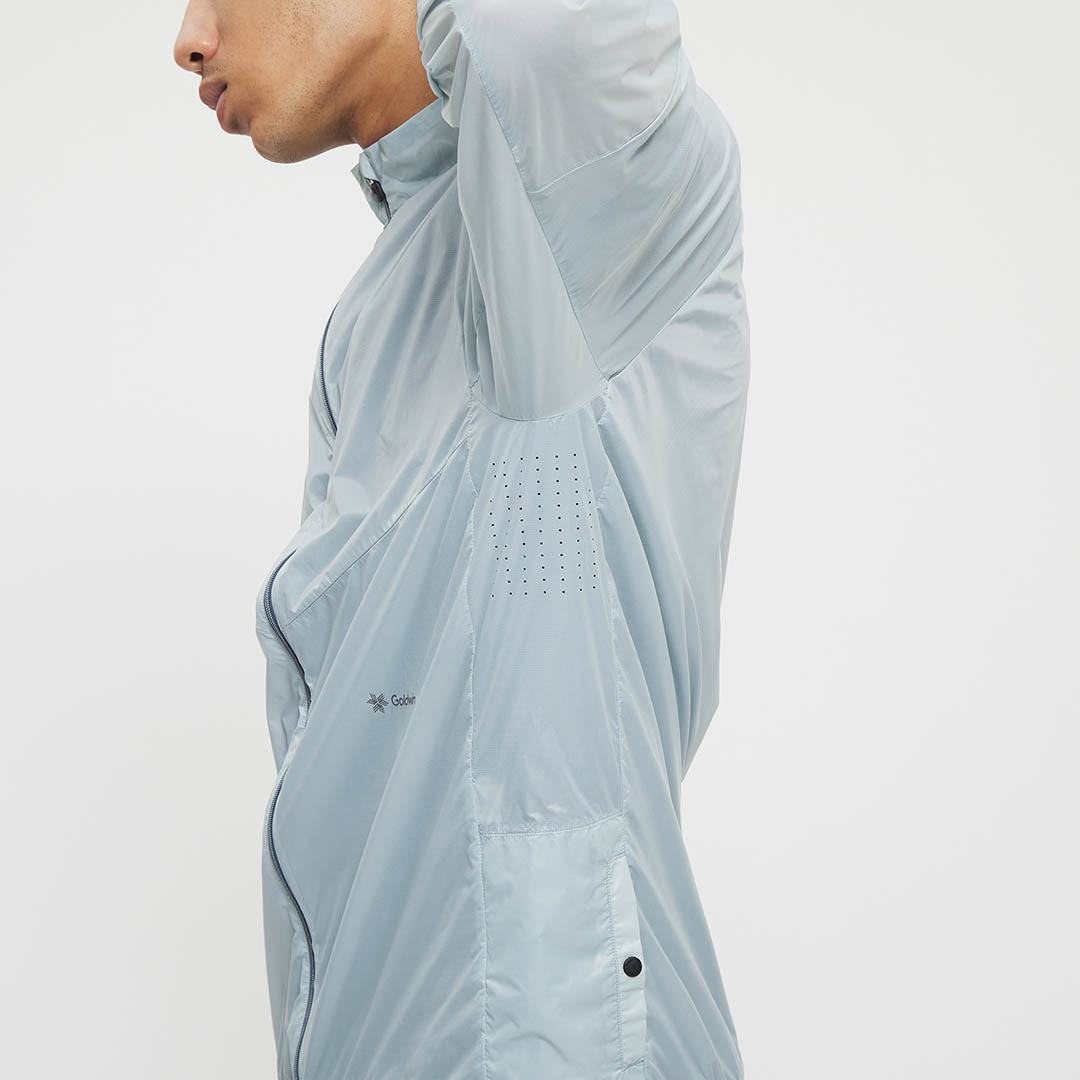 Model: Height 5'8" | Wearing: VAPOR GRAY / M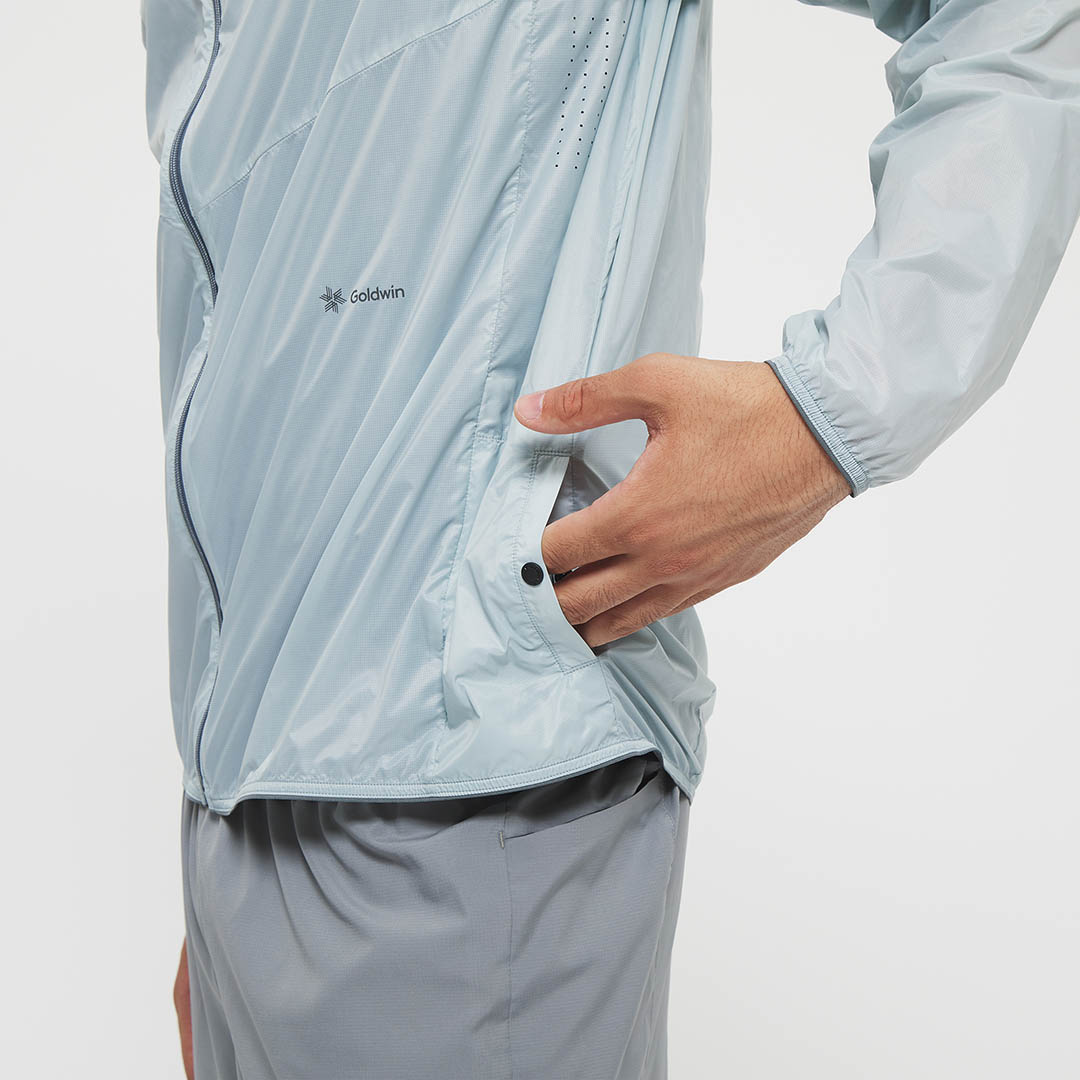 Model: Height 5'8" | Wearing: VAPOR GRAY / M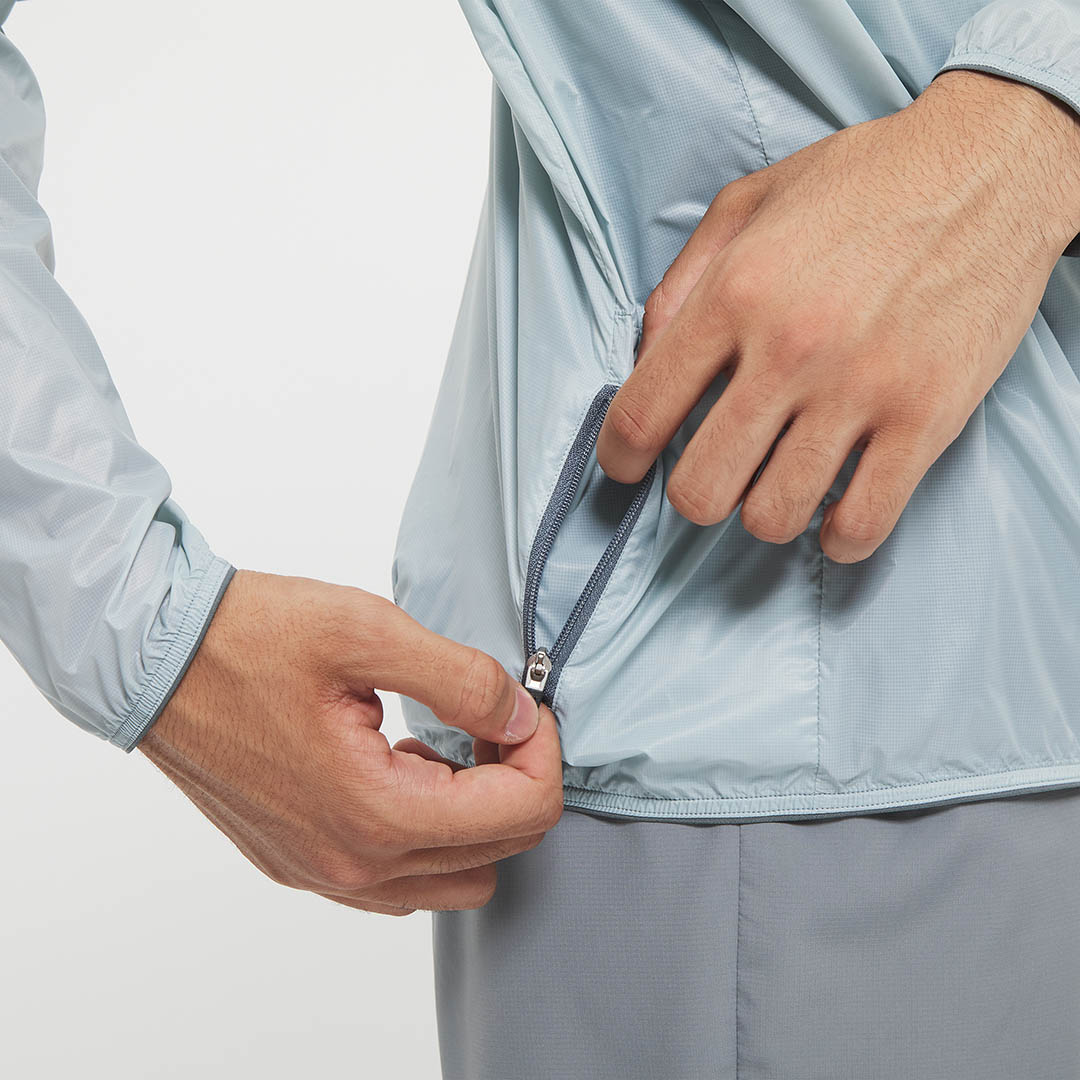 Model: Height 5'8" | Wearing: VAPOR GRAY / M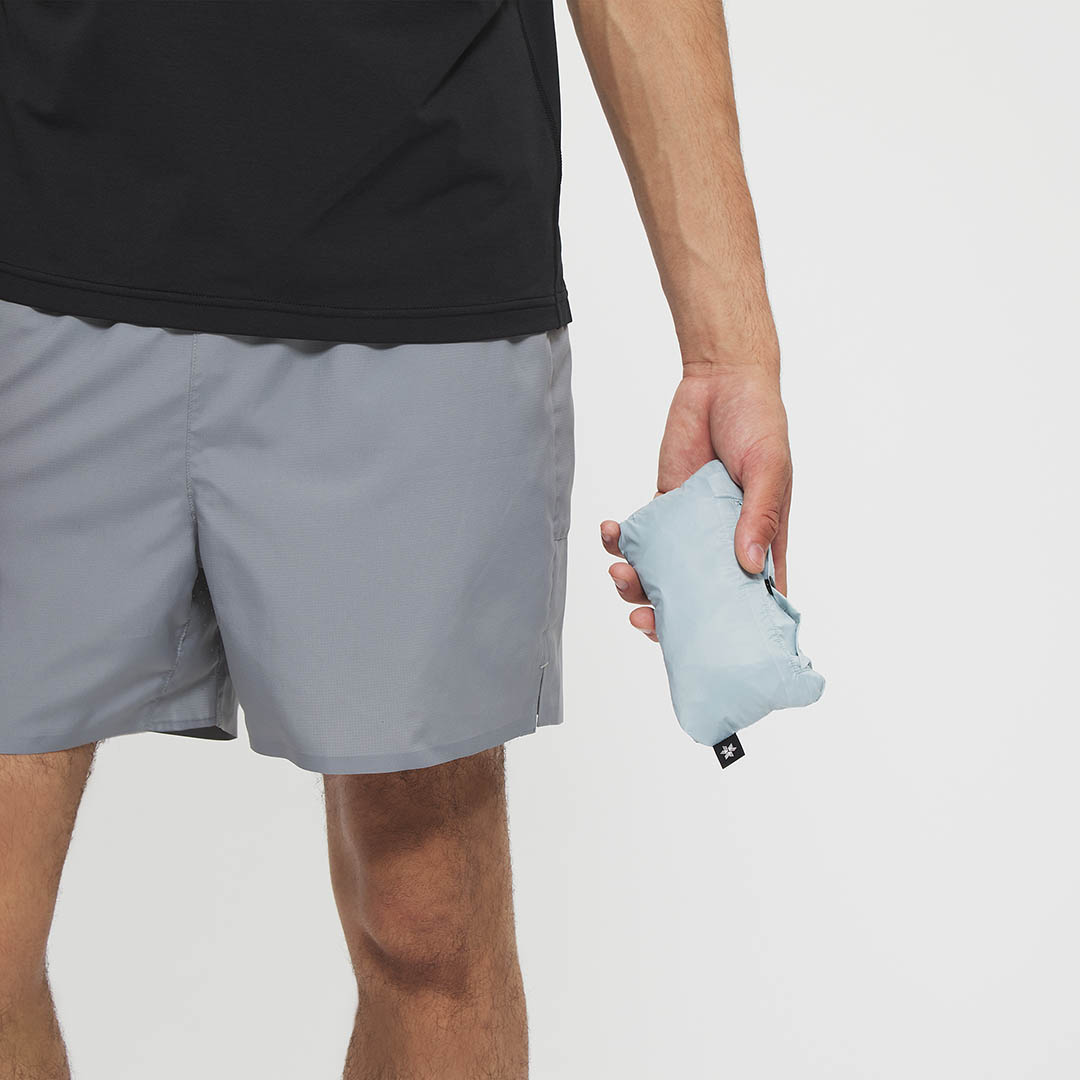 Model: Height 5'8" | Wearing: VAPOR GRAY / M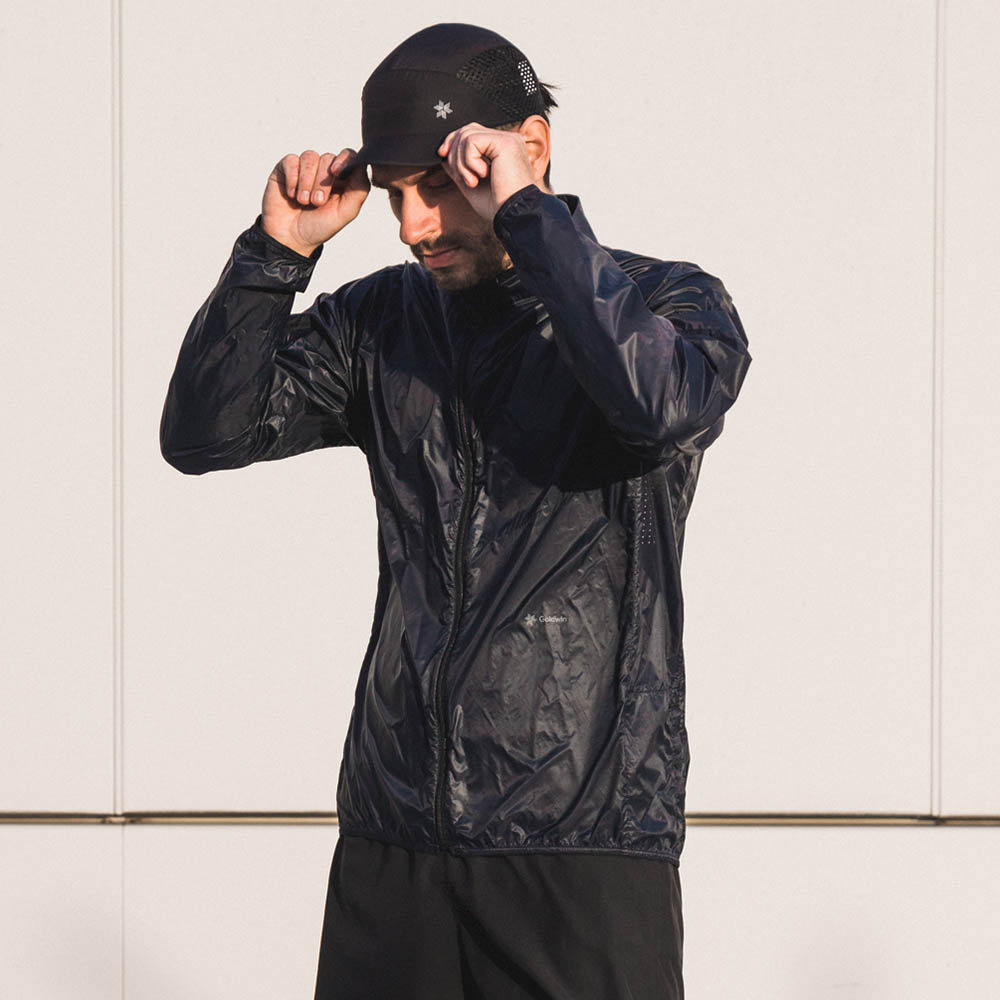 Staff: Height 1.81m | Wearing: NAVY / L
{"id":6130226364602,"title":"Compact Jacket","handle":"ga11123","description":"\u003cp data-mce-fragment=\"1\"\u003eWith a minimal silhouette and durable Eco Yarn fabric, the Compact Jacket is lightweight enough to take with you anywhere.\u003c\/p\u003e\n\u003cp data-mce-fragment=\"1\"\u003e \u003c\/p\u003e\n\u003ch4 data-mce-fragment=\"1\" class=\"subtitileDt\"\u003eFeatures\u003c\/h4\u003e\n\u003cul data-mce-fragment=\"1\"\u003e\n\u003cli data-mce-fragment=\"1\"\u003eMade for running or gym training and designed to be layered with light items like t-shirts.\u003c\/li\u003e\n\u003cli data-mce-fragment=\"1\"\u003eA packable windbreaker designed for maximum lightness and comfort.\u003c\/li\u003e\n\u003cli data-mce-fragment=\"1\"\u003eUses "GREEN MATERIAL\", an eco-friendly recycled nylon\u003c\/li\u003e\n\u003cli data-mce-fragment=\"1\"\u003eVentilation is located under the arm for breathability.\u003c\/li\u003e\n\u003cli data-mce-fragment=\"1\"\u003eReflection logo at the front and back body improves visibility in the dark.\u003c\/li\u003e\n\u003cli data-mce-fragment=\"1\"\u003eCompact and portable. Ideal for any run.\u003c\/li\u003e\n\u003c\/ul\u003e\n\u003cp data-mce-fragment=\"1\"\u003e \u003c\/p\u003e\n\u003c!--material--\u003e\n\u003ch4 data-mce-fragment=\"1\" class=\"subtitileDt\"\u003eMaterial\u003c\/h4\u003e\n\u003cp\u003ePERTEX QUANTUM ECO (Nylon100%)\u003c\/p\u003e\n\u003c!--\/material--\u003e\n\u003cp\u003e\u003ca title=\"green_material\" href=\"https:\/\/www.goldwin-sports.com\/eu\/brand\/material\/#green-material\" target=\"_blank\"\u003e\u003cimg src=\"https:\/\/cdn.shopify.com\/s\/files\/1\/2294\/5259\/files\/11.25update_others-green-material_2x_5a3578a9-e015-49c6-bd85-a949d1a23ee0_160x160.jpg?v=1637906022\" alt=\"GREEN_MATERIAL\"\u003e\u003c\/a\u003e\u003c\/p\u003e\n\u003cp\u003e\u003ca title=\"pertex-equilibrium\" href=\"https:\/\/www.goldwin-sports.com\/eu\/brand\/material\/#pertex-equilibrium\" target=\"_blank\"\u003e\u003cimg height=\"28\" width=\"205\" src=\"https:\/\/cdn.shopify.com\/s\/files\/1\/2294\/5259\/files\/pertex-equibrium_2x_aaff25b9-769d-4969-838a-993b3ee8a6e1_480x480.jpg?v=1621824574\" alt=\"\" data-mce-selected=\"1\" data-mce-src=\"https:\/\/cdn.shopify.com\/s\/files\/1\/2294\/5259\/files\/pertex-equibrium_2x_aaff25b9-769d-4969-838a-993b3ee8a6e1_480x480.jpg?v=1621824574\"\u003e\u003c\/a\u003e\u003c\/p\u003e\n\u003cp\u003e \u003c\/p\u003e\n\u003cp data-mce-fragment=\"1\"\u003e\u003cbr\u003e\u003c\/p\u003e\n\u003cdiv class=\"product-tabs js-product-tabs\"\u003e\n\u003cdiv class=\"product-tab\"\u003e\n\u003cdiv class=\"product-tab-title\"\u003eCountry of Origin \u003cspan class=\"icon-toggle\"\u003e\u003c\/span\u003e\n\u003c\/div\u003e\n\u003cdiv class=\"product-tab-content\"\u003e\n\u003cp\u003eChina\u003c\/p\u003e\n\u003c\/div\u003e\n\u003c\/div\u003e\n\u003cdiv class=\"product-tab\"\u003e\n\u003cdiv class=\"product-tab-title\"\u003eShipping Policy \u003cspan class=\"icon-toggle\"\u003e\u003c\/span\u003e\n\u003c\/div\u003e\n\u003cdiv class=\"product-tab-content\"\u003e\n\u003cp\u003e\u003cstrong\u003eWe deliver to the following countries:\u003c\/strong\u003e\u003c\/p\u003e\n\u003cp\u003eAustria, Belgium, Czech Republic, Denmark, Finland, France, Germany, Italy, Ireland, Luxembourg, Netherlands, Poland, Portugal, Romania, Spain, Sweden, Switzerland, UK.\u003c\/p\u003e\n\u003cp\u003eShipment to the islands and overseas territories of France, Spain, Portugal, Netherlands, UK, and Denmark are excluded.\u003c\/p\u003e\n\u003cp\u003e \u003cbr\u003e\u003c\/p\u003e\n\u003cp\u003eWe ship free to all orders above €300.00-.\u003c\/p\u003e\n\u003cp\u003eShipping costs for orders less than\u003cspan\u003e \u003c\/span\u003e\u003cspan data-mce-fragment=\"1\"\u003e€3\u003c\/span\u003e00.00- will be shown at your checkout. \u003c\/p\u003e\n\u003cp\u003eSee below for details.\u003c\/p\u003e\n\u003cp\u003e \u003c\/p\u003e\n\u003cp\u003e\u003cstrong\u003eShipping Condition:\u003c\/strong\u003e\u003c\/p\u003e\n\u003ctable data-mce-fragment=\"1\" style=\"width: 321.184px;\" data-mce-style=\"width: 321.184px;\"\u003e\n\u003ctbody data-mce-fragment=\"1\"\u003e\n\u003ctr data-mce-fragment=\"1\"\u003e\n\u003ctd data-mce-fragment=\"1\" style=\"width: 136px;\" data-mce-style=\"width: 136px;\"\u003eCountry\u003c\/td\u003e\n\u003ctd data-mce-fragment=\"1\" style=\"width: 170.184px;\" data-mce-style=\"width: 170.184px;\"\u003eDelivery charge\u003cbr\u003e\n\u003c\/td\u003e\n\u003ctd data-mce-fragment=\"1\" style=\"width: 170.184px;\" data-mce-style=\"width: 170.184px;\"\u003eShipping Method\u003c\/td\u003e\n\u003c\/tr\u003e\n\u003ctr data-mce-fragment=\"1\"\u003e\n\u003ctd data-mce-fragment=\"1\" style=\"width: 136px;\" data-mce-style=\"width: 136px;\"\u003eGermany\u003cbr\u003e\n\u003c\/td\u003e\n\u003ctd data-mce-fragment=\"1\" style=\"width: 170.184px;\" data-mce-style=\"width: 170.184px;\"\u003e7 EURO\u003cbr\u003e\n\u003c\/td\u003e\n\u003ctd data-mce-fragment=\"1\" style=\"width: 170.184px;\" data-mce-style=\"width: 170.184px;\"\u003eDIE Post\u003c\/td\u003e\n\u003c\/tr\u003e\n\u003ctr data-mce-fragment=\"1\"\u003e\n\u003ctd data-mce-fragment=\"1\" style=\"width: 136px;\" data-mce-style=\"width: 136px;\"\u003eUnited Kingdom\u003cbr\u003e\n\u003c\/td\u003e\n\u003ctd data-mce-fragment=\"1\" style=\"width: 170.184px;\" data-mce-style=\"width: 170.184px;\"\u003e30 EURO\u003cbr\u003e\n\u003c\/td\u003e\n\u003ctd data-mce-fragment=\"1\" style=\"width: 170.184px;\" data-mce-style=\"width: 170.184px;\"\u003eDHL Express\u003c\/td\u003e\n\u003c\/tr\u003e\n\u003ctr data-mce-fragment=\"1\"\u003e\n\u003ctd data-mce-fragment=\"1\" style=\"width: 136px;\" data-mce-style=\"width: 136px;\"\u003eOther countries\u003cbr\u003e\n\u003c\/td\u003e\n\u003ctd data-mce-fragment=\"1\" style=\"width: 170.184px;\" data-mce-style=\"width: 170.184px;\"\u003e10 EURO\u003cbr\u003e\n\u003c\/td\u003e\n\u003ctd data-mce-fragment=\"1\" style=\"width: 170.184px;\" data-mce-style=\"width: 170.184px;\"\u003eDHL Packet\u003c\/td\u003e\n\u003c\/tr\u003e\n\u003c\/tbody\u003e\n\u003c\/table\u003e\n\u003cp\u003e\u003cbr\u003e\u003c\/p\u003e\n\u003cp\u003eGoldwin orders are shipped Monday-Friday (excluding holidays)\u003c\/p\u003e\n\u003c\/div\u003e\n\u003c\/div\u003e\n\u003c\/div\u003e","published_at":"2022-04-27T08:39:23+02:00","created_at":"2020-12-17T08:07:35+01:00","vendor":"Goldwin outlet","type":"outer","tags":["2021pre","2702-S21","athletic","coat","f21A","men","opensale","outer","outlet","s210215","s21new","s21pre0210"],"price":7500,"price_min":7500,"price_max":7500,"available":true,"price_varies":false,"compare_at_price":15000,"compare_at_price_min":15000,"compare_at_price_max":15000,"compare_at_price_varies":false,"variants":[{"id":37768688730298,"title":"GA11123 \/ BLACK \/ S","option1":"GA11123","option2":"BLACK","option3":"S","sku":"2702-GA11123-BK-S","requires_shipping":true,"taxable":true,"featured_image":{"id":29333764014266,"product_id":6130226364602,"position":8,"created_at":"2021-08-25T09:11:07+02:00","updated_at":"2022-03-02T03:34:43+01:00","alt":"Model: Height 185cm | Wearing: BLACK \/ L","width":1000,"height":1000,"src":"https:\/\/cdn.shopify.com\/s\/files\/1\/2294\/5259\/products\/GA11123_BK_3F21.jpg?v=1646188483","variant_ids":[37768688730298,37768688763066,37768688795834,37768688828602]},"available":true,"name":"Compact Jacket - GA11123 \/ BLACK \/ S","public_title":"GA11123 \/ BLACK \/ S","options":["GA11123","BLACK","S"],"price":7500,"weight":0,"compare_at_price":15000,"inventory_quantity":1,"inventory_management":"shopify","inventory_policy":"deny","barcode":"4550413113584","featured_media":{"alt":"Model: Height 185cm | Wearing: BLACK \/ L","id":21683484688570,"position":8,"preview_image":{"aspect_ratio":1.0,"height":1000,"width":1000,"src":"https:\/\/cdn.shopify.com\/s\/files\/1\/2294\/5259\/products\/GA11123_BK_3F21.jpg?v=1646188483"}},"requires_selling_plan":false,"selling_plan_allocations":[]},{"id":37768688763066,"title":"GA11123 \/ BLACK \/ M","option1":"GA11123","option2":"BLACK","option3":"M","sku":"2702-GA11123-BK-M","requires_shipping":true,"taxable":true,"featured_image":{"id":29333764014266,"product_id":6130226364602,"position":8,"created_at":"2021-08-25T09:11:07+02:00","updated_at":"2022-03-02T03:34:43+01:00","alt":"Model: Height 185cm | Wearing: BLACK \/ L","width":1000,"height":1000,"src":"https:\/\/cdn.shopify.com\/s\/files\/1\/2294\/5259\/products\/GA11123_BK_3F21.jpg?v=1646188483","variant_ids":[37768688730298,37768688763066,37768688795834,37768688828602]},"available":false,"name":"Compact Jacket - GA11123 \/ BLACK \/ M","public_title":"GA11123 \/ BLACK \/ M","options":["GA11123","BLACK","M"],"price":7500,"weight":0,"compare_at_price":15000,"inventory_quantity":0,"inventory_management":"shopify","inventory_policy":"deny","barcode":"88763066","featured_media":{"alt":"Model: Height 185cm | Wearing: BLACK \/ L","id":21683484688570,"position":8,"preview_image":{"aspect_ratio":1.0,"height":1000,"width":1000,"src":"https:\/\/cdn.shopify.com\/s\/files\/1\/2294\/5259\/products\/GA11123_BK_3F21.jpg?v=1646188483"}},"requires_selling_plan":false,"selling_plan_allocations":[]},{"id":37768688795834,"title":"GA11123 \/ BLACK \/ L","option1":"GA11123","option2":"BLACK","option3":"L","sku":"2702-GA11123-BK-L","requires_shipping":true,"taxable":true,"featured_image":{"id":29333764014266,"product_id":6130226364602,"position":8,"created_at":"2021-08-25T09:11:07+02:00","updated_at":"2022-03-02T03:34:43+01:00","alt":"Model: Height 185cm | Wearing: BLACK \/ L","width":1000,"height":1000,"src":"https:\/\/cdn.shopify.com\/s\/files\/1\/2294\/5259\/products\/GA11123_BK_3F21.jpg?v=1646188483","variant_ids":[37768688730298,37768688763066,37768688795834,37768688828602]},"available":false,"name":"Compact Jacket - GA11123 \/ BLACK \/ L","public_title":"GA11123 \/ BLACK \/ L","options":["GA11123","BLACK","L"],"price":7500,"weight":0,"compare_at_price":15000,"inventory_quantity":0,"inventory_management":"shopify","inventory_policy":"deny","barcode":"88795834","featured_media":{"alt":"Model: Height 185cm | Wearing: BLACK \/ L","id":21683484688570,"position":8,"preview_image":{"aspect_ratio":1.0,"height":1000,"width":1000,"src":"https:\/\/cdn.shopify.com\/s\/files\/1\/2294\/5259\/products\/GA11123_BK_3F21.jpg?v=1646188483"}},"requires_selling_plan":false,"selling_plan_allocations":[]},{"id":37768688828602,"title":"GA11123 \/ BLACK \/ XL","option1":"GA11123","option2":"BLACK","option3":"XL","sku":"2702-GA11123-BK-XL","requires_shipping":true,"taxable":true,"featured_image":{"id":29333764014266,"product_id":6130226364602,"position":8,"created_at":"2021-08-25T09:11:07+02:00","updated_at":"2022-03-02T03:34:43+01:00","alt":"Model: Height 185cm | Wearing: BLACK \/ L","width":1000,"height":1000,"src":"https:\/\/cdn.shopify.com\/s\/files\/1\/2294\/5259\/products\/GA11123_BK_3F21.jpg?v=1646188483","variant_ids":[37768688730298,37768688763066,37768688795834,37768688828602]},"available":false,"name":"Compact Jacket - GA11123 \/ BLACK \/ XL","public_title":"GA11123 \/ BLACK \/ XL","options":["GA11123","BLACK","XL"],"price":7500,"weight":0,"compare_at_price":15000,"inventory_quantity":0,"inventory_management":"shopify","inventory_policy":"deny","barcode":"4550413113614","featured_media":{"alt":"Model: Height 185cm | Wearing: BLACK \/ L","id":21683484688570,"position":8,"preview_image":{"aspect_ratio":1.0,"height":1000,"width":1000,"src":"https:\/\/cdn.shopify.com\/s\/files\/1\/2294\/5259\/products\/GA11123_BK_3F21.jpg?v=1646188483"}},"requires_selling_plan":false,"selling_plan_allocations":[]},{"id":37768688992442,"title":"GA11123 \/ VAPOR GRAY \/ S","option1":"GA11123","option2":"VAPOR GRAY","option3":"S","sku":"2702-GA11123-VG-S","requires_shipping":true,"taxable":true,"featured_image":{"id":23249690755258,"product_id":6130226364602,"position":7,"created_at":"2021-01-21T08:21:05+01:00","updated_at":"2022-03-02T03:34:43+01:00","alt":null,"width":1080,"height":1080,"src":"https:\/\/cdn.shopify.com\/s\/files\/1\/2294\/5259\/products\/GA11123_VG.jpg?v=1646188483","variant_ids":[37768688992442,37768689025210,37768689057978,37768689090746]},"available":false,"name":"Compact Jacket - GA11123 \/ VAPOR GRAY \/ S","public_title":"GA11123 \/ VAPOR GRAY \/ S","options":["GA11123","VAPOR GRAY","S"],"price":7500,"weight":0,"compare_at_price":15000,"inventory_quantity":0,"inventory_management":"shopify","inventory_policy":"deny","barcode":"88992442","featured_media":{"alt":null,"id":15420565586106,"position":7,"preview_image":{"aspect_ratio":1.0,"height":1080,"width":1080,"src":"https:\/\/cdn.shopify.com\/s\/files\/1\/2294\/5259\/products\/GA11123_VG.jpg?v=1646188483"}},"requires_selling_plan":false,"selling_plan_allocations":[]},{"id":37768689025210,"title":"GA11123 \/ VAPOR GRAY \/ M","option1":"GA11123","option2":"VAPOR GRAY","option3":"M","sku":"2702-GA11123-VG-M","requires_shipping":true,"taxable":true,"featured_image":{"id":23249690755258,"product_id":6130226364602,"position":7,"created_at":"2021-01-21T08:21:05+01:00","updated_at":"2022-03-02T03:34:43+01:00","alt":null,"width":1080,"height":1080,"src":"https:\/\/cdn.shopify.com\/s\/files\/1\/2294\/5259\/products\/GA11123_VG.jpg?v=1646188483","variant_ids":[37768688992442,37768689025210,37768689057978,37768689090746]},"available":false,"name":"Compact Jacket - GA11123 \/ VAPOR GRAY \/ M","public_title":"GA11123 \/ VAPOR GRAY \/ M","options":["GA11123","VAPOR GRAY","M"],"price":7500,"weight":0,"compare_at_price":15000,"inventory_quantity":0,"inventory_management":"shopify","inventory_policy":"deny","barcode":"89025210","featured_media":{"alt":null,"id":15420565586106,"position":7,"preview_image":{"aspect_ratio":1.0,"height":1080,"width":1080,"src":"https:\/\/cdn.shopify.com\/s\/files\/1\/2294\/5259\/products\/GA11123_VG.jpg?v=1646188483"}},"requires_selling_plan":false,"selling_plan_allocations":[]},{"id":37768689057978,"title":"GA11123 \/ VAPOR GRAY \/ L","option1":"GA11123","option2":"VAPOR GRAY","option3":"L","sku":"2702-GA11123-VG-L","requires_shipping":true,"taxable":true,"featured_image":{"id":23249690755258,"product_id":6130226364602,"position":7,"created_at":"2021-01-21T08:21:05+01:00","updated_at":"2022-03-02T03:34:43+01:00","alt":null,"width":1080,"height":1080,"src":"https:\/\/cdn.shopify.com\/s\/files\/1\/2294\/5259\/products\/GA11123_VG.jpg?v=1646188483","variant_ids":[37768688992442,37768689025210,37768689057978,37768689090746]},"available":false,"name":"Compact Jacket - GA11123 \/ VAPOR GRAY \/ L","public_title":"GA11123 \/ VAPOR GRAY \/ L","options":["GA11123","VAPOR GRAY","L"],"price":7500,"weight":0,"compare_at_price":15000,"inventory_quantity":0,"inventory_management":"shopify","inventory_policy":"deny","barcode":"4550413113683","featured_media":{"alt":null,"id":15420565586106,"position":7,"preview_image":{"aspect_ratio":1.0,"height":1080,"width":1080,"src":"https:\/\/cdn.shopify.com\/s\/files\/1\/2294\/5259\/products\/GA11123_VG.jpg?v=1646188483"}},"requires_selling_plan":false,"selling_plan_allocations":[]},{"id":37768689090746,"title":"GA11123 \/ VAPOR GRAY \/ XL","option1":"GA11123","option2":"VAPOR GRAY","option3":"XL","sku":"2702-GA11123-VG-XL","requires_shipping":true,"taxable":true,"featured_image":{"id":23249690755258,"product_id":6130226364602,"position":7,"created_at":"2021-01-21T08:21:05+01:00","updated_at":"2022-03-02T03:34:43+01:00","alt":null,"width":1080,"height":1080,"src":"https:\/\/cdn.shopify.com\/s\/files\/1\/2294\/5259\/products\/GA11123_VG.jpg?v=1646188483","variant_ids":[37768688992442,37768689025210,37768689057978,37768689090746]},"available":false,"name":"Compact Jacket - GA11123 \/ VAPOR GRAY \/ XL","public_title":"GA11123 \/ VAPOR GRAY \/ XL","options":["GA11123","VAPOR GRAY","XL"],"price":7500,"weight":0,"compare_at_price":15000,"inventory_quantity":0,"inventory_management":"shopify","inventory_policy":"deny","barcode":"89090746","featured_media":{"alt":null,"id":15420565586106,"position":7,"preview_image":{"aspect_ratio":1.0,"height":1080,"width":1080,"src":"https:\/\/cdn.shopify.com\/s\/files\/1\/2294\/5259\/products\/GA11123_VG.jpg?v=1646188483"}},"requires_selling_plan":false,"selling_plan_allocations":[]},{"id":40325715722426,"title":"GA11123 \/ BLUESTEEL \/ S","option1":"GA11123","option2":"BLUESTEEL","option3":"S","sku":"2702-GA11123-BT-S","requires_shipping":true,"taxable":true,"featured_image":{"id":29333764210874,"product_id":6130226364602,"position":1,"created_at":"2021-08-25T09:11:07+02:00","updated_at":"2022-04-20T09:44:18+02:00","alt":"Model: Height 185cm | Wearing: BLUESTEEL \/ L","width":1000,"height":1000,"src":"https:\/\/cdn.shopify.com\/s\/files\/1\/2294\/5259\/products\/GA11123_BT_3F21.jpg?v=1650440658","variant_ids":[40325715722426,40325718933690,40325720998074]},"available":true,"name":"Compact Jacket - GA11123 \/ BLUESTEEL \/ S","public_title":"GA11123 \/ BLUESTEEL \/ S","options":["GA11123","BLUESTEEL","S"],"price":7500,"weight":0,"compare_at_price":15000,"inventory_quantity":1,"inventory_management":"shopify","inventory_policy":"deny","barcode":"4550413576167","featured_media":{"alt":"Model: Height 185cm | Wearing: BLUESTEEL \/ L","id":21683484721338,"position":1,"preview_image":{"aspect_ratio":1.0,"height":1000,"width":1000,"src":"https:\/\/cdn.shopify.com\/s\/files\/1\/2294\/5259\/products\/GA11123_BT_3F21.jpg?v=1650440658"}},"requires_selling_plan":false,"selling_plan_allocations":[]},{"id":40325718933690,"title":"GA11123 \/ BLUESTEEL \/ M","option1":"GA11123","option2":"BLUESTEEL","option3":"M","sku":"2702-GA11123-BT-M","requires_shipping":true,"taxable":true,"featured_image":{"id":29333764210874,"product_id":6130226364602,"position":1,"created_at":"2021-08-25T09:11:07+02:00","updated_at":"2022-04-20T09:44:18+02:00","alt":"Model: Height 185cm | Wearing: BLUESTEEL \/ L","width":1000,"height":1000,"src":"https:\/\/cdn.shopify.com\/s\/files\/1\/2294\/5259\/products\/GA11123_BT_3F21.jpg?v=1650440658","variant_ids":[40325715722426,40325718933690,40325720998074]},"available":true,"name":"Compact Jacket - GA11123 \/ BLUESTEEL \/ M","public_title":"GA11123 \/ BLUESTEEL \/ M","options":["GA11123","BLUESTEEL","M"],"price":7500,"weight":0,"compare_at_price":15000,"inventory_quantity":1,"inventory_management":"shopify","inventory_policy":"deny","barcode":"4550413576174","featured_media":{"alt":"Model: Height 185cm | Wearing: BLUESTEEL \/ L","id":21683484721338,"position":1,"preview_image":{"aspect_ratio":1.0,"height":1000,"width":1000,"src":"https:\/\/cdn.shopify.com\/s\/files\/1\/2294\/5259\/products\/GA11123_BT_3F21.jpg?v=1650440658"}},"requires_selling_plan":false,"selling_plan_allocations":[]},{"id":40325720998074,"title":"GA11123 \/ BLUESTEEL \/ L","option1":"GA11123","option2":"BLUESTEEL","option3":"L","sku":"2702-GA11123-BT-L","requires_shipping":true,"taxable":true,"featured_image":{"id":29333764210874,"product_id":6130226364602,"position":1,"created_at":"2021-08-25T09:11:07+02:00","updated_at":"2022-04-20T09:44:18+02:00","alt":"Model: Height 185cm | Wearing: BLUESTEEL \/ L","width":1000,"height":1000,"src":"https:\/\/cdn.shopify.com\/s\/files\/1\/2294\/5259\/products\/GA11123_BT_3F21.jpg?v=1650440658","variant_ids":[40325715722426,40325718933690,40325720998074]},"available":false,"name":"Compact Jacket - GA11123 \/ BLUESTEEL \/ L","public_title":"GA11123 \/ BLUESTEEL \/ L","options":["GA11123","BLUESTEEL","L"],"price":7500,"weight":0,"compare_at_price":15000,"inventory_quantity":0,"inventory_management":"shopify","inventory_policy":"deny","barcode":"4550413576181","featured_media":{"alt":"Model: Height 185cm | Wearing: BLUESTEEL \/ L","id":21683484721338,"position":1,"preview_image":{"aspect_ratio":1.0,"height":1000,"width":1000,"src":"https:\/\/cdn.shopify.com\/s\/files\/1\/2294\/5259\/products\/GA11123_BT_3F21.jpg?v=1650440658"}},"requires_selling_plan":false,"selling_plan_allocations":[]},{"id":40325723324602,"title":"GA11123 \/ LAVA GRAY \/ S","option1":"GA11123","option2":"LAVA GRAY","option3":"S","sku":"2702-GA11123-LV-S","requires_shipping":true,"taxable":true,"featured_image":{"id":29333763981498,"product_id":6130226364602,"position":6,"created_at":"2021-08-25T09:11:07+02:00","updated_at":"2022-04-20T09:44:22+02:00","alt":"Model: Height 185cm | Wearing: LAVA GRAY \/ L","width":1000,"height":1000,"src":"https:\/\/cdn.shopify.com\/s\/files\/1\/2294\/5259\/products\/GA11123_LV_3F21.jpg?v=1650440662","variant_ids":[40325723324602,40325724799162,40325727289530,40325730599098]},"available":true,"name":"Compact Jacket - GA11123 \/ LAVA GRAY \/ S","public_title":"GA11123 \/ LAVA GRAY \/ S","options":["GA11123","LAVA GRAY","S"],"price":7500,"weight":0,"compare_at_price":15000,"inventory_quantity":1,"inventory_management":"shopify","inventory_policy":"deny","barcode":"4550413576082","featured_media":{"alt":"Model: Height 185cm | Wearing: LAVA GRAY \/ L","id":21683484917946,"position":6,"preview_image":{"aspect_ratio":1.0,"height":1000,"width":1000,"src":"https:\/\/cdn.shopify.com\/s\/files\/1\/2294\/5259\/products\/GA11123_LV_3F21.jpg?v=1650440662"}},"requires_selling_plan":false,"selling_plan_allocations":[]},{"id":40325724799162,"title":"GA11123 \/ LAVA GRAY \/ M","option1":"GA11123","option2":"LAVA GRAY","option3":"M","sku":"2702-GA11123-LV-M","requires_shipping":true,"taxable":true,"featured_image":{"id":29333763981498,"product_id":6130226364602,"position":6,"created_at":"2021-08-25T09:11:07+02:00","updated_at":"2022-04-20T09:44:22+02:00","alt":"Model: Height 185cm | Wearing: LAVA GRAY \/ L","width":1000,"height":1000,"src":"https:\/\/cdn.shopify.com\/s\/files\/1\/2294\/5259\/products\/GA11123_LV_3F21.jpg?v=1650440662","variant_ids":[40325723324602,40325724799162,40325727289530,40325730599098]},"available":true,"name":"Compact Jacket - GA11123 \/ LAVA GRAY \/ M","public_title":"GA11123 \/ LAVA GRAY \/ M","options":["GA11123","LAVA GRAY","M"],"price":7500,"weight":0,"compare_at_price":15000,"inventory_quantity":1,"inventory_management":"shopify","inventory_policy":"deny","barcode":"4550413576099","featured_media":{"alt":"Model: Height 185cm | Wearing: LAVA GRAY \/ L","id":21683484917946,"position":6,"preview_image":{"aspect_ratio":1.0,"height":1000,"width":1000,"src":"https:\/\/cdn.shopify.com\/s\/files\/1\/2294\/5259\/products\/GA11123_LV_3F21.jpg?v=1650440662"}},"requires_selling_plan":false,"selling_plan_allocations":[]},{"id":40325727289530,"title":"GA11123 \/ LAVA GRAY \/ L","option1":"GA11123","option2":"LAVA GRAY","option3":"L","sku":"2702-GA11123-LV-L","requires_shipping":true,"taxable":true,"featured_image":{"id":29333763981498,"product_id":6130226364602,"position":6,"created_at":"2021-08-25T09:11:07+02:00","updated_at":"2022-04-20T09:44:22+02:00","alt":"Model: Height 185cm | Wearing: LAVA GRAY \/ L","width":1000,"height":1000,"src":"https:\/\/cdn.shopify.com\/s\/files\/1\/2294\/5259\/products\/GA11123_LV_3F21.jpg?v=1650440662","variant_ids":[40325723324602,40325724799162,40325727289530,40325730599098]},"available":false,"name":"Compact Jacket - GA11123 \/ LAVA GRAY \/ L","public_title":"GA11123 \/ LAVA GRAY \/ L","options":["GA11123","LAVA GRAY","L"],"price":7500,"weight":0,"compare_at_price":15000,"inventory_quantity":0,"inventory_management":"shopify","inventory_policy":"deny","barcode":"4550413576105","featured_media":{"alt":"Model: Height 185cm | Wearing: LAVA GRAY \/ L","id":21683484917946,"position":6,"preview_image":{"aspect_ratio":1.0,"height":1000,"width":1000,"src":"https:\/\/cdn.shopify.com\/s\/files\/1\/2294\/5259\/products\/GA11123_LV_3F21.jpg?v=1650440662"}},"requires_selling_plan":false,"selling_plan_allocations":[]},{"id":40325730599098,"title":"GA11123 \/ LAVA GRAY \/ XL","option1":"GA11123","option2":"LAVA GRAY","option3":"XL","sku":"2702-GA11123-LV-XL","requires_shipping":true,"taxable":true,"featured_image":{"id":29333763981498,"product_id":6130226364602,"position":6,"created_at":"2021-08-25T09:11:07+02:00","updated_at":"2022-04-20T09:44:22+02:00","alt":"Model: Height 185cm | Wearing: LAVA GRAY \/ L","width":1000,"height":1000,"src":"https:\/\/cdn.shopify.com\/s\/files\/1\/2294\/5259\/products\/GA11123_LV_3F21.jpg?v=1650440662","variant_ids":[40325723324602,40325724799162,40325727289530,40325730599098]},"available":false,"name":"Compact Jacket - GA11123 \/ LAVA GRAY \/ XL","public_title":"GA11123 \/ LAVA GRAY \/ XL","options":["GA11123","LAVA GRAY","XL"],"price":7500,"weight":0,"compare_at_price":15000,"inventory_quantity":0,"inventory_management":"shopify","inventory_policy":"deny","barcode":"4550413576112","featured_media":{"alt":"Model: Height 185cm | Wearing: LAVA GRAY \/ L","id":21683484917946,"position":6,"preview_image":{"aspect_ratio":1.0,"height":1000,"width":1000,"src":"https:\/\/cdn.shopify.com\/s\/files\/1\/2294\/5259\/products\/GA11123_LV_3F21.jpg?v=1650440662"}},"requires_selling_plan":false,"selling_plan_allocations":[]},{"id":40325734564026,"title":"GA11123 \/ MOON WHITE \/ S","option1":"GA11123","option2":"MOON WHITE","option3":"S","sku":"2702-GA11123-MW-S","requires_shipping":true,"taxable":true,"featured_image":{"id":29333763948730,"product_id":6130226364602,"position":9,"created_at":"2021-08-25T09:11:07+02:00","updated_at":"2022-03-02T03:34:43+01:00","alt":"Model: Height 180cm | Wearing: MOON WHITE \/ L","width":1000,"height":1000,"src":"https:\/\/cdn.shopify.com\/s\/files\/1\/2294\/5259\/products\/GA11123_MW_1F21.jpg?v=1646188483","variant_ids":[40325734564026,40325739086010,40325741609146]},"available":true,"name":"Compact Jacket - GA11123 \/ MOON WHITE \/ S","public_title":"GA11123 \/ MOON WHITE \/ S","options":["GA11123","MOON WHITE","S"],"price":7500,"weight":0,"compare_at_price":15000,"inventory_quantity":1,"inventory_management":"shopify","inventory_policy":"deny","barcode":"4550413576204","featured_media":{"alt":"Model: Height 180cm | Wearing: MOON WHITE \/ L","id":21683484950714,"position":9,"preview_image":{"aspect_ratio":1.0,"height":1000,"width":1000,"src":"https:\/\/cdn.shopify.com\/s\/files\/1\/2294\/5259\/products\/GA11123_MW_1F21.jpg?v=1646188483"}},"requires_selling_plan":false,"selling_plan_allocations":[]},{"id":40325739086010,"title":"GA11123 \/ MOON WHITE \/ M","option1":"GA11123","option2":"MOON WHITE","option3":"M","sku":"2702-GA11123-MW-M","requires_shipping":true,"taxable":true,"featured_image":{"id":29333763948730,"product_id":6130226364602,"position":9,"created_at":"2021-08-25T09:11:07+02:00","updated_at":"2022-03-02T03:34:43+01:00","alt":"Model: Height 180cm | Wearing: MOON WHITE \/ L","width":1000,"height":1000,"src":"https:\/\/cdn.shopify.com\/s\/files\/1\/2294\/5259\/products\/GA11123_MW_1F21.jpg?v=1646188483","variant_ids":[40325734564026,40325739086010,40325741609146]},"available":false,"name":"Compact Jacket - GA11123 \/ MOON WHITE \/ M","public_title":"GA11123 \/ MOON WHITE \/ M","options":["GA11123","MOON WHITE","M"],"price":7500,"weight":0,"compare_at_price":15000,"inventory_quantity":0,"inventory_management":"shopify","inventory_policy":"deny","barcode":"4550413576211","featured_media":{"alt":"Model: Height 180cm | Wearing: MOON WHITE \/ L","id":21683484950714,"position":9,"preview_image":{"aspect_ratio":1.0,"height":1000,"width":1000,"src":"https:\/\/cdn.shopify.com\/s\/files\/1\/2294\/5259\/products\/GA11123_MW_1F21.jpg?v=1646188483"}},"requires_selling_plan":false,"selling_plan_allocations":[]},{"id":40325741609146,"title":"GA11123 \/ MOON WHITE \/ L","option1":"GA11123","option2":"MOON WHITE","option3":"L","sku":"2702-GA11123-MW-L","requires_shipping":true,"taxable":true,"featured_image":{"id":29333763948730,"product_id":6130226364602,"position":9,"created_at":"2021-08-25T09:11:07+02:00","updated_at":"2022-03-02T03:34:43+01:00","alt":"Model: Height 180cm | Wearing: MOON WHITE \/ L","width":1000,"height":1000,"src":"https:\/\/cdn.shopify.com\/s\/files\/1\/2294\/5259\/products\/GA11123_MW_1F21.jpg?v=1646188483","variant_ids":[40325734564026,40325739086010,40325741609146]},"available":false,"name":"Compact Jacket - GA11123 \/ MOON WHITE \/ L","public_title":"GA11123 \/ MOON WHITE \/ L","options":["GA11123","MOON WHITE","L"],"price":7500,"weight":0,"compare_at_price":15000,"inventory_quantity":0,"inventory_management":"shopify","inventory_policy":"deny","barcode":"4550413576228","featured_media":{"alt":"Model: Height 180cm | Wearing: MOON WHITE \/ L","id":21683484950714,"position":9,"preview_image":{"aspect_ratio":1.0,"height":1000,"width":1000,"src":"https:\/\/cdn.shopify.com\/s\/files\/1\/2294\/5259\/products\/GA11123_MW_1F21.jpg?v=1646188483"}},"requires_selling_plan":false,"selling_plan_allocations":[]}],"images":["\/\/cdn.shopify.com\/s\/files\/1\/2294\/5259\/products\/GA11123_BT_3F21.jpg?v=1650440658","\/\/cdn.shopify.com\/s\/files\/1\/2294\/5259\/products\/GA11123_BT-b01_3F21.jpg?v=1650440658","\/\/cdn.shopify.com\/s\/files\/1\/2294\/5259\/products\/GA11123_BT-b02_3F21.jpg?v=1650440658","\/\/cdn.shopify.com\/s\/files\/1\/2294\/5259\/products\/GA11123_BT-b03_3F21.jpg?v=1650440658","\/\/cdn.shopify.com\/s\/files\/1\/2294\/5259\/products\/GA11123_BT-b04_3F21.jpg?v=1650440662","\/\/cdn.shopify.com\/s\/files\/1\/2294\/5259\/products\/GA11123_LV_3F21.jpg?v=1650440662","\/\/cdn.shopify.com\/s\/files\/1\/2294\/5259\/products\/GA11123_VG.jpg?v=1646188483","\/\/cdn.shopify.com\/s\/files\/1\/2294\/5259\/products\/GA11123_BK_3F21.jpg?v=1646188483","\/\/cdn.shopify.com\/s\/files\/1\/2294\/5259\/products\/GA11123_MW_1F21.jpg?v=1646188483","\/\/cdn.shopify.com\/s\/files\/1\/2294\/5259\/products\/GA11123_2.jpg?v=1626236915","\/\/cdn.shopify.com\/s\/files\/1\/2294\/5259\/products\/GA11123_3.jpg?v=1626236915","\/\/cdn.shopify.com\/s\/files\/1\/2294\/5259\/products\/GA11123.jpg?v=1626236903","\/\/cdn.shopify.com\/s\/files\/1\/2294\/5259\/products\/GOLDWIN_MUNICH_BY_KANEHOLZ_SEPTEMBER-3.jpg?v=1633058141","\/\/cdn.shopify.com\/s\/files\/1\/2294\/5259\/products\/GOLDWIN_MUNICH_BY_KANEHOLZ_SEPTEMBER-2.jpg?v=1633058141"],"featured_image":"\/\/cdn.shopify.com\/s\/files\/1\/2294\/5259\/products\/GA11123_BT_3F21.jpg?v=1650440658","options":["Style#","Color","Size"],"media":[{"alt":"Model: Height 185cm | Wearing: BLUESTEEL \/ L","id":21683484721338,"position":1,"preview_image":{"aspect_ratio":1.0,"height":1000,"width":1000,"src":"https:\/\/cdn.shopify.com\/s\/files\/1\/2294\/5259\/products\/GA11123_BT_3F21.jpg?v=1650440658"},"aspect_ratio":1.0,"height":1000,"media_type":"image","src":"https:\/\/cdn.shopify.com\/s\/files\/1\/2294\/5259\/products\/GA11123_BT_3F21.jpg?v=1650440658","width":1000},{"alt":"Model: Height 185cm | Wearing: BLUESTEEL \/ L","id":21683484786874,"position":2,"preview_image":{"aspect_ratio":1.0,"height":1000,"width":1000,"src":"https:\/\/cdn.shopify.com\/s\/files\/1\/2294\/5259\/products\/GA11123_BT-b01_3F21.jpg?v=1650440658"},"aspect_ratio":1.0,"height":1000,"media_type":"image","src":"https:\/\/cdn.shopify.com\/s\/files\/1\/2294\/5259\/products\/GA11123_BT-b01_3F21.jpg?v=1650440658","width":1000},{"alt":"Model: Height 185cm | Wearing: BLUESTEEL \/ L","id":21683484819642,"position":3,"preview_image":{"aspect_ratio":1.0,"height":1000,"width":1000,"src":"https:\/\/cdn.shopify.com\/s\/files\/1\/2294\/5259\/products\/GA11123_BT-b02_3F21.jpg?v=1650440658"},"aspect_ratio":1.0,"height":1000,"media_type":"image","src":"https:\/\/cdn.shopify.com\/s\/files\/1\/2294\/5259\/products\/GA11123_BT-b02_3F21.jpg?v=1650440658","width":1000},{"alt":"Model: Height 185cm | Wearing: BLUESTEEL \/ L","id":21683484852410,"position":4,"preview_image":{"aspect_ratio":1.0,"height":1000,"width":1000,"src":"https:\/\/cdn.shopify.com\/s\/files\/1\/2294\/5259\/products\/GA11123_BT-b03_3F21.jpg?v=1650440658"},"aspect_ratio":1.0,"height":1000,"media_type":"image","src":"https:\/\/cdn.shopify.com\/s\/files\/1\/2294\/5259\/products\/GA11123_BT-b03_3F21.jpg?v=1650440658","width":1000},{"alt":"BLUESTEEL \/ L","id":21683484885178,"position":5,"preview_image":{"aspect_ratio":1.0,"height":1000,"width":1000,"src":"https:\/\/cdn.shopify.com\/s\/files\/1\/2294\/5259\/products\/GA11123_BT-b04_3F21.jpg?v=1650440662"},"aspect_ratio":1.0,"height":1000,"media_type":"image","src":"https:\/\/cdn.shopify.com\/s\/files\/1\/2294\/5259\/products\/GA11123_BT-b04_3F21.jpg?v=1650440662","width":1000},{"alt":"Model: Height 185cm | Wearing: LAVA GRAY \/ L","id":21683484917946,"position":6,"preview_image":{"aspect_ratio":1.0,"height":1000,"width":1000,"src":"https:\/\/cdn.shopify.com\/s\/files\/1\/2294\/5259\/products\/GA11123_LV_3F21.jpg?v=1650440662"},"aspect_ratio":1.0,"height":1000,"media_type":"image","src":"https:\/\/cdn.shopify.com\/s\/files\/1\/2294\/5259\/products\/GA11123_LV_3F21.jpg?v=1650440662","width":1000},{"alt":null,"id":15420565586106,"position":7,"preview_image":{"aspect_ratio":1.0,"height":1080,"width":1080,"src":"https:\/\/cdn.shopify.com\/s\/files\/1\/2294\/5259\/products\/GA11123_VG.jpg?v=1646188483"},"aspect_ratio":1.0,"height":1080,"media_type":"image","src":"https:\/\/cdn.shopify.com\/s\/files\/1\/2294\/5259\/products\/GA11123_VG.jpg?v=1646188483","width":1080},{"alt":"Model: Height 185cm | Wearing: BLACK \/ L","id":21683484688570,"position":8,"preview_image":{"aspect_ratio":1.0,"height":1000,"width":1000,"src":"https:\/\/cdn.shopify.com\/s\/files\/1\/2294\/5259\/products\/GA11123_BK_3F21.jpg?v=1646188483"},"aspect_ratio":1.0,"height":1000,"media_type":"image","src":"https:\/\/cdn.shopify.com\/s\/files\/1\/2294\/5259\/products\/GA11123_BK_3F21.jpg?v=1646188483","width":1000},{"alt":"Model: Height 180cm | Wearing: MOON WHITE \/ L","id":21683484950714,"position":9,"preview_image":{"aspect_ratio":1.0,"height":1000,"width":1000,"src":"https:\/\/cdn.shopify.com\/s\/files\/1\/2294\/5259\/products\/GA11123_MW_1F21.jpg?v=1646188483"},"aspect_ratio":1.0,"height":1000,"media_type":"image","src":"https:\/\/cdn.shopify.com\/s\/files\/1\/2294\/5259\/products\/GA11123_MW_1F21.jpg?v=1646188483","width":1000},{"alt":"Staff: Height 188cm | Wearing: VAPOR GRAY \/ M","id":21294487896250,"position":10,"preview_image":{"aspect_ratio":1.0,"height":1200,"width":1200,"src":"https:\/\/cdn.shopify.com\/s\/files\/1\/2294\/5259\/products\/GA11123_2.jpg?v=1626236915"},"aspect_ratio":1.0,"height":1200,"media_type":"image","src":"https:\/\/cdn.shopify.com\/s\/files\/1\/2294\/5259\/products\/GA11123_2.jpg?v=1626236915","width":1200},{"alt":"Staff: Height 188cm | Wearing: VAPOR GRAY \/ M","id":21294487929018,"position":11,"preview_image":{"aspect_ratio":1.0,"height":1200,"width":1200,"src":"https:\/\/cdn.shopify.com\/s\/files\/1\/2294\/5259\/products\/GA11123_3.jpg?v=1626236915"},"aspect_ratio":1.0,"height":1200,"media_type":"image","src":"https:\/\/cdn.shopify.com\/s\/files\/1\/2294\/5259\/products\/GA11123_3.jpg?v=1626236915","width":1200},{"alt":"Staff: Height 181cm | Wearing: NAVY \/ L","id":21294486683834,"position":12,"preview_image":{"aspect_ratio":1.0,"height":1000,"width":1000,"src":"https:\/\/cdn.shopify.com\/s\/files\/1\/2294\/5259\/products\/GA11123.jpg?v=1626236903"},"aspect_ratio":1.0,"height":1000,"media_type":"image","src":"https:\/\/cdn.shopify.com\/s\/files\/1\/2294\/5259\/products\/GA11123.jpg?v=1626236903","width":1000},{"alt":"Staff: Height 173cm | Wearing: MOON WHITE \/ S","id":22057217130682,"position":13,"preview_image":{"aspect_ratio":1.0,"height":1000,"width":1000,"src":"https:\/\/cdn.shopify.com\/s\/files\/1\/2294\/5259\/products\/GOLDWIN_MUNICH_BY_KANEHOLZ_SEPTEMBER-3.jpg?v=1633058141"},"aspect_ratio":1.0,"height":1000,"media_type":"image","src":"https:\/\/cdn.shopify.com\/s\/files\/1\/2294\/5259\/products\/GOLDWIN_MUNICH_BY_KANEHOLZ_SEPTEMBER-3.jpg?v=1633058141","width":1000},{"alt":"Staff: Height 173cm | Wearing: MOON WHITE \/ S","id":22057217097914,"position":14,"preview_image":{"aspect_ratio":1.0,"height":1000,"width":1000,"src":"https:\/\/cdn.shopify.com\/s\/files\/1\/2294\/5259\/products\/GOLDWIN_MUNICH_BY_KANEHOLZ_SEPTEMBER-2.jpg?v=1633058141"},"aspect_ratio":1.0,"height":1000,"media_type":"image","src":"https:\/\/cdn.shopify.com\/s\/files\/1\/2294\/5259\/products\/GOLDWIN_MUNICH_BY_KANEHOLZ_SEPTEMBER-2.jpg?v=1633058141","width":1000}],"requires_selling_plan":false,"selling_plan_groups":[],"content":"\u003cp data-mce-fragment=\"1\"\u003eWith a minimal silhouette and durable Eco Yarn fabric, the Compact Jacket is lightweight enough to take with you anywhere.\u003c\/p\u003e\n\u003cp data-mce-fragment=\"1\"\u003e \u003c\/p\u003e\n\u003ch4 data-mce-fragment=\"1\" class=\"subtitileDt\"\u003eFeatures\u003c\/h4\u003e\n\u003cul data-mce-fragment=\"1\"\u003e\n\u003cli data-mce-fragment=\"1\"\u003eMade for running or gym training and designed to be layered with light items like t-shirts.\u003c\/li\u003e\n\u003cli data-mce-fragment=\"1\"\u003eA packable windbreaker designed for maximum lightness and comfort.\u003c\/li\u003e\n\u003cli data-mce-fragment=\"1\"\u003eUses "GREEN MATERIAL\", an eco-friendly recycled nylon\u003c\/li\u003e\n\u003cli data-mce-fragment=\"1\"\u003eVentilation is located under the arm for breathability.\u003c\/li\u003e\n\u003cli data-mce-fragment=\"1\"\u003eReflection logo at the front and back body improves visibility in the dark.\u003c\/li\u003e\n\u003cli data-mce-fragment=\"1\"\u003eCompact and portable. Ideal for any run.\u003c\/li\u003e\n\u003c\/ul\u003e\n\u003cp data-mce-fragment=\"1\"\u003e \u003c\/p\u003e\n\u003c!--material--\u003e\n\u003ch4 data-mce-fragment=\"1\" class=\"subtitileDt\"\u003eMaterial\u003c\/h4\u003e\n\u003cp\u003ePERTEX QUANTUM ECO (Nylon100%)\u003c\/p\u003e\n\u003c!--\/material--\u003e\n\u003cp\u003e\u003ca title=\"green_material\" href=\"https:\/\/www.goldwin-sports.com\/eu\/brand\/material\/#green-material\" target=\"_blank\"\u003e\u003cimg src=\"https:\/\/cdn.shopify.com\/s\/files\/1\/2294\/5259\/files\/11.25update_others-green-material_2x_5a3578a9-e015-49c6-bd85-a949d1a23ee0_160x160.jpg?v=1637906022\" alt=\"GREEN_MATERIAL\"\u003e\u003c\/a\u003e\u003c\/p\u003e\n\u003cp\u003e\u003ca title=\"pertex-equilibrium\" href=\"https:\/\/www.goldwin-sports.com\/eu\/brand\/material\/#pertex-equilibrium\" target=\"_blank\"\u003e\u003cimg height=\"28\" width=\"205\" src=\"https:\/\/cdn.shopify.com\/s\/files\/1\/2294\/5259\/files\/pertex-equibrium_2x_aaff25b9-769d-4969-838a-993b3ee8a6e1_480x480.jpg?v=1621824574\" alt=\"\" data-mce-selected=\"1\" data-mce-src=\"https:\/\/cdn.shopify.com\/s\/files\/1\/2294\/5259\/files\/pertex-equibrium_2x_aaff25b9-769d-4969-838a-993b3ee8a6e1_480x480.jpg?v=1621824574\"\u003e\u003c\/a\u003e\u003c\/p\u003e\n\u003cp\u003e \u003c\/p\u003e\n\u003cp data-mce-fragment=\"1\"\u003e\u003cbr\u003e\u003c\/p\u003e\n\u003cdiv class=\"product-tabs js-product-tabs\"\u003e\n\u003cdiv class=\"product-tab\"\u003e\n\u003cdiv class=\"product-tab-title\"\u003eCountry of Origin \u003cspan class=\"icon-toggle\"\u003e\u003c\/span\u003e\n\u003c\/div\u003e\n\u003cdiv class=\"product-tab-content\"\u003e\n\u003cp\u003eChina\u003c\/p\u003e\n\u003c\/div\u003e\n\u003c\/div\u003e\n\u003cdiv class=\"product-tab\"\u003e\n\u003cdiv class=\"product-tab-title\"\u003eShipping Policy \u003cspan class=\"icon-toggle\"\u003e\u003c\/span\u003e\n\u003c\/div\u003e\n\u003cdiv class=\"product-tab-content\"\u003e\n\u003cp\u003e\u003cstrong\u003eWe deliver to the following countries:\u003c\/strong\u003e\u003c\/p\u003e\n\u003cp\u003eAustria, Belgium, Czech Republic, Denmark, Finland, France, Germany, Italy, Ireland, Luxembourg, Netherlands, Poland, Portugal, Romania, Spain, Sweden, Switzerland, UK.\u003c\/p\u003e\n\u003cp\u003eShipment to the islands and overseas territories of France, Spain, Portugal, Netherlands, UK, and Denmark are excluded.\u003c\/p\u003e\n\u003cp\u003e \u003cbr\u003e\u003c\/p\u003e\n\u003cp\u003eWe ship free to all orders above €300.00-.\u003c\/p\u003e\n\u003cp\u003eShipping costs for orders less than\u003cspan\u003e \u003c\/span\u003e\u003cspan data-mce-fragment=\"1\"\u003e€3\u003c\/span\u003e00.00- will be shown at your checkout. \u003c\/p\u003e\n\u003cp\u003eSee below for details.\u003c\/p\u003e\n\u003cp\u003e \u003c\/p\u003e\n\u003cp\u003e\u003cstrong\u003eShipping Condition:\u003c\/strong\u003e\u003c\/p\u003e\n\u003ctable data-mce-fragment=\"1\" style=\"width: 321.184px;\" data-mce-style=\"width: 321.184px;\"\u003e\n\u003ctbody data-mce-fragment=\"1\"\u003e\n\u003ctr data-mce-fragment=\"1\"\u003e\n\u003ctd data-mce-fragment=\"1\" style=\"width: 136px;\" data-mce-style=\"width: 136px;\"\u003eCountry\u003c\/td\u003e\n\u003ctd data-mce-fragment=\"1\" style=\"width: 170.184px;\" data-mce-style=\"width: 170.184px;\"\u003eDelivery charge\u003cbr\u003e\n\u003c\/td\u003e\n\u003ctd data-mce-fragment=\"1\" style=\"width: 170.184px;\" data-mce-style=\"width: 170.184px;\"\u003eShipping Method\u003c\/td\u003e\n\u003c\/tr\u003e\n\u003ctr data-mce-fragment=\"1\"\u003e\n\u003ctd data-mce-fragment=\"1\" style=\"width: 136px;\" data-mce-style=\"width: 136px;\"\u003eGermany\u003cbr\u003e\n\u003c\/td\u003e\n\u003ctd data-mce-fragment=\"1\" style=\"width: 170.184px;\" data-mce-style=\"width: 170.184px;\"\u003e7 EURO\u003cbr\u003e\n\u003c\/td\u003e\n\u003ctd data-mce-fragment=\"1\" style=\"width: 170.184px;\" data-mce-style=\"width: 170.184px;\"\u003eDIE Post\u003c\/td\u003e\n\u003c\/tr\u003e\n\u003ctr data-mce-fragment=\"1\"\u003e\n\u003ctd data-mce-fragment=\"1\" style=\"width: 136px;\" data-mce-style=\"width: 136px;\"\u003eUnited Kingdom\u003cbr\u003e\n\u003c\/td\u003e\n\u003ctd data-mce-fragment=\"1\" style=\"width: 170.184px;\" data-mce-style=\"width: 170.184px;\"\u003e30 EURO\u003cbr\u003e\n\u003c\/td\u003e\n\u003ctd data-mce-fragment=\"1\" style=\"width: 170.184px;\" data-mce-style=\"width: 170.184px;\"\u003eDHL Express\u003c\/td\u003e\n\u003c\/tr\u003e\n\u003ctr data-mce-fragment=\"1\"\u003e\n\u003ctd data-mce-fragment=\"1\" style=\"width: 136px;\" data-mce-style=\"width: 136px;\"\u003eOther countries\u003cbr\u003e\n\u003c\/td\u003e\n\u003ctd data-mce-fragment=\"1\" style=\"width: 170.184px;\" data-mce-style=\"width: 170.184px;\"\u003e10 EURO\u003cbr\u003e\n\u003c\/td\u003e\n\u003ctd data-mce-fragment=\"1\" style=\"width: 170.184px;\" data-mce-style=\"width: 170.184px;\"\u003eDHL Packet\u003c\/td\u003e\n\u003c\/tr\u003e\n\u003c\/tbody\u003e\n\u003c\/table\u003e\n\u003cp\u003e\u003cbr\u003e\u003c\/p\u003e\n\u003cp\u003eGoldwin orders are shipped Monday-Friday (excluding holidays)\u003c\/p\u003e\n\u003c\/div\u003e\n\u003c\/div\u003e\n\u003c\/div\u003e"}